By Paul Browne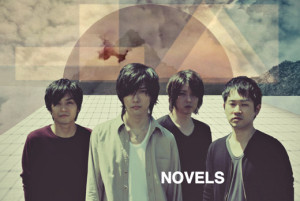 The anime series Tiger & Bunny delivered a fresh take on the concept of superheroes. Set in a fictionalized version of New York, the series focuses on the work of sponsored heroes – in particular the veteran Kotetsu T. Kaburagi aka "Wild Tiger" and his new young rookie partner Barnaby Brooks Jr. aka "Bunny".
It's a familiar theme of two protagonists with different ways of working forced to partner up, but which also weaved in some compelling plot issues, including solving the mystery of who killed Barnaby's parents. Their exploits also form part of a TV show which showcases their heroic feats, while also awarding points for their good deeds.
Tiger & Bunny enjoyed a variety of bands contributing theme songs across the series, including Unison Square Garden, Aobouzu and Tamaki. But it was guitar outfit NOVELS who took care of musical duties for the opening theme from episode 14 onwards.
Originally formed in 2007 in Okazaki as THE NOVELS, this 4-piece rock outfit put out their debut album From the Bad Lands for Mrs. Witherspoon in 2009 on independent label muff tone. Following the release of their second album My Blood Is Your Blood in 2010, the outfit signed to the Toy's Factory label (notable for such artists as Dempagumi.inc, BABYMETAL and Sekai no Owari) and simultaneously shortened their name to NOVELS.
As a band, NOVELS rely on a densely layered guitar sound. It's an approach which provides a raw, earthy quality to their music – and the perfect backdrop for founder member Mao Takeuchi's tortured vocals.
Their output has varied over the years from the melodic beats of 2009's 'Two Mirror of Country' through to the harder sound of 2011's 'umbrella' and its cacophony of percussion and guitars. But the band can occasionally offer up a softer touch, such as the yearning qualities of 'Planet Party' (taken from their 2014 album PROTOCOL).
Their contribution to Tiger & Bunny came in the form of 'Missing Link' and also coincided with the rock outfit signing to the Toy's Factory label. 'Missing Link' thrives on a very percussive base for a song in which Takeuchi's distinctive vocals take centre stage. There's a wistful quality to Takeuchi's singing here which manages to be both gritty and heartfelt at the same time.
'Missing Link' was also released as a single in the summer of 2011 and managed to place No. 22 in the Oricon charts. It also featured on NOVELS' first major studio album cardioid, which was released in October the same year.
NOVELS continued their association with Tiger & Bunny with the release of two feature films culled from the anime series. The first of these, 2012's Tiger & Bunny: The Beginning (which in part recaps the first few episodes as well as including a new story) featured the restrained energy of 'Earth Diver' for the opening theme, an impressive number that demonstrated the tight arrangements and cohesiveness of the rock outfit.
In 2014, NOVELS returned for the release of a second film outing. Tiger & Bunny: The Rising takes place a year on from the ending of the anime series. The opening theme 'Nemesis' delivers a much more raw offering from NOVELS with its rolling bass and discordant guitars.
Although NOVELS paved their initial successes as a 4-piece outfit, more recently the band have stripped down to a duo consisting of Takeuchi and guitarist Masaaki Kusomoto.
Meanwhile, their Tiger & Bunny contributions were gathered together for their 2014 album release PROTOCOL, which topped out at No. 19 in the charts.
Paul Browne is the owner of Japanese music website J-Pop Go.