By Andy Hanley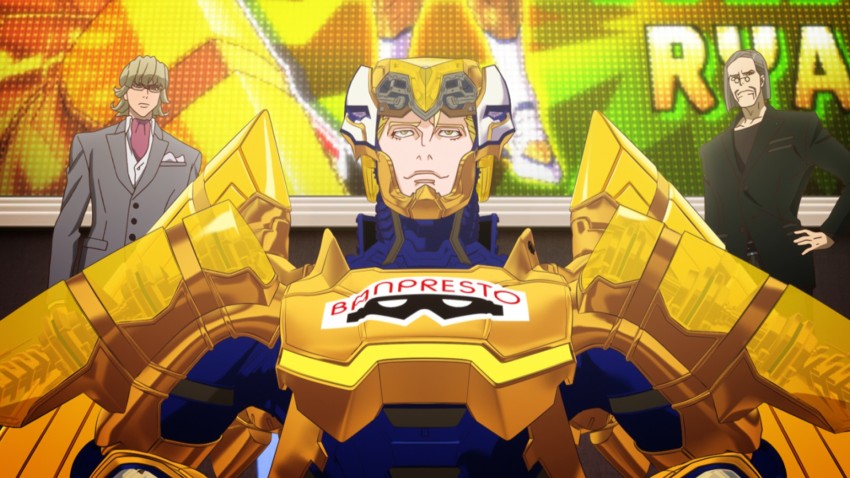 Having enjoyed a successful TV series and one theatrical outing in the form of The Beginning, Tiger & Bunny returns for an all-new and much-anticipated adventure courtesy of a second film, The Rising. So, what's next for the NEXT?
Hero TV has introduced an all-new Second League of heroes, although given the powers and abilities on show perhaps "Sunday League" would have been a more appropriate title. Thanks to Kotetsu's waning powers, it's this group of misfits to which both of our titular heroes are attached, although that doesn't last for long as entrepreneur and Steve Jobs-a-like Mark Schneider soon snaps up the company, owning both heroes with a view towards furthering his own empire.
The result of this power-play brings a new hero into the fold – the confident, self-obsessed Golden Ryan, although with a number of increasingly strange "accidents" occurring around Stern Bild this newcomer and his fellow superheroes are kept decidedly busy, as a plot unfurls that seems to mimic the legend surrounding the creation of the great city itself.
Whenever it comes to creating a new movie from an existing franchise, there's also a question to be asked as to who it's designed for – hard-core fans of the previous works, or newcomers as well? This was a question that we put to the film's director, Yoshitomo Yonetani, at the European premiere of The Rising at the BFI Southbank in London last year [2014.]
"I really wanted to make something for the fans of Tiger & Bunny," he replied, "so even if they're just a minority I wanted to make it for the people who love Tiger & Bunny's world. But for the industry and on the production side of the film, it needs to appeal to people who don't know Tiger & Bunny already or it's not good business, so we had to try and aim for those people as well, to make something that they could enjoy as much as the fans."
For the existing audience of the franchise, one of the highlights of The Rising must surely be its handling of Fire Emblem, a wonderful character who was never given the time and story beats to flesh out their history, motivations or hang-ups during the TV series itself. That's an oversight that is corrected in the film, and how – events see Fire Emblem facing his demons in scenes that are powerful yet sensitively handled to really bring the character to life. It's a personal challenge for the character that underpins both the focus and title of the film, according to Mr. Yonetani:
"The themes and messages weren't clear at all from the start, when we were having our screenplay meetings we went over and over the screenplay and storyboards. They were rewritten and redrawn many times until we came to this idea for The Rising, which is the sun rising – everyone in their life and in their soul has to evolve yet not evolve at the same time. You're not trying to improve or trying to get better, you're just trying to get to the point where you realise that you're okay as you are – you don't need to change. That self-awareness is 'the rising' for each person."
Of course, beyond such character-centric moments The Rising still sets out its stall as an action-packed, gripping superhero movie, and the production staff clearly had a grand vision for the film in this regard too according to the director:
"We all wanted to make something that was on a Hollywood scale, but you need money for that and so in order to do it with a smaller budget and fewer people in a short time-frame we had to really think and use our heads to overcome each issue and create the best possible quality that we could. There was a lot of technology that came into play, and a lot of calculations. When you look at the final big action scene of the film especially, we succeeded in coming up with something that matches our goals – you rarely see something that good in anime."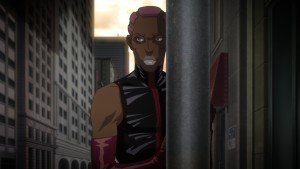 Yonetani isn't exaggerating either – the finale of The Rising is a grandiose, dynamic and brilliantly realised effort befitting of a Hollywood blockbuster movie, and indeed the entire film holds its own in that kind of illustrious company as not just a good anime superhero film, but a good superhero film outright. You can't get much higher praise than that.
Indeed, there's only one real disappointment to be had from The Rising – the knowledge that it could have been set somewhere closer to home for UK fans, as the director explains: "I actually wanted to set part of Tiger & Bunny in London – I had designs, I'd drawn various scenes and I'd ordered loads of photo books to use as reference material but it didn't go ahead."
For now, then, it seems that we'll simply have to make do with a Great Britain without colourful superheroes to protect us – here's hoping for more Tiger & Bunny and a London adventure NEXT time, then…
Both Tiger & Bunny: The Beginning and Tiger & Bunny: The Rising are available on DVD and Blu-ray from Anime Limited.