By Shelley Pallis.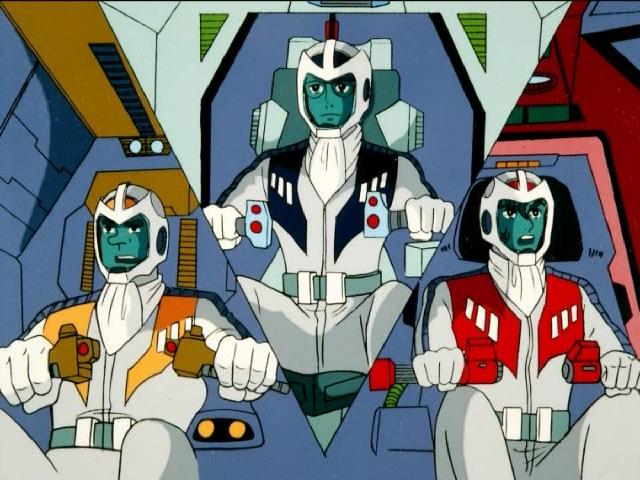 Fans of Japanese sci-fi TV were in for a lockdown treat when the Toei company announced a new channel on Youtube, posting 70 different shows from several decades, ranging from the early black-and-white super-hero show National Kid (1960) to the robo-cop insanity of Winspector (1990). As the title of this article reflects, the "tokusatsu" element of the channel is a bit of a misnomer, since as well as the rubber-monster and special-effects shows implied, it also has a number of old cartoon serials, many of them credited to a Toei house pseudonym.
While I'm excited at the chance to get to see some anime for free, particularly in lockdown mode, it chafes a little to discover that Toei Tokusatsu is only subtitling the first couple of episodes in each case, at least for now. There is a proclamation amid the publicity materials that suggests the studio hopes that the fans of the world will step up and offer to translate the rest for free, turning fan-subbing from unlicensed translation into unpaid labour. "We plan on making a public call for subtitles in any language," says the About page, hopefully.
Such craven pan-handling aside, the Toei Tokusatsu World Official page is a huge treasure trove of many late-twentieth century obscurities from the world of Japanese television, many of which have never been translated before. And it's a cunning means of harvesting metadata, as having failed to sell many of these productions over the years, Toei tries a different tack, literally giving some of them away, to see how many people show up to watch.
There are echoes here of Sam Pinansky's Anime Sols, a crowd-funding venture that urged fans to put their money where their mouth was, which ultimately was something of a wake-up call for over-confident Japanese companies expecting a thousand overseas otaku to cough up for 1980s "classics" like Pastel Yumi and Blue Blink. Anime Sols did have its successes, rounding up enough people who loved Creamy Mami and Dear Brother to eventually produce bare-bones releases on subbed DVDs. But in several other cases, such as Yatterman and Ninja Robot Tokikage, the ventures were curtailed after just a couple of sample online English subtitled episodes. Five years after Anime Sols shut down, Toei appears to be resurrecting its business model as an online call for otaku charity.
The Toei Tokusatsu offerings are all of a similar vein – kiddie fare liable to evoke a certain rose-tinted nostalgia in Japanese viewers of a certain age, but often counter-productively long. Combattler V (1976) for example, is described by the Anime Encyclopedia as having "a story that will be original to anyone who has never heard of Battle of the Planets," and runs in its entirety for 54 episodes, which would be a tall order for a modern-day anime company to invest in translating in full without any guarantee of more than a handful of buyers. Guy Slugger (1977) similarly riffs on alien fore-runners and Fortean mysteries, as an excuse for giant robots to fight monsters. God Sigma (1980) imagines aliens invading the solar system and a bitter conflict over Jupiter's moon Io, fought by giant robots and, er… monsters. Toei Tokusatsu offers viewers the chance to get to grips with their  complex von Däniken-inspired backstories and rousing theme songs, and to be fair, not being able to speak Japanese seems to be of little obstacle in comprehending much of its monster-of-the-week plotting when the subtitles disappear in the late episodes.
Similarly, if I told you that there was a post-apocalyptic, invader-resistance remake of The Three Musketeers, I'd be making Daltanious (1979) sound a lot more interesting than it actually is. With a mere 5.9% audience share on broadcast (this was back when 5.9% was nothing to write home about), it hardly set the world on fire in its home country, but enjoyed something of a positive response in the toy trade and, for some reason, in Italy. I'm baffled as to why this Toei online version uses neither the more obvious spelling that would allude to D'Artagnan, or indeed the "Daltanius" spelling used in America for the spin-off toy line, which found eager fans in the 1980s, even when the show itself remained unbroadcast in the US.
Looking at the Youtube figures, perhaps Toei will have the last laugh. At the time of writing, the first and second episodes of Daltanious have each had 25,000 views. Among the live-action shows, the ridiculous B-Robot Kabutack (1997) has had 51,000 views, while Special Rescue Exceedraft has had 71,000. These are not piffling little squibs of interest – they suggest the strong possibility that these old shows might still find an audience to love them. But how many of them would evaporate the moment that Toei decided to put a price on its garish archive of sci-fi?
Toei Tokusatsu World Official is adding new content every week.