Back in September we released the first season of Tokyo Ghoul and we know since then a lot of you have been wanting to know about our plans for the second season,Tokyo Ghoul √A. Today we can confirm for you what you can expect from our release! Perhaps the first thing you want to know, when's it out? 13th June is the date for your diaries.
Before we get to all the details, you can pre-order your copy today from Amazon UK, Base, Anime-On-Line and even our own web shop right now.
About Tokyo Ghoul √A
Synopsis: The twisted horror hit is back, and the ghouls haven't lost their taste for blood.
After weeks of torture at the hands of Aogiri Tree, Kaneki emerges a changed ghoul. No longer the meek young man who struggled with his hunger, Kaneki goes through a ravenous feeding frenzy, even devouring other ghouls to collect their power.
He then joins the very organization that attempted to break him, Aogiri Tree, and the ghoul faction quickly becomes embroiled in a war between other ghoul groups and the CCG. Along with Amon, Mado's daughter Akira, hoping to avenge her father's untimely death, spearheads the anti-ghoul attacks.
As the war between humans and ghouls intensifies, one question remains: what makes a monster?
You can check out the trailer for Tokyo Ghoul √A below.
We'll be releasing this series as a Limited Collector's Edition Blu-ray set and as a standard DVD. As was the case with our (now out-of-print) Season 1 Limited Collector's Edition Blu-ray, this will be limited to 1000 units. However this is not limited to any one retailer. (See the links at the top of the post.) A standard edition Blu-ray version will follow in the near future.
Our Limited Collector's Edition Blu-ray is in similar style to our season 1 release, it will come packed in a rigid case, a digipack inside to hold the two Blu-ray discs and there will also be an 80-page hard back book included. To round it off, there will also be a transparent o-card to go around the rigid case, adding a unique design to the overall package. (Again, like we did with our Season 1 release.)
On-disc content on our release will include:
The complete second season of Tokyo Ghoul, episodes 1-12, with both the English language dub and original Japanese language audio with subtitles.
Extras are audio commentaries for episodes 1 & 12, video commentary for episode 7, promotional videos and the textless opening title sequence.
The hard back book, following on from the one included in our season 1 release, is packed full of content for you including character information, an episode guide, a very detailed interview with the director Shuhei Morita that takes you through the entire season and a gallery section.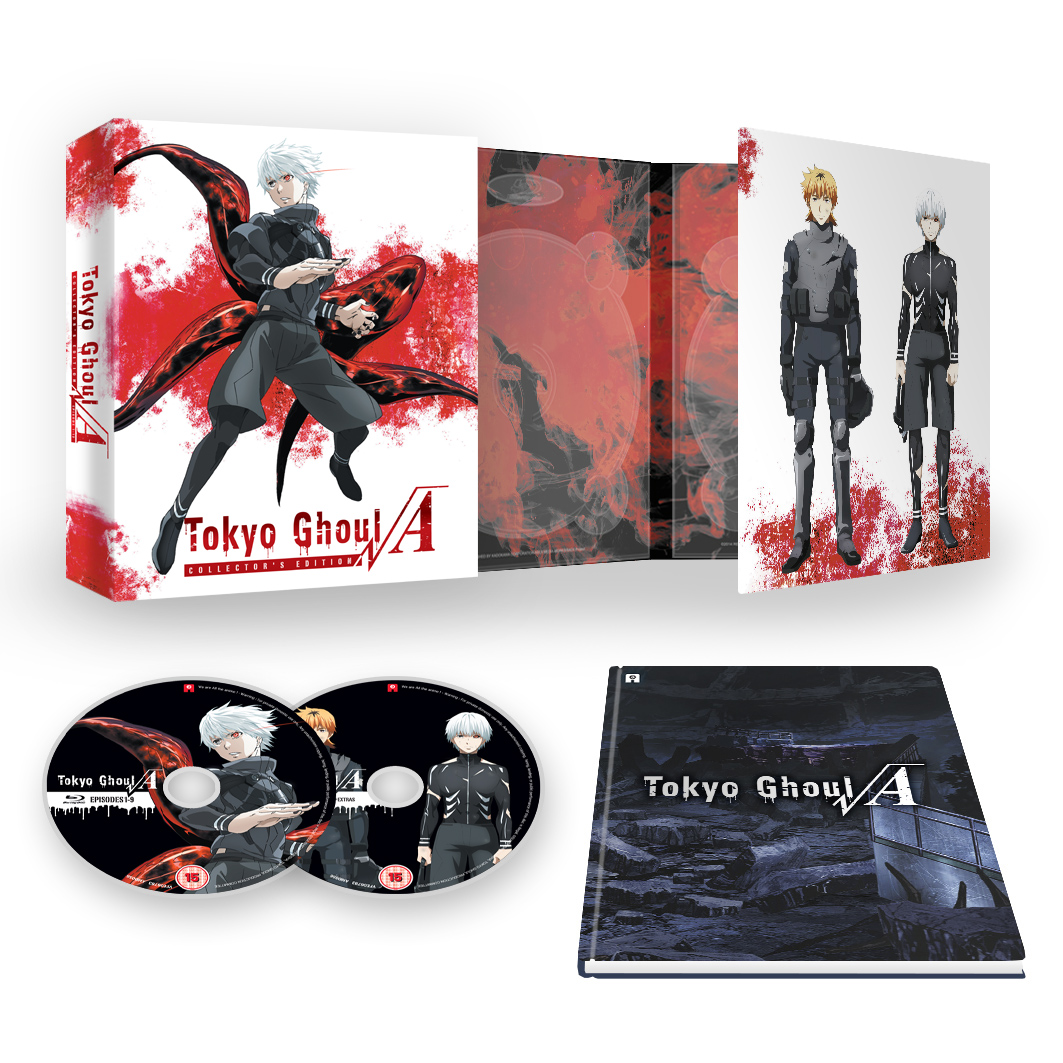 Signing out~!
Jeremy