By Roxy Simons.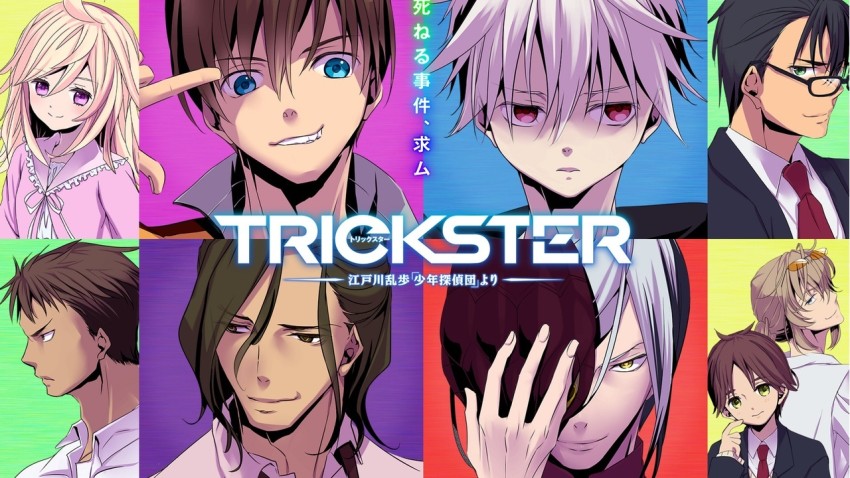 2015 marked the 50th anniversary of the mystery writer Ranpo Edogawa's death. Taking his pseudonym from Edgar Allen Poe (as in "Edoga Waran Po"), one of his many influences, Ranpo Edogawa wrote many novels, short stories, and essays over his 42-year career. He changed the face of Japanese mystery fiction, and his most notable creation was the great detective Kogoro Akechi who, with the help of his assistant Yoshio Kobayashi , solved crimes and was regularly pitted against the Fiend with Twenty Faces.
To celebrate his life's work, and the anniversary of his death, it was announced that a variety of anime series would be created to bring his most noteworthy stories to life. Trickster: Edogawa Ranpo's Boy Detectives Club is the latest of these adaptations. Taking its name the series of books of the same name, the anime sees Akechi's protégé Kobayashi join the team of detectives in the year 203X. He's brought on board by Kensuke Hanasaki, an eager recruit who decides to help the reclusive boy. There's something different about his character this time around: he's immortal.
Surrounded by mysterious mist, a bubble of sorts, at all times, Kobayashi is kept from being harmed from any external threats. For the 14-year-old boy this is the last thing he wants, he's desperate to end it all and his newfound ability makes it impossible. He's vulnerable and reluctant to get close to others, but he agrees to join the other on the basis that they might find a way to kill him. In this sense, amongst many others, Trickster departs significantly from its source material.
The focus of the series' first half is more on Hanasaki than it is on Akechi's gifted apprentice. His vast amount of energy and desire for approval in contrast to Kobayashi's lacklustre attitude means that we follow him more often. It's his worries and past that are brought to light.
Unlike the earlier anime series to celebrate Ranpo Edogawa's legacy, Game of Laplace, Trickster doesn't focus on its murder-mystery origins. Aimed at children, the original series of stories was set in Showa-era Japan and saw the detective club members, led by Kobayashi, step in to solve mysteries —often instigated by the Fiend with Twenty Faces— while their boss Detective Akechi is away. In this, the series is more fixated on their day-to-day business rather than one particular crime, the slow growth of the friendship between Hanasaki and Kobayashi, as well as the pasts of Akechi and Hanasaki. Its lack of focus does make for a rather stilted beginning, and since there doesn't seem to be any clear goal for the narrative it is difficult for the series to stand out against others this season.
Rather than being a direct adaptation, it's easier to see Trickster as being merely influenced by his work and presenting the essence of one Edogawa's stories instead. The characters are all there, but they have been transported to a new world and are taking on new adventures. Whether the changes that have been made will make for a satisfying series is yet to be seen, but that doesn't mean that there isn't potential for it to improve in its second half now that the Fiend with Twenty Faces has made his grand entrance.
Trickster is streaming now in the UK and Ireland.
You can watch the subtitled Simulcast at Crunchyroll and the English language SimulDub at FunimationNow.