It's been a few months since we released the first part of the series Charlotte as a Ltd Collector's Edition Blu-ray+DVD set and on standard DVD. We know you've been waiting patiently for the arrival of the second part and we're happy to say you don't have much longer to wait as it's out next week (Monday 18th September to be exact.) Today we're going to be showing you what to expect from this release.
But before we get to all the details, a quick reminder that you can order your copy of this from the likes of Amazon, Zavvi, Base, Anime-On-Line, HMV Online and even our own web shop now!
ABOUT CHARLOTTE
A story by Jun Maeda (Angel Beats!) Animation production by P.A. Works., the studio brought you Angel Beats!, Shirobako and Sakura Quest.
Synopsis (for Part 1): "A small percentage of adolescents develop special abilities at the onset of puberty. Yu Otosaka is one of these few and deftly uses an ability that takes over a target's body for five seconds to get accepted into a prestigious high school. Just when he is about to start a stable high school life as a popular honour student, a girl named Nao Tomori appears before him. Their encounter reveals the cruel destiny for wielders of special abilities."
Read more about Charlotte Part 1 HERE and Charlotte Part HERE.
Check out the trailers for Charlotte Part 1 below


---
WHAT'S INSIDE? WHAT'S ON THE DISCS?
Following on with the style established for our Part 1 release, the Ltd. Collector's Edition set of Charlotte Part 2 comes packed in a rigid case with a digipack to store both the Blu-ray and DVD discs. Also included inside are four art cards.
On the discs themselves you'll find the following –
The second half of the series, episodes 8-13, in both English and Japanese (with English subtitles) audio options.
Extras on the discs are identical, and include the following: Textless Opening and Closing title sequences, Web Previews, English trailer, English bloopers and you even get a Bonus Episodes titled "The Strong Ones" too!
---
WHAT DOES THE FINISHED PRODUCT LOOK LIKE?
Below you can find photos of the finished product. If you click on them they'll enlarge too.
For those of you opting for the standard DVD version of Charlotte Part 2, here's a quick glimpse of how that looks
And that concludes this unboxing of Charlotte Part 2. We hope you're looking forward to adding this second half of the series to your collection.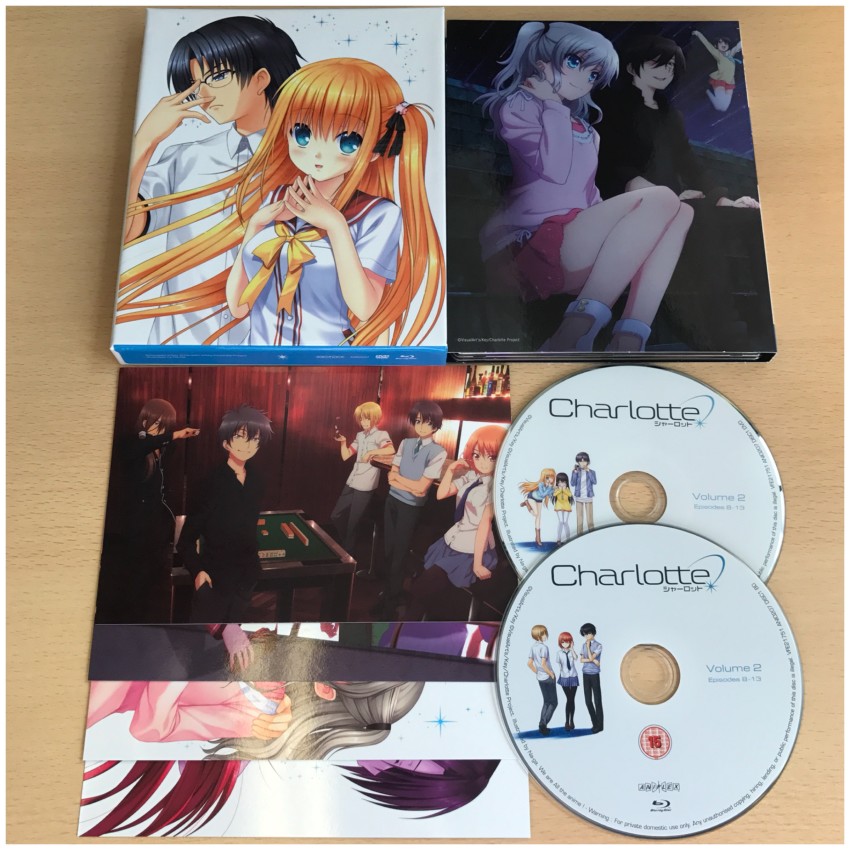 Signing out~!
Jeremy