[Unboxing] Escaflowne (TV Series & Movie) Ltd Collector's Edition Blu-ray
January 11, 2019 · 0 comments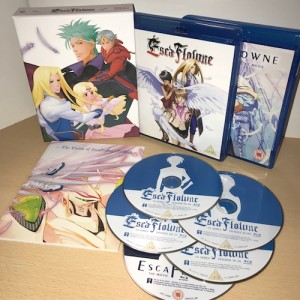 It might be the year 2019, but we're going back in time to a classic anime for our first unboxing of the year! Today we're delighted to bring the first look at our AllTheAnime.com exclusive Ltd Collector's Edition Blu-ray set of Escaflowne! A set that includes both the classic series as well as the film that give the viewer a different take on both the story and the overall appearance of the world.
This set was announced and revealed as part of our 12 Days of Christmas sales back in December, and we're happy to confirm that this product is now shipping! With all the orders that were placed since the announcement back in December having shipped and making their way to people now.
Below you'll be able to get all the details on what to expect. So sit back, relax, and have a read.
---
ABOUT ESCAFLOWNE!
Synopsis: Hitomi Kanzaki is a typical high school girl, with typical problems, but when a vision of a young man battling a dragon becomes a reality, her life changes forever. Drawn into a strange vortex with the swordsman, Van, Hitomi is thrust into the strange world of Gaea.
Van must learn to master the suit of armor, Escaflowne, before he and Hitomi are crushed by the ambitions of the Empire of Zaibach. Van and Hitomi will encounter both allies and enemies in an effort to unlock the secrets within Escaflowne, and Hitomi's heart, stirred by love and adventure, will, at times ache with sorrow. But why was she sent to this world? Find out in a classic tale of fantasy and adventure!
Check out the official trailers for both the series and the film below.
(Worth noting that these trailer were originally published for previous individual releases of both.)
Additional Notes:
— Want to read more about Escaflowne? Have a read of the piece at our blog by Andrew Osmond HERE.
---
WHAT'S INSIDE? WHAT'S ON THE DISCS?
This AllTheAnime.com Exclusive release brings both the classic series and the film into one collection. Presented inside a rigid case, you'll find the series (over four Blu-ray discs) housed inside one amaray case, while the movie is contained on a separate disc and in an amaray case of its own too. In addition to that you'll also find a 32-page booklet containing character art and key visuals.
All the episodes and the movie include the original Japanese audio with English subtitled and two English audio options. First, the original Bandai produced English dub from the year 2000, and then the 2016 English dub produced by Funimation. (You can read more specifics on that below.)
It's worth noting that the TV series is unique circumstance with an anime release as there are technically two versions of it; but the differences only impact the first 7 episodes specifically. There are Director's Cut versions of the first 7 episodes (which can be viewed in Japanese with subtitles and the 2016 Funimation English dub), and then the TV Broadcast version (which can be viewed with the 2000 Bandai English dub and the original Japanese audio with subtitles.)
But the TL;DR on this is that either way you get the entire series and the movie!
On the disc themselves you find the following –
TV Series (Over four Blu-ray discs)

The complete TV series of Escaflowne, Director's Cut* and TV Broadcast versions.
Three language options:
— Original Japanese with subtitles
— 2000 Bandai produced English dub (Broadcast version episodes only)
— 2016 Funimation produced English dub (Director's Cut version episodes only)
Extras: Title-free Opening, Title-free Endings, Music Videos, Video Game Cutscenes, Club Escaflowne interviews with: Cast: Maaya Sakamoto, Ikue Ohtani, Joji Nakata, Cast: Shinichiro Miki, Mayumi Iizuka, Minami Takayama, Staff: Hirotoshi Sano, Hiroshi Ousaka, Kimitoshi Yamane, Staff: Shoji Kawamori, Kazuki Akane [Interviews are in Japanese with subtitles only.]
Movie (1 Blu-ray disc)

Three language options:
— Original Japanese with subtitles
— 2000 Bandai produced English dub (Broadcast version episodes only)
— 2016 Funimation produced English dub
*NOTE: Director's Cut versions of episodes of the TV series applies to Episodes 1-7 only. TV Series Disc 1 contains broadcast version of those episodes, while TV Series Disc 2 contains Director's Cut version. All other episodes feature all three language options.
---
WHERE CAN I ORDER THIS?
As we've mentioned a couple of times now, this product is exclusive to our AllTheAnime.com Online Shop and can be ordered right now in the link below
Also worth noting that should you attend an event we are exhibiting at in the future, we'll likely have some units available at those too.
---
PHOTOS OF THE FINISHED PRODUCT
And now it's time for photos of the finished product. As a note you can click on the images to enlarge them if you want.
---
And that concludes this unboxing for the AllTheAnime.com Exclusive Escaflowne TV Series & Movie Ltd Collector's Ed. Blu-ray set! If you haven't ordered it already, we hope you're looking forward to adding this to your collection.
Signing out~!
Jeremy