[UNBOXING] Eureka Seven Hi-Evolution #1
September 1, 2018 · 0 comments
The month of September has officially arrived and with that we're kicking things off with an unboxing of a title we know a lot of you are interested in checking out, Eureka Seven Hi-Evolution #1.
Today we're happy to bring you an unboxing of what you can expect from our Ltd Collector's Edition Blu-ray+DVD set that's available from 10th September – just over at week away!
Read on below for all the details.
---
ABOUT EUREKA SEVEN HI-EVOLUTION #1
After it first stunned anime fans a decade ago, Eureka Seven returns for the first instalment in a new movie trilogy from Studio Bones.
Ten years before the events which saw young Renton join the crew of the Gekko came the so-called Summer of Love – the cataclysmic world-changing event enacted in no small part by his father, Adroc Thurston, in conjunction with the mysterious girl known only as Eureka.
Unaware of the full impact of his forebear many years previously, can Renton follow in his father's footsteps and also find a way to bring much-needed change to the planet? First, however, he needs to learn a lot about himself and the world around him, which means facing up to difficult decisions surround both Renton and his adoptive family.
You can watch a subtitled trailer for the film below:

---
WHAT'S INSIDE? WHAT'S ON THE DISCS?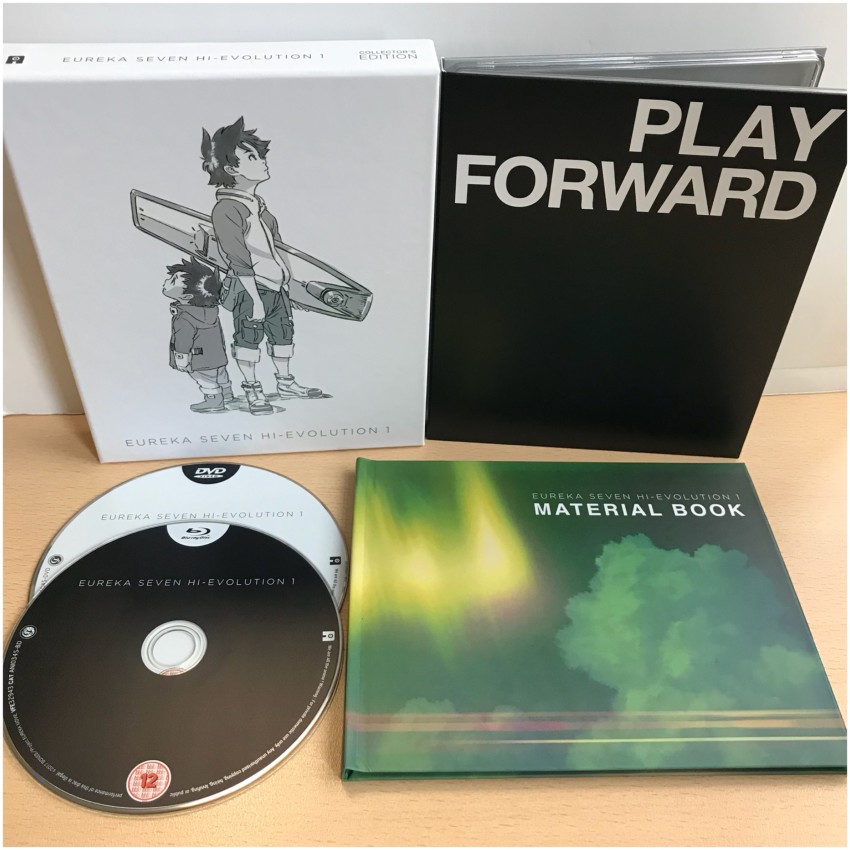 Our Ltd Collector's Ed. Blu-ray+DVD set comes packed in a rigid case that houses a digipack to store the two discs (1 x Blu-ray + 1 x DVD). The artwork on the front of the rigid case has a spot-uv finish, making really pop out in the light. Also included is a 52 page hard back artbook.
On the discs themselves you get the main feature with options to watch it with the original Japanese audio (with English subtitles) as well as the English language audio. (Both of those options being in 5.1)
On the Blu-ray disc specifically, you'll also find some extras in the form of:
Hiroya Ozaki x Tomoki Kyoda x Dai Sato"crosstalk" interview

Music Videos (5 in total)
Promotional Videos
Focusing on the 52-page art book for a moment, that is divided into multiple sections: Characters, Settings and Rough Designs.
Cast & Characters: showcasing art of characters you seen in the film.
Settings: showing other elements including in the film such at internal designs of mechs.
Rough Designs: you get to see earlier designs of characters featured in the film; it's very interesting comparing them to their final designs.
---
WHERE CAN I ORDER THIS?
You can order your copy right now from the following retailers:
Order at Amazon UK Order at Base Order at HMV Online Order at Anime-On-Line Order at All The Anime
---
WHAT DOES THE FINISHED PRODUCT LOOK LIKE?
And now it's time for photos of the finished product itself. As a note, you can click on them enlarge them too if you want.
And that concludes this unboxing of the Ltd Collector's Edition Blu-ray+DVD set of Eureka Seven Hi-Evolution #1. We hope you're looking forward to adding this to your collection.
Signing out~!
Jeremy