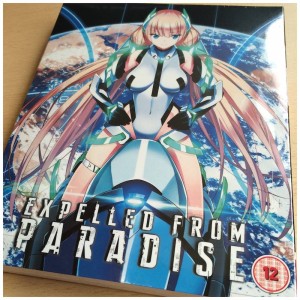 It's been a long time coming since we first announced we would be bringing Expelled From Paradise to the UK and the wait is nearly over as this Monday (4th July) we release the film as a Limited Collector's Edition Blu-ray/DVD set and on standard DVD. Today we're going to be showing you the Limited Collector's Edition set.
If you wanting to order your copy you can do so through the likes of Amazon UK, Zavvi, Base, HMV Online, Anime-On-Line and our AllTheAnime.com web shop. We can also confirm that HMV stores across the UK will be stocking this on day of release.
ABOUT EXPELLED FROM PARADISE
Synopsis: "With Earth now left in ruins following the "Nano Hazard," most of humanity has abandoned the planet they once called home along with their physical bodies and rebuilt their digitalized minds into a society within the cyber universe of "DEVA."
A.D. 2400, DEVA's central council detects an incident of unauthorized access into their mainframe. Someone on Earth was trying to hack into the system. The only information DEVA was able to retrieve was that the hacker referred to himself as "Frontier Setter."
To investigate the mysterious hacker's motives, the high officials of DEVA dispatch System Security Third Officer Angela Balzak to the Earth's surface. Equipped with a prosthetic "material body," Angela attempts to make contact with a local agent Dingo, but what awaited her instead was a swarm of Sandworms now infesting the Earth's surface. Angela intercepts the gruesome pests with her exoskeletal powered suit Arhan.
Will Angela and Dingo be able to find Frontier Setter on this devastated planet? Their journey to explore the secrets of the world begins now…!"
Check out this trailer courtesy of our friends at Aniplex
WHAT'S INSIDE? WHAT'S ON THE DISCS?
Our release comes packed in a rigid case and inside that there's a digipack to hold the two discs, 1 x Blu-ray and 1 x DVD. In addition to that there are art cards and a 40-page art booklet.
On-Disc Content: (Identical on each format)
The main feature in both English and Japanese with English subtitles.
Extras: Teaser trailers, Making of… featurette (approx 20 mins)
WHAT DOES THE FINISHED PRODUCT LOOK LIKE?
And now it's time for photos of the finished product. You can click on them to enlarge them too if you want.
And that concludes our unboxing of Expelled From Paradise. Available from this Monday (4th July.) Will you be adding this to your collection?
Signing out~!
Jeremy