[UNBOXING] Mobile Suit Gundam 0083
July 7, 2020 · 0 comments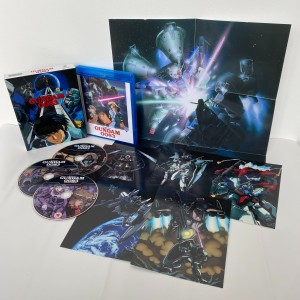 It's been a few months since we first released this set but with the way things have been, being able to bring you an unboxing of this hasn't been possible until now!
So today we're here to bring an unboxing of this Mobile Suit Gundam 0083 Collector's Edition Blu-ray set – which at time of writing, is still available but stock levels are starting to run a bit low.
This set is available to order now, and we do still have copies at our AllTheAnime online store too
ORDER AT ALL THE ANIME SHOP
Read on below for all the details regarding this set!
---
ABOUT
Mobile Suit Gundam 0083
The OVA series that serves as a sequel to the original Mobile Suit Gundam and a prequel to Mobile Suit Zeta Gundam finally gets released in the UK for the first-time!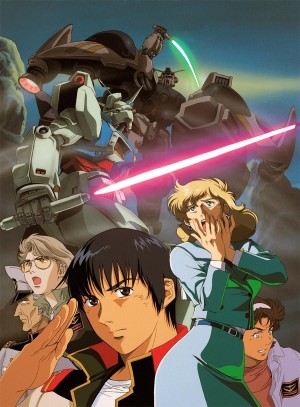 Director: Mitsuko Kase ("She, The Weapon", "Mobile Suit Gundam: The 08th MS Team, Miller's Report") and Takashi Imanishi ("Mobile Suit Gundam The Origin")
Mechanical Styling: Shoji Kawamori (The Vision of Escaflowne, Cowboy Bebop, Macross Plus)
Character Design: Toshihiro Kawamoto (Cowboy Bebop, Wolf's Rain, Blood Blockade Battlefront)
Synopsis: Universal Century 0083.
Having triumphed in the One-Year War, the Earth Federation has grown complacent, while the last remnants of Zeon forces have been planning one final stand. It all hinges on ace Zeon pilot Anavel Gato stealing one of the new prototype Gundams out from under the Federation's nose.
With a nuclear-equipped Gundam missing and their pride wounded, the Federation ship Albion and rookie pilot Kou Uraki set out in pursuit of the Zeon thieves and the stolen Gundam GP02A.
You can watch a trailer for "The After Glow of Zeon" film included in this set below
NOTE: Although this trailer above is in 16:9, the actual film on our Blu-ray retains it's original 4:3 presentation.
---
ADDITIONAL READING: Interested in learning more about Gundam 0083? You can read an introductory piece about the series here at our blog HERE.
---
WHAT WAS PLANNED FOR THIS RELEASE?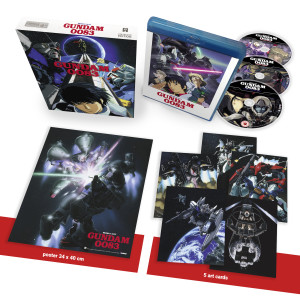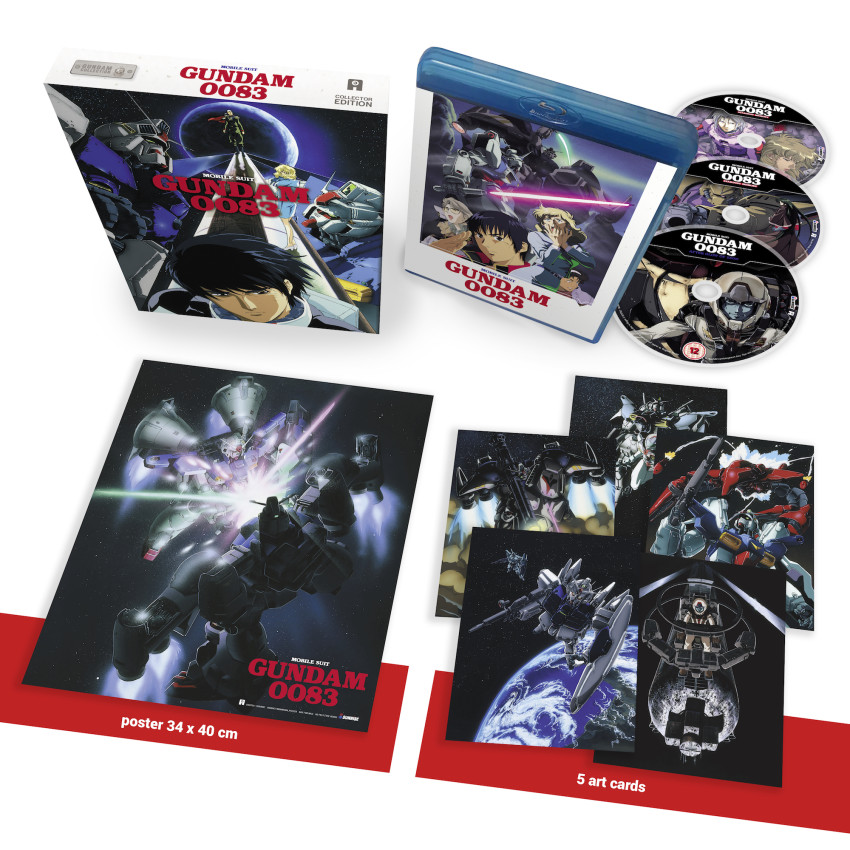 This Ltd Collector's Edition set includes the 13 OVA "Mobile Suit Gundam 0083: Stardust Memory" – which has never been released in the UK prior to this release – along with the film "Mobile Suit Gundam 0083: The After Glow of Zeon."
The 13 episode OVA has viewing options in both English and Japanese with English subtitles, whereas the film is in Japanese with English subtitles only.
The above is spread over 3 Blu-ray discs; the 13 episode OVA is split over two of them, and the movie is on the third disc. These discs come packed in an amaray case which itself will come inside a rigid case. Additionally in the rigid case are 5 Art Cards and a poster, showcasing some of the fantastic art created for this project.
---
WHERE CAN I ORDER THIS
At time of writing, you can still order this from a number of retailers including –
Order at Amazon UK
Order at HMV Online
Order at Anime-on-Line
And as mentioned at the top of this post, we do still have some units available to purchase from our online shop too. You can do that using the link below
---
PHOTOS OF THE FINISHED PRODUCT
Chances are you've potentially skipped all the text above to get these photos quickly! Which is fair enough if so. Check them out below. And also worth noting you can click on them to enlarge them if you want.
---
And that concludes this unboxing of Gundam 0083! If you've been meaning to order this set but have been holding off, you might want to think about ordering it soon rather than later.
Signing out~!
Jeremy