With MCM London Comic Con opening its doors in a little under an hour, we've got a late addition to the lineup of titles we have available to purchase ahead of its general retail release! That being Mobile Suit Gundam Thunderbolt: December Sky.
With that in mind it's time to give you a quick preview on what you can expect to from this Ltd Collector's Edition Blu-ray release that will be on general retail release from 19th November!
Read on below for all the details.
---
ABOUT GUNDAM THUNDERBOLT: DECEMBER SKY
Their war has not yet ended…
It is Universal Century 0079, at the end of the One Year War between the Earth Federation and the Principality of Zeon. The space colonies of Side 4, or Moore, were previously destroyed by a Zeon attack, and many colonists lost their lives. Side 4 became a shoal zone filled with the wreckage of destroyed colonies and warships, lit by constant flashes of lightning due to collisions between electrified debris. It soon came to be known as the "Thunderbolt Sector."
The Moore Brotherhood, an Earth Federation Forces unit made up of surviving citizens from Moore, set out to exterminate the Zeon forces in the Thunderbolt Sector in order to reclaim their homeland. To halt the Federation advance, the Zeon forces deployed their own Living Dead Division, which was established to collect combat data on soldiers with prosthetic limbs.
Io Fleming, though part of the Moore Brotherhood, hates being tied down by his homeland and family history. Daryl Lorenz, having lost his legs in earlier battles, is now an ace sniper of the Living Dead Division.
When they confront each other on the battlefield, they will reach a mutual realization. These two are destined to kill each other.
You can watch a trailer for this below

---
WHAT'S INSIDE? WHAT'S ON THE DISC?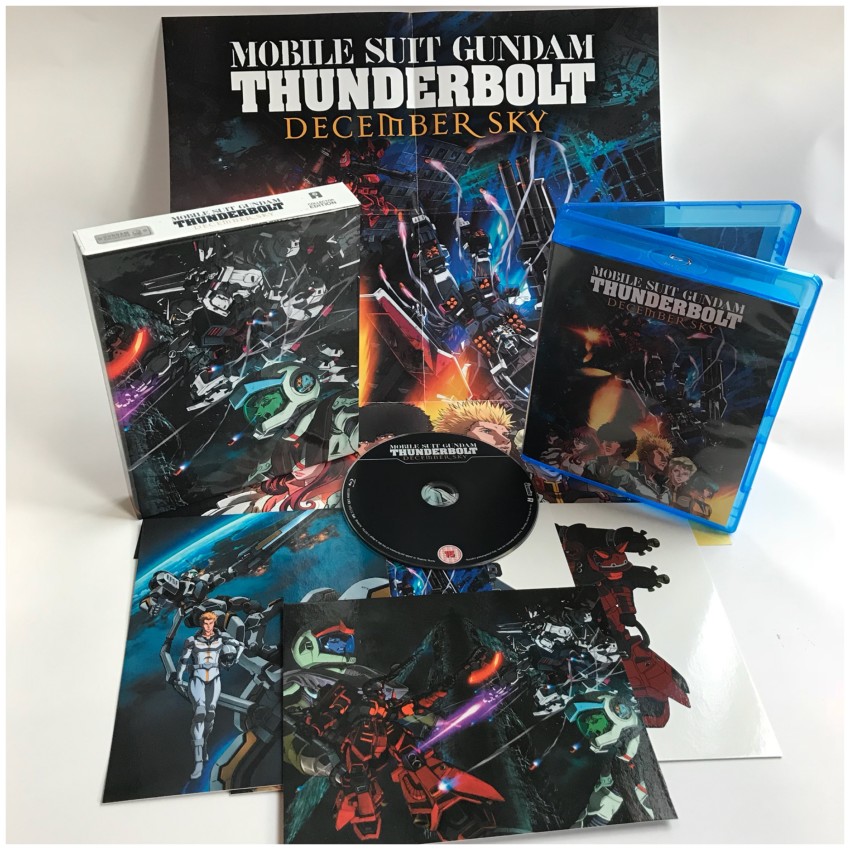 Keeping in theme with our past limited edition Gundam releases, Gundam Thunderbolt comes packed in a rigid case, and inside that you'll find an amaray case with the Blu-ray disc inside. Additionally you'll also find 5 art cards and an A3 poster.
It's worth noting that due to Gundam Thunderbolt: December Sky being a standalone film, and in this context its own release, the rigid case is thinner than past Gundam Collection releases of ours. So accommodate this, the Gundam Collection logo on the spine has been reduced in width, but retains the same height so it's still looks uniform with the rest of your collection.
On the disc itself you get
The film with English and original Japanese with English subtitles. (Both audio options being in 2.0 specifically.)
Additionally there are previews and commercials included as extras.
---
PHOTOS OF THE FINISHED PRODUCT
And now time for some photos of the product itself! Should you want to you can click on the images to enlarge them too.
---
And that concludes this unboxing! If you're coming to MCM London Comic Con we'll see you there!
Signing out~!
Jeremy