[Unboxing] Gurren Lagann Blu-ray Collector's Edition
February 4, 2017 · 0 comments
NOTE: As of 29th May 2017 this set is now available at all retailers including our AllTheAnime.com web shop HERE.
---
It's been a few weeks since we shared the details about the Zavvi Exclusive Gurren Lagann Ltd Collector's Edition Blu-ray set that will be available from 13th February. Well today we're delighted to show you an full unboxing of the actual product!
A quick reminder that this product is a release currently exclusive to Zavvi.com, so the only place you get it is by ordering from there website.
CLICK HERE TO ORDER AT ZAVVI.COM
ABOUT GURREN LAGANN
Synopsis: From the director Kill la Kill, Hiroyuki Imaishi, comes the cult classic tale that kicks reason to the kerb in an action packed adventure!
"This is the story of a man who has yet to realize what destiny holds in store for him….
In the distant future, mankind has lived quietly and restlessly underground for hundreds of years, subject to earthquakes and cave-ins. Living in one such village are 2 young men: one named Simon who is shy and naïve, and the other named Kamina who believes in the existence of a "surface" world above their heads. The destiny of these two starts moving drastically when the ceiling of their village falls in, and a gigantic "Gunmen" and a beautiful girl named Yoko, wielding a superconductive rifle, come from the surface. Together, Kamina, Simon and Yoko ride the mecha "Lagann" that Simon digs out of the ground, and fly up to the surface!"
Check out our trailer for Gurren Lagann, first published when we originally released the series back in 2014, below

WHAT'S INSIDE? WHAT'S ON THE DISCS?
This new Limited Collector's Edition set comes with the following –
A rigid case to store the two amaray cases and 40-page art booklet.
The entire series (27 episodes) over four Blu-ray discs with both the English language dub and original Japanese audio with subtitles.
The two Gurren Lagann Movies "Childhood's End" and "The Lights in the Sky are Stars" in Japanese with English subtitles. (There's no English dub for these films.)
On-disc extras across the six Blu-ray discs are

Yoko Goes to Gainax / Study animation at Gainax
SANZIGEN 3DCG Test Animation Footage
Animated Storyboards
Clean Openings and Ending title sequences
TV Broadcast Version of Episode 6
Storyboard Music Video
The Parallel Works shorts collection. (These are contained across the two Movie Collection discs)
---
---
WHAT DOES THE FINISHED PRODUCT LOOK LIKE?
And now it's time to look at how the final product has turned out! Check out the photos below. (You can click on them to enlarge them too.)
And that concludes this unboxing of the Zavvi Exclusive Gurren Lagann Collector's Edition Blu-ray set. You can order your copy right now ahead of its release on 13th February from the Zavvi website.
CLICK HERE TO ORDER AT ZAVVI.COM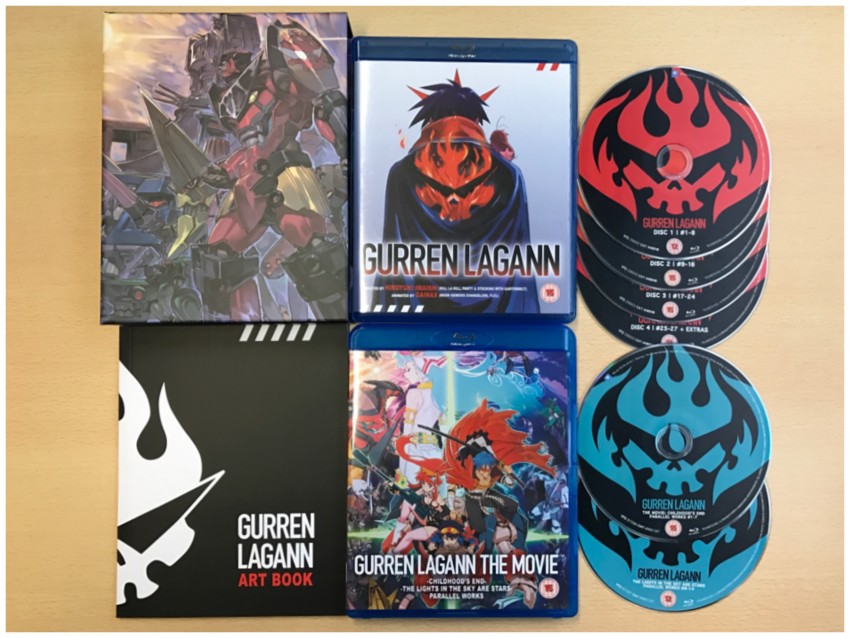 Signing out~!
Jeremy