[UNBOXING] Kiznaiver
September 4, 2018 · 0 comments
We're very excited to be releasing the series Kiznaiver later this month (on 24th September) and hot off the production line we're delighted to show you what you can expect from our Limited Collector's Edition Blu-ray set, along with the AllTheAnime.com Exclusive Deluxe Hardback Art Book! (If you're not familiar with what that is, have no fear, all will be explained below.)
So sit back, relax, grab a drink and have a look at what we've got for you!
---
ABOUT "KIZNAIVER"
An original TV anime series by acclaimed animation studio TRIGGER (Kill la Kill) and the renowned writer Mari Okada (Maquia: When the Promised Flowers Bloom, The Anthem of the Heart).
Synopsis: "Even within the confines of the futuristic Sugomori City, Katsuhira Agata is a very unique high school boy – someone who simply cannot feel any pain whatsoever. Bullied and isolated, his world is set to shift seismically when he meets a strange girl named Noriko Sonozaki.
Before he knows it, Agata has been linked to a number of his classmates as part of a group created to share any pain each of them feels via a system known as "Kiznaiver". Tasked with various trials by Sonozaki as they serve as guinea pigs under the Kiznaiver system, could Agata and his new comrades' experiences be the key to their own self-discovery?"
Check out a subtitled trailer for the series below.

---
WHAT'S INSIDE? WHAT'S ON THE DISCS?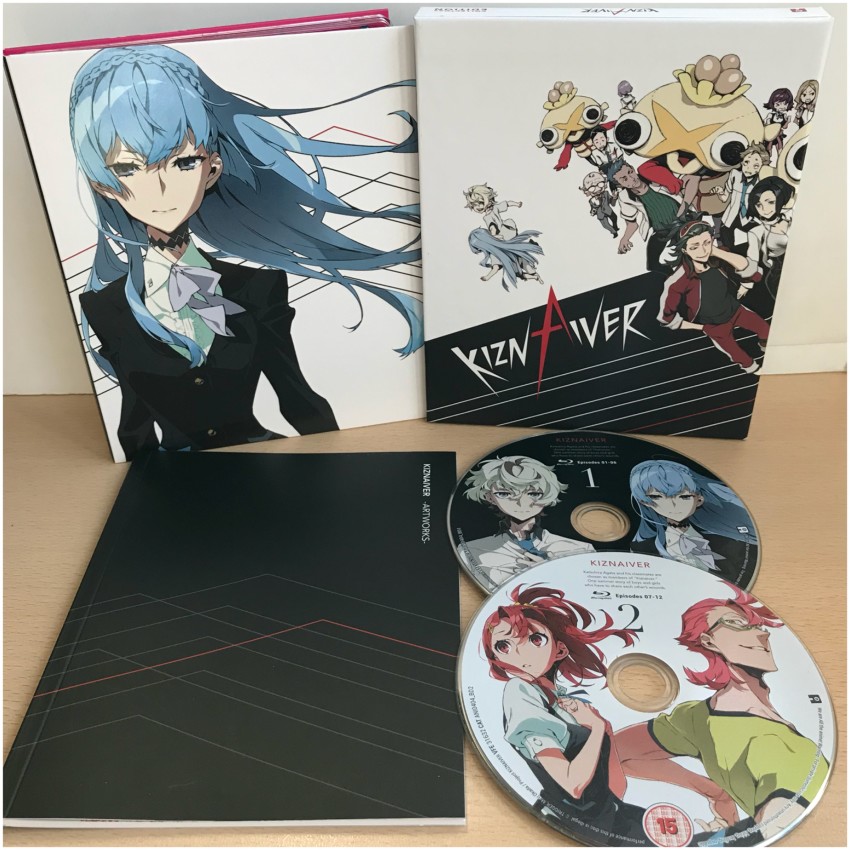 Our Limited Collector's Edition Blu-ray set comes packed in a rigid case that has an image design wrapping around the box sporting a special spot UV finish on it, making it really pop out in the light. Inside the case you'll find a digipack pack to hold the two Blu-ray discs, and a 40-page art book focusing on artwork from the series. Worth noting here is that an element of the digipack has a spot UV effect on it too!
On the discs themselves you get –
The complete series of Kiznaiver (12 episodes) in English and Japanese with English subtitles.
On-disc extras across the two discs are: Clean Opening and Closing Title Sequences, Japanese trailer and commercials.
All the anime online shop Exclusive version
If you're wanting something a little more when it comes to this series, we have a special bundle exclusive to our AllTheAnime online shop!
While the basic format of the Collector's Edition itself remains the same regardless of where you purchase it, this Shop Exclusive bundle will also ship with a substantially expanded, comprehensive white cover art book alongside the black cover 40-page book within the box itself – it's bigger (B5 in size, to be precise, so it will sit on your shelf or coffee table separate to the rest of the package), and contains a vast amount of additional character artwork and illustrations totalling 116 pages overall! The additional book created for this Shop Exclusive release is, in effect, a full-blown artbook similar to those you'll often find sold in Japan, and it's the first and most comprehensive collection of Kiznaiver artwork for a western audience you'll find.
Again, this Deluxe Hard Cover Art Book can only be purchased as part of the bundle available to order now at AllTheAnime.com.
---
WHERE CAN I ORDER THIS?
You can order your copy right now from the following retailers:
Order at Amazon Order at HMV Online Order at Anime-on-Line
**AllTheAnime.com Exclusive Bundle**
Exclusive to our AllTheAnime.com online shop, you can order a bundle that will include the Ltd Collector's Edition Blu-ray and a Deluxe Hard Cover 116-page Art Book! Order your bundle today –
Order All The Anime Exclusive Bundle
---
WHAT DOES THE FINISHED PRODUCT LOOK LIKE?
Now it's time for photos of the finished product. This will be split into two sections: first the Ltd Collector's Edition Blu-ray set, and then the AllTheAnime.com Exclusive Deluxe Hard Cover Art Book. You can click on all the photos to enlarge them too if you want.
Section 1: Ltd Collector's Edition Blu-ray
Section 2: *AllTheAnime.com Exclusive* Deluxe Hard Cover Art Book
Finally, in this section we'll be showing the you what to expect from the Deluxe B5 Hardback Art Book which is exclusive to AllTheAnime.com (while stock lasts.)
And that concludes this unboxing of Kiznaiver! We hope you're excited to add this to your collection.
Signing out~!
Jeremy