[UNBOXING] March Comes in Like a Lion: Season 1 Part 1
October 22, 2018 · 0 comments
We've reached the end of the October and that means there's a slew of new releases on the calendar that will be making their way to you soon! Today we're going to show you what you expect from our release of March Comes in Like a Lion: Season 1 Part 1, which is available on Ltd Collector's Edition Blu-ray from Monday 29th October – next week!
And worth noting that you'll be able to purchase this from us this coming weekend at the MCM London Comic Con event from our stall in the south hall, at Block S2, stand #S400 while stock lasts.
Read on below for the details.
---
ABOUT MARCH COMES IN LIKE A LION
Synopsis: "The tribulations of teenage life and the struggles therein are brought to the fore in stunning fashion with this beautiful adaptation of the award-winning manga from Chica Umino (Honey and Clover), produced by SHAFT.
Rei Kiriyama is a 17-year-old prodigy in the world of shōgi (Japanese chess), his young age marking him out as an exciting talent in a hierarchy mostly dominated by much older men. While those around him are impressed by his relative success at such a tender age, for Rei the expectations placed upon him feel like a millstone around his neck as he struggles to make sense of his place in the world and the person he wants to be, while simultaneously battling with the pressures of the world of professional shōgi.
Rei's journey of friendship, rivalry and self-discovery brings with it a gamut of emotions, and a poignant look at life that will resonate with viewers from every walk of life."
Studio: SHAFT (Hidamari Sketch, Puella Magi Madoka Magica, the Monogatari franchise, Nisekoi)
Director: Akiyuki Simbo (Arakawa Under the Bridge, Bakemonogatari, Hidamari Sketch)
You can watch a trailer for the series below:
---
WHAT'S INSIDE? WHAT'S ON THE DISCS?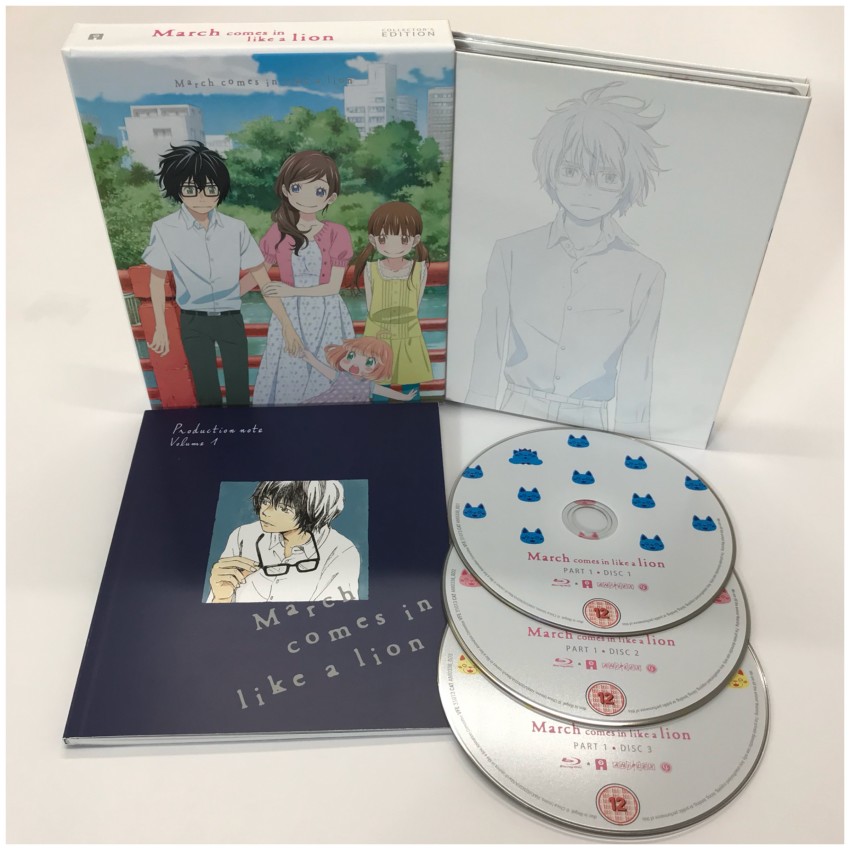 The Ltd. Collector's Edition set comes packed in a rigid case. Inside the rigid case you'll find the 3 Blu-ray discs stored inside a fold out digipack. Also inside the rigid case there's a 40 page booklet.
On the discs themselves you get:
Episodes 1-11 of the series in English and original Japanese with English subtitles
On disc extra include Special Digest Episode 11.5, Meow Shogi Shogi – "Moving Meow Shogi Special, Textless Opening and Closing title sequences.
---
WHERE CAN I ORDER THIS?
You can order your copy of the film right now from retailers including the following:
Order at Amazon Order at Zavvi Order at Base Order at HMV Online Order at Anime-On-Line Order at All The Anime
---
ALL THE ANIME EXCLUSIVE BUNDLE
We also want to make it known that exclusively at our AllTheAnime.com online shop we have a special bundle where you can get a bonus A2 poster when ordering March Comes in Like a Lion: Season 1 Part 1. The poster will be sent separately, and is expect to ship in early November.
Order exclusive bundle here
---
WHAT DOES THE FINISHED PRODUCT LOOK LIKE?
And now for photos of the finished product itself! As a random note, you can click on the images to enlarge them if you want.
Also, a quick random note, the lighting for some of these wasn't the best – blame the sunshine. So you'll notice some very ominous looking shadows in some of these photos.
---
And that concludes this unboxing of March Comes in Like a Lion: Season 1 Part 1! We hope you're looking forward to adding this to your collection! Stay tuned for info on Part 2 coming soon!
Signing out~!
Jeremy