As well as the action-packed series Tokyo ESP being available this coming Monday (28th March) [See our unboxing of that HERE] we are also bringing the classic series Noein: To Your Other Self to Blu-ray in the UK for the first time in the form of a Limited Collector's Edition set. Today we're bringing you a full unboxing of what to expect from our release. Read on below for all the details.
Before we go any further a quick reminder that you pre-order your copy from all retailers now including Amazon, Zavvi, Base and our web shop. We can confirm that HMV stores across the UK will be stocking this from day of release.
What's noein: to your other self about?
Before going any further, check out this English trailer for the series from our friends at Funimation in the U.S.A.
Synopsis: From the director of the classic fantasy epic Vision of Escaflowne and the studio that bought you the stunning scifi visuals of Macross Frontier comes a story of warring parallel dimensions and the one girl who could control them all.
When summer break begins, Haruka is only thinking of hanging out with her friends—until one fateful night she learns that she's the keystone in an interdimensional battle for not only the Earth's future, but the very survival of all existence across the multiverse. She will have to trust not only herself, but multiple versions of her friends from parallel dimensions. One of these visitors identifies himself as the future version of her troubled childhood friend Yuu. Karasu swears to protect her from the god-like Noein who wants to use her to collapse all reality. When Haruka learns she has the ability to not only see, but influence every possible future, will she be able to protect infinite worlds along with her own?
WHAT'S INSIDE? WHAT'S ON THE DISCS?
Our Limited Collector's Edition Blu-ray comes pack with a rigid case that stores a digipack, holding all the Blu-ray discs, and also comes with 8 numbered art cards. In total there are 3 Blu-ray discs in this set that includes the complete series and some very cool extras too. As a note we are only releasing this on Blu-ray as the series has previously received a UK DVD release.
On disc content includes:
The complete series (24 episodes) in both English and the original Japanese language with English subtitles.
Extras include On Location with Haruka Kudo and Director Akane – a series of featurettes following the director of the series and Japanese voice actor of the main character Kaminogai Haruka visiting Hakodate, where the show is set. Also there's NOEIN Art Edition that shows the development of different scenes in the show. Showing the viewer how they scenes ultimately looked, then showing KeyFrame animation and FullFrame animation versions. As if that wasn't enough there's a Japanese commentary for episode 24, a blooper reel, promotional videos for the series and textless opening and closing title sequences.
WHAT DOES THE FINISHED PRODUCT LOOK LIKE?
Check out the photos of our release below. As a note you can click on the photos to enlarge them.
And with that being said, that concludes our unboxing of Noein: To Your Other Self. Available from this coming Monday (28th March).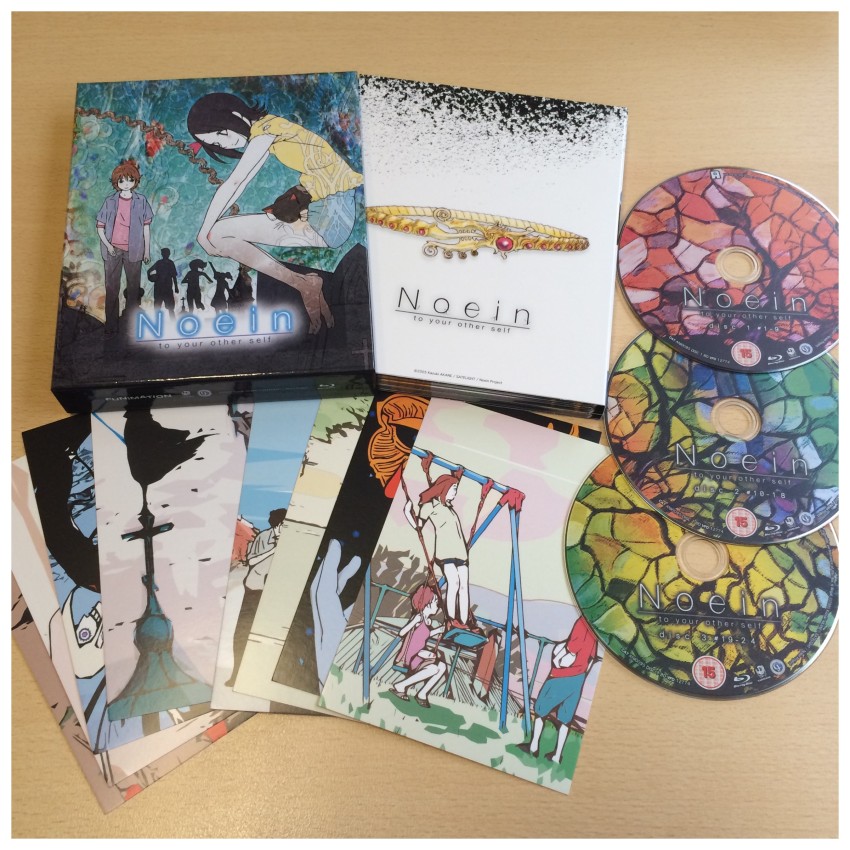 Signing out~!
Jeremy