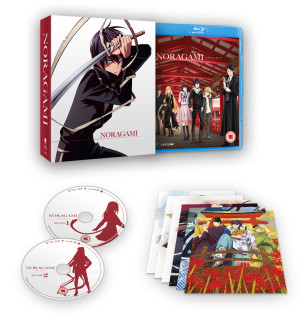 We know a popular series in recent years has been the action-packed Noragami. The first season has already been released in the United Kingdom and we are distributing the follow-up season, Noragami Aragoto on DVD and Ltd Collector's Edition Blu-ray for Funimation. Ahead of its release on 19th of June today we are happy to bring you an unboxing of the Ltd Collector's Edition Blu-ray version.
A quick note before we get all the details that your first opportunity to own this release will be this weekend at the MCM London Comic Con event at Excel London, as we'll have limited quantities of this available at our AllTheAnime stand.
But if you can't get to MCM, don't worry you won't have wait long to add Noragami Aragoto to your collection, as it's on general sale a few weeks later from 19th of June. You can order your copy from Amazon UK, Zavvi, Base.com, Anime-On-Line and following MCM London you'll be able to pre-order it from our AllTheAnime.com web shop too.
ABOUT NORGAMI ARAGOTO
Synopsis: "The second season of the hit show "Noragami" has arrived!
Life for minor god Yato isn't getting any easier. He's still broke, shrineless, and his partner-slash-sword-regalia has zero respect for him. Worse yet, Bishamon, one of the deadliest war gods, is after his life. Blaming him for the death of her past regalia, she won't stop until she kills him. But there's more to that story than she could ever realize. Can Yato take on a god as powerful as Bishamon?"
Watch the trailer for Noragami Aragoto below –

WHAT'S INSIDE? WHAT'S ON THE DISCS?
This release of Noragami Aragoto that we're distributing for Funimation will be available on both DVD and Ltd Collector's Edition Blu-ray. If you're opting for the DVD version, the two DVD discs come packed inside an amaray case.
If you're opting for the Ltd Collector's Edition Blu-ray version, the release comes in a rigid case. Inside the case you'll find an amaray case containing the two Blu-ray discs for Noragami Aragoto. Also included art six art cards and there's even space to put the Noragami season 1 Blu-ray (sold separately; released by Manga Entertainment) inside the box too!
On the discs themselves you'll find –
— The complete series of Noragami Aragoto, 13 episodes in both English and original Japanese with subtitles.
— Extras wise on the DVD version there are two versions of the Textless Opening song Kyoran Hey Kids!!, and three of the Closing song "Nirvana".
— If you're getting the Blu-ray version, the same Textless Opening and Closing songs as on the DVD are included, but there are also Blu-ray exclusive extras. These being audio commentaries on episode 8 & 13, a video commentary on episode 6 and Promo Videos.
---
What does the finished product look like?
And here are photos of the finished product for you. You can click on the photos to enlarge them too.
But that's not all, remember how earlier we mentioned there was space to fit Season 1 of Noragami (sold separately; released by Manga Entertainment) in the box? Well here's how both seasons look together inside.
And Now what it looks like with the alternate sleeves. *Noragami season 1 sold separately; released by Manga Entertainment
And that concludes this unboxing of Noragami Aragoto. We hope you're looking forward to adding to this to your collection from 19th June.
Signing out~!
Jeremy