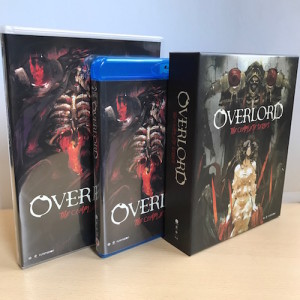 Overlord is a series that got a lot people's attention when it was airing and today we're excited to bring your an unboxing for the Ltd Collector's Edition Blu-ray, standard Blu-ray and standard DVD versions that we're distributing for Funimation here in the United Kingdom ahead of its release on 12th of June.
You're first opportunity to pick up this release will be this weekend at MCM London Comic Con at our AllTheAnime stand as we'll have limited quantities of each version available to purchase.
But if you can't be at MCM London, don't worry as it's only a few weeks to go until its general release on 12th of June. You order your copy today from Amazon UK, Zavvi, Base.com, Anime-On-Line and you'll be able to pre-order from our own web shop from next week following the MCM London Comic Con event.
ABOUT OVERLORD
Synopsis: "From MADHOUSE Inc., the studio behind Death Parade, Parasyte, and No Game No Life, comes the ultimate trapped in a game anime.
On the night his favorite MMORPG is scheduled to be shut down, veteran player Momonga stays logged in until the clock hits zero. The screen goes dark for only a few moments before he finds himself completely immersed in the online world of Yggdrasil. Left with all of his character's devastating powers, total dominion over his loyal NPCs, and nothing better to doMomonga decides to try his hand at taking over the world.
All the hours he's spent grinding and dungeon crawling have certainly paid off, and as he tests his strength on local rogues and legendary beasts he comes to realize that not one opponent can stand against his might. Embracing his new identity as the fearsome mage Ainz Ooal Gown, Momonga continues his search for bigger, badder adversaries. Leaving the people of Yggdrasil to wonder who exactly is trapped with who?"
You can watch the trailer for the series below –

---
WHAT'S INSIDE? WHAT'S ON THE DISCS?
The Collector's Edition version comes packed inside a rigid case and inside that are two amaray cases; inside each is a Blu-ray disc. Disc 1 contains episodes 1-9, and disc 2 has episode 10-13. Also inside the box are 9 art cards.
The standard Blu-ray and DVD versions each come in an amaray case with the discs, 2 x Blu-rays in the Blu-ray version and 2 x DVDs in the DVD version.
On the discs themselves are –
— The complete series, 13 episodes, in English and original Japanese with subtitles.
— On the DVD discs the extras are Textless Opening and Closing title sequences.
— The Blu-ray discs has the same extras as the DVD, but in addition to that there's also audio commentaries on episodes 2 & 9, video commentary on episode 13, 'Play Play Pleiades' shorts, Special Preview Collection, Episode 1 Preview, TV Spots, Promotional Videos and DVD/BD spots.
---
WHAT DOES THE FINISHED PRODUCT LOOK LIKE?
Here we go, photos of the finished product. First up is the Collector's Edition Blu-ray set, and then after that we'll show you the standard Blu-ray and DVD sets.
Now here's photos of the standard edition Blu-ray version –
…and photos of the standard DVD version for you –
And that concludes this unboxing of the Ltd Collector's Edition Blu-ray, standard Blu-ray and standard DVD versions of Overlord. Available from 12th June.
Signing out~!
Jeremy