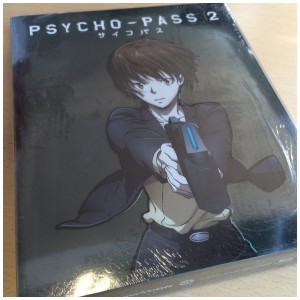 The time has nearly arrived! We're under a week away from the arrival of our Psycho-Pass 2 Ltd Collector's Edition Blu-ray and standard DVD release! That means its the perfect time to show you what to expect when you get hold of your copy.
But before that, don't forget that you can order your copy today from the likes of Amazon UK, Base, Anime-On-Line and our own web shop. We can confirm that HMV stores across the UK will be stocking this on day of release.
Also, if you're looking to get your hands on Season 1 of Psycho-Pass, that was previously released in the UK by Manga Entertainment. You can order your copy HERE.
ABOUT PSYCHO-PASS 2
Synopsis: It's been a little over a year since Inspector Akane Tsunemori chose to put her faith in the Sibyl System and keep its true nature a secret. Assigned to a new division with a few familiar faces, Akane and her team of Inspectors and Enforcers are charged with upholding the law in a society where just thinking about a crime is enough to get you locked away forever—or executed on the spot.
Just as Akane settles into her new routine, a terrorist bombing in the center of the city shakes the System to its core and launches an investigation that uncovers a network of latent criminals who claim their leader has the power to lower their crime coefficients. After Enforcers begin turning up dead with cryptic messages scrawled near their bodies, Akane starts closing in on the answers she's looking for—completely unaware that an even deadlier threat is lurking closer than she could ever imagine.
WHAT'S INSIDE? WHAT'S ON THE DISCS?
Our Limited Collector's Edition Blu-ray release comes packed in a rigid case with a transparent o-card around it – it adds to the design as you'll in the photos below. Inside that you'll find the digipack to house the two Blu-ray discs and there's also 56-page hardback art book included too.
If you're opting for the standard DVD, that has the two DVD discs packed inside an amaray case.
On the discs themselves, with the content being identical on both Blu-ray and DVD version, you'll get:
The complete second season of Psycho-Pass, 11 episodes, with both the English language dub and the original Japanese audio with subtitles.
Extras across the discs consist of audio commentaries on episodes 4 and 8, plus there's a video commentary of episode 10 (and if you stick around until the end of that you'll find an English dub blooper reel too). And you'll also find textless versions of the Opening and Closing title sequences.
The 56-page part book that comes with the Limited Edition Blu-ray version is split into 4 sections: Character Profiles, World View, Illustrations and Staff Interview with Tow Ubukata, who wrote the screenplay for Psycho-Pass 2.
WHAT DOES THE FINISHED PRODUCT LOOK LIKE?
And now the moment you've been waiting for, the finished product. You can click on the photos below to enlarge them if you want. A random note for you: it was another sunny day in Glasgow, where we're based, when these were taken, hence why you'll notice shadows in some of the photos below.
For those of you opting for the Standard DVD edition of Psycho-Pass 2. Here's what that will look like.
And that concludes our unboxing of Psycho-Pass 2! Available form this Monday (16th May)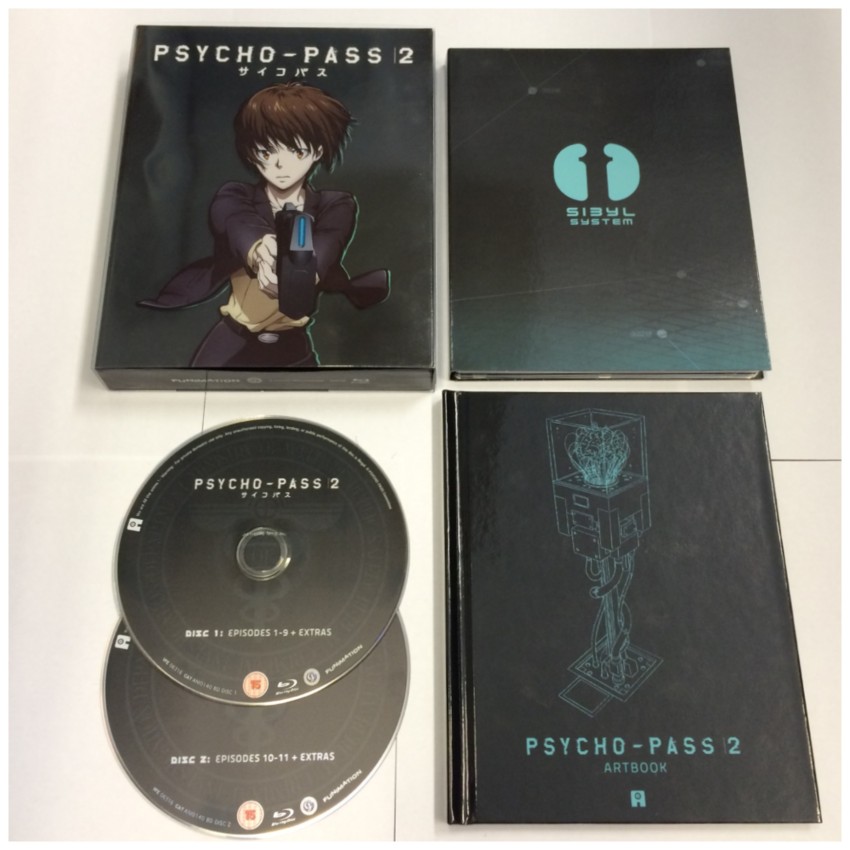 Signing out~!
Jeremy