It's a wet and windy Glasgow day here, so you know what would cheer us (and hopefully you) up? A good ol'-fashioned unboxing, that's what! In fact, this is one unboxing we're particularly excited about, as after a long and storied history with the title we're finally, finally releasing the first season of Kyoto Animation's magnificent Sound! Euphonium in Limited Collector's Edition Blu-ray form.
Now, you'd be forgiven for not believing us until you see the finished product for yourself, but that's exactly why we're here, so let's give you a quick recap to remind you of what the show is all about, before we dig right in to take a look at our Collector's Edition offering prior to its official release on Monday, 24th September!
---
ABOUT "SOUND! EUPHONIUM"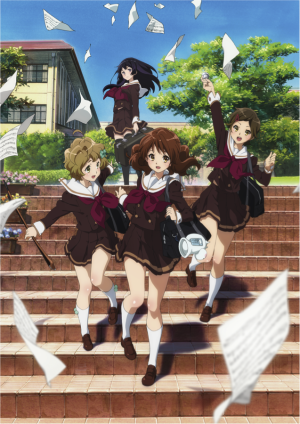 Synopsis: "After the disappointment of defeat in a major competition during her final year in middle school, brass band music has lost its lustre for Kumiko as she enters high school. Despite vowing to leave music behind and make a fresh start, peer pressure from her new-found friends sees Kumiko once again taking up the Euphonium for Kitauji High School's band club.
With an ambitious new club advisor at their helm the pressure is on for the club to qualify for the national tournament, but this lofty goal only serves to highlight the fractured relationships between cliques within the group's existing members. As Kumiko struggles to make sense of this unrest, her attention is inexorably drawn towards former classmate and current club mate, the enigmatic Reina.
Love, friendship and rivalry collide against a musical backdrop as Kumiko searches for a passion or purpose to define her, in this stunning series from Kyoto Animation."
Check out a trailer for the series below:

---
WHAT'S INSIDE? WHAT'S ON THE DISCS?
Our Limited Collector's Edition Blu-ray set comes with an O-card sleeve, within which you'll find a rigid case sporting a spot UV finish throughout to make the characters adorning it really stand out. Inside that case you'll find a two-tray Digipak pack to hold the pair of Blu-ray discs housing the series, and a 52-page book featuring a host of characters, designs, settings and artwork from the series – more on that later!
On the discs themselves you get –
The complete first series of Sound! Euphonium, plus the additional bonus OVA episode (aka Episode 14). The series is presented in Japanese with English subtitles only.
On-disc extras consist of Clean Opening and Closing Title Sequences, and also a full set of seven bonus shorts to accompany the series.
---
WHERE CAN I ORDER IT?
If you haven't pre-ordered your copy yet, then fear not! You can still order your copy right now from the following retailers:
Order at Amazon Order at Zavvi Order at HMV Online Order at Anime-on-Line Order at AllTheAnime
As noted, our Collector's Edition is officially released on Monday, September 24th, so there isn't long to go until it reaches retail shelves.
---
WHAT DOES THE FINISHED PRODUCT LOOK LIKE?
Now that we're all in tune and singing from the same song sheet, let's purse our lips and get ready to dig into this beautiful Sound! Euphonium Collector's Edition.
To see the full-size version of any of the images below, simply click on the image in question.
Now that you've seen how our Collector's Edition of this series looks in a more comprehensive fashion, we hope you're as happy with it as we are! We've worked hard to give Sound! Euphonium the release such a tremendous series from Kyoto Animation deserves, so we can't help but blow our own trumpet about it a bit.
Until next time, take care!
~ Andy H