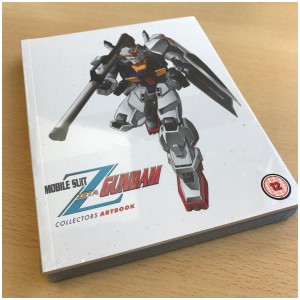 The wait is nearly over as part 2 of Mobile Suit Zeta Gundam arrives on Blu-ray next week, Monday 8th May to be exact. Today we're delighted to be able to bring you a quick unboxing of what it will look like and show you how it will next to Part 1 inside the lovely collector's box that came with too!
Before getting the juicy details, a quick reminder that you can order this now from Amazon UK, Anime-on-Line and even our own web shop.
A quick reminder as well that to date we have released the original Mobile Suit Gundam series, Gundam Reconguista in G, Mobile Suit Zeta Gundam Part 1 and the Mobile Suit Gundam Movie Trilogy* all on Blu-ray! So if you're looking to start you're Gundam Collection, now is a great time!
*Mobile Suit Gundam Trilogy is an AllTheAnime.com Exclusive product. More details HERE.
If you're not familiar with Zeta Gundam specifically, be sure to have a read of this piece by Andrew Osmond at our blog.
---
WHAT'S INSIDE WHAT'S IN THE BOX?
Continuing on the theme of our release of Zeta Gundam Part 1, Part 2 includes the second half of the series, episode 26-50, with both English audio and original Japanese with subtitles. The three discs comes packed inside an amaray case, and also included with the first print-run of Zeta Gundam Part 2 is a Collector's Edition Art Book that will also fit inside the lovely looking box that came with Part 1.
NOTE: As was the case with Part 1, this Limited Edition version of Part 2 that comes with the book is not exclusive to any one retailer. It's the only version that's available on day of release (8th May 2017) so there is no way to purchase it without the book included. Once stock is nearing is run, we'll make it known on our channels. Once stock with the book has sold out there it will be the amaray case with discs only.
---
WHAT DOES THE FINAL PRODUCT LOOK LIKE?
Below you will find photos that you can click to enlarge if you want.
Worth noting to everyone that we have NOT used glue dots to keep the book against the amaray case, It's held together with a thin plastic belly band (aka a plastic strip running around the box.)
I'm sure a few you are wondering how Part 2 looks inside the box and also how the box housing the series that came with Part 1 looks on a shelf, so here's some pictures for you.
Mobile Suit Gundam Parts 1 & 2, Zeta Gundam Parts 1 & 2, Mobile Suit Gundam Movie Trilogy and Gundam Reconguista in G each sold separately.
NOTE: The Collector's Edition box for the original Mobile Suit Gundam series that came with Mobile Suit Gundam Part 1, and the version of Mobile Suit Gundam Part 2 are now out-of-print. You will have to check with retailers directly to see if they have any left as we have no more ourselves.
And that concludes this unboxing! We hope you're looking forward adding Zeta Gundam Part 2 to your collection.
Signing out~!
Jeremy