Violet Evergarden Collector's Edition Blu-ray arrives in January!
September 18, 2020 · 7 comments
UPDATE: Please note the release date of product has been amended to 11th January 2021. References to the previous release date in this post have been updated accordingly.
---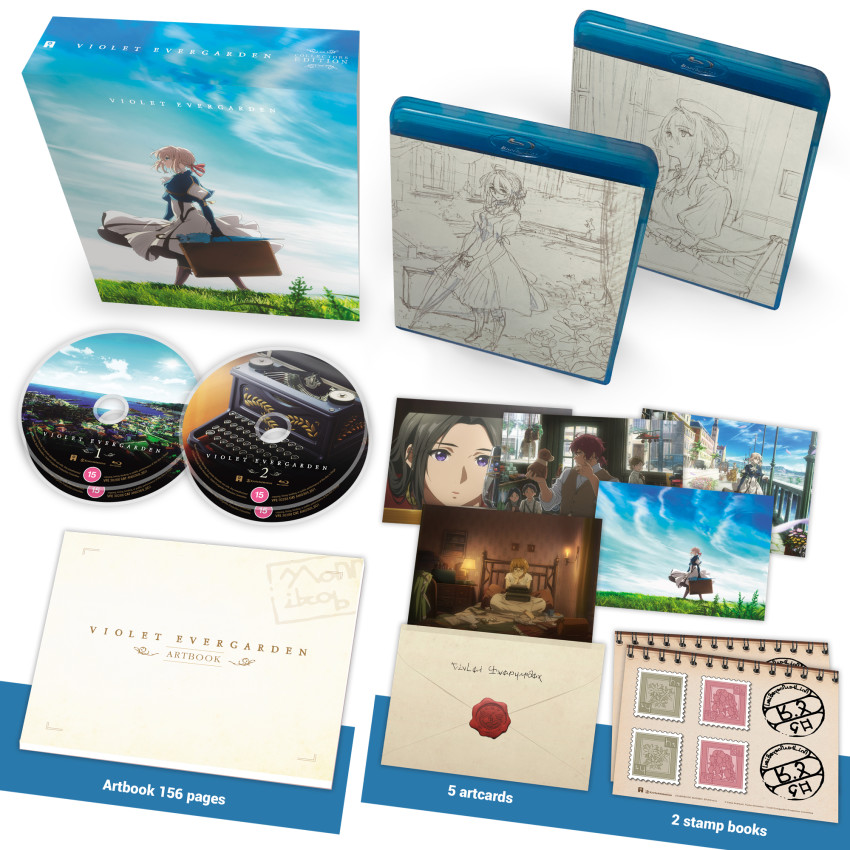 If you've been keeping track of titles we've released the past few years, you'll know we're big fans of Kyoto Animation. With the likes of A Silent Voice and Tamako Market in our catalogue we know a lot of you are keen to hear what to expect from our upcoming release of their series, Violet Evergarden.
Today we're delighted to officially announce our upcoming Violet Evergarden Collector's Edition Blu-ray release will be arriving on 11th January 2021!
If you want to jump straight to the listing to see the details, you can do so at the link below:
VIEW LISTING AT ALL THE ANIME SHOP
For the full lowdown however, read on!
---
WHAT IS PLANNED FOR THIS COLLECTOR'S EDITION RELEASE?
Product: Violet Evergarden
Format: Collector's Edition Blu-ray
Release date: 11th January 2021
AllTheAnime Pre-order launch: 5pm on Friday 2nd October 2020
UK Availability: Trade wide (This will be available to pre-order through other retailers in the coming weeks)
Cat. No. ANI0369
SRP*: £69.99
*Suggested retail price is the maximum price a retailer could charge for the product. However, once retailers factor in their own discounts, the regular price will be cheaper. 
We've worked incredibly hard to make this as comprehensive a collection for the series as possible, which means that our Violet Evergarden Collector's Edition has everything a fan of the series – or Kyoto Animation – might want.
Let's start with what's on the discs. Over a total of 4 Blu-ray discs you will get:
• The complete 13 episode TV broadcast version of the series, plus a 14th episode; the "Special" OVA / extra episode released after the conclusion of its broadcast. All of these will have viewing options in English (2.0 audio) and original Japanese (2.0 audio) with English subtitles.
• The Extended version of the series finale episode 13 in Japanese (2.0 audio) with English subtitles, available for the first time on an English language release anywhere in the world!
[NOTE: This extended episode 13 differs from the original TV broadcast version and contains additional scenes. Because of this, and the fact no English audio was produced to sync with this version, it is subtitled only.]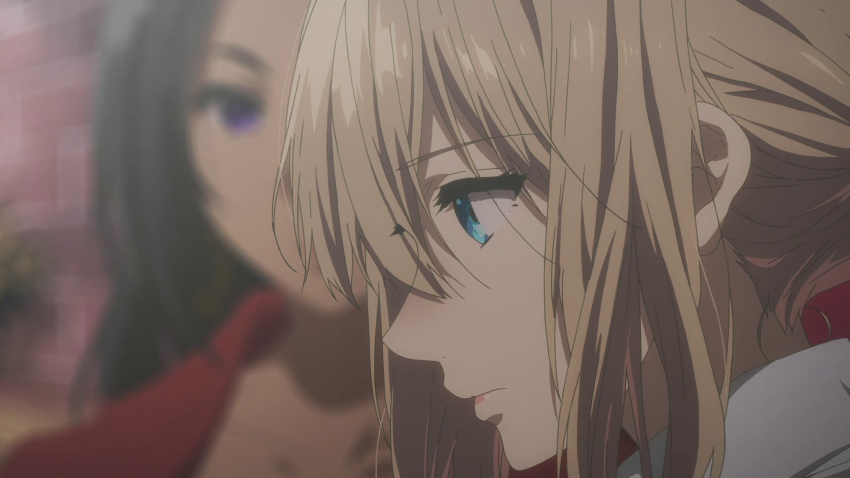 • The 4 Compilation Films (also referred to in some circles as "The Japan Tour Films") in Japanese (5.1 audio) with English subtitles, available for the first time on an English language release anywhere in the world.
If you're not aware of these compilation films, they were screened around Japan and each instalment combines multiple episodes of the series into a single feature presentation, each of which is over 70 minutes in length. Each of these films was provided with a 5.1 audio mix as part of its theatrical presentation, which also makes them a perfect way to watch the show for fans with surround sound systems!
[NOTE: No English audio was produced for these theatrical presentation versions, so they are subtitled only.]
• Additional on-disc content will include Previews, TV spots, Commercials, Clean Opening and Ending Title Sequences and 'Violet Evergarden in 5 minutes' shorts.
It's also worth noting that we have purposely revisited and re-evaluated the subtitles for the entirety our release to make them as accurate as possible. (We weren't joking when we said we've tried to make this as comprehensive a collection as possible.)
But wait, there's still lots more to talk about…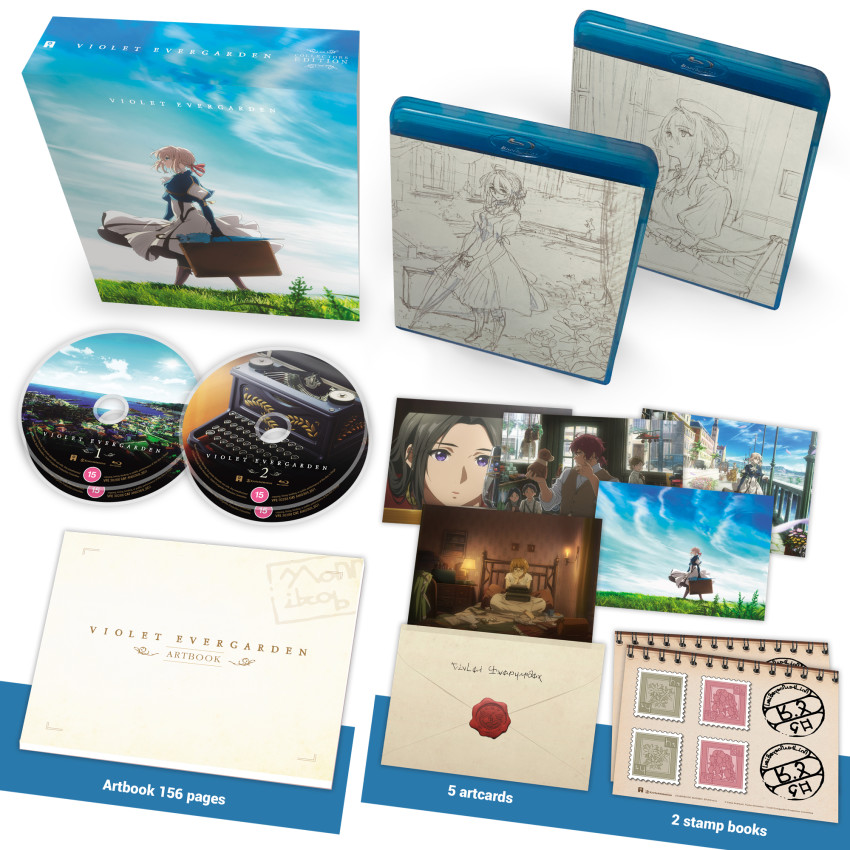 In terms of packaging and physical contents:
• Everything will come packed in a rigid case. (The height of this set is similar to that of other Collector's Edition releases of ours in general.)
• The four Blu-ray discs will be spread over two Amaray cases; one for the TV series and extended episode 13, the other for the 4 Theatrical Compilation films.
• 5 Art cards, with their presentation being that of postcards. These will be included inside an envelope, in keeping with the theme of the series.
• 2 book of replica stamps, as seen in the series.
• Last but certainly not least, a 156-page softback artbook, featuring a huge wealth of material from the Japanese releases translated into English:
~ Character & Staff Comments (specifically from Character Designer Akiko Takase)
~ Art Setting & Staff Comments (specifically from Mikiko Watanabe)
~ Prop Setting & Staff Comments
~ Selected Storyboard Comments (specifically from Director, Tacichi Ishidate)
~ The Worldview (focusing on the world building of the series with Takaki Suzuki)
~ Staff Tabletalk #1 with series director Haruka Fujita, colour design Yuka Yoneda and art director Mikiko Watanabe
~ Staff Tabletalk #2 with series director Haruka Fujita, cinematographer Koei Funamoto and 3D director Rin Yamamoto
~ Staff Tabletalk #3 with seres director Haruka Fujita, prop setting Hiroyuki Takahashi and prop setting Minoru Ota
~ and finally, Staff Tabletalk #4 with series director Haruka Fujita & character designer Akiko Takase.
As you can see, this is a loaded Collector's Edition release!
---
ABOUT VIOLET EVERGARDEN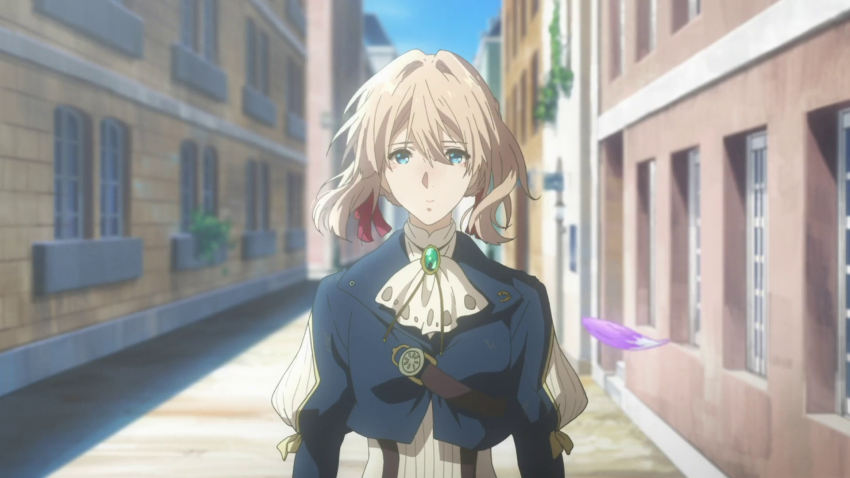 Studio: Kyoto Animation (A Silent Voice, Tamako Market, Sound! Euphonium)
Director: Taishi Ishidate (Beyond the Boundary)
Synopsis: After four long years of conflict, The Great War has finally come to an end. Caught up in the bloodshed was Violet Evergarden, a young girl raised to be a deadly weapon on the battlefield. Hospitalized and maimed in a bloody skirmish during the War's final leg, she was left with only words from the person she held dearest, but no understanding of their meaning.
Recovering from her wounds, Violet starts a new life working at CH Postal Services. There, she witnesses by pure chance the work of an "Auto Memory Doll", amanuenses that transcribe people's thoughts and feelings into words on paper. Moved by the notion, Violet begins work as an Auto Memory Doll, a trade that will take her on an adventure, one that will reshape the lives of her clients and hopefully lead to self-discovery.
---
ETERNITY AND THE AUTO MEMORY DOLL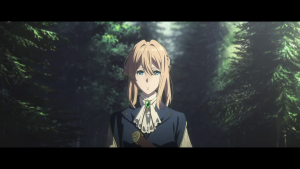 Before we conclude we want to take a moment to acknowledge that there will also be a home video release coming from us of the feature film "Violet Evergarden: Eternity and the Auto Memory Doll".
This is tentatively scheduled for release during the first quarter of 2021.
We don't have any other details to share at this time, but know it is in the works and please stay tuned for updates as we can bring them.
---
We hope you're looking forward to adding this to your collection! Be sure to set a reminder that pre-orders will launch at 5pm on Friday 2nd October.
Signing out~!
Jeremy
7 comments
Wulf

September 18, 2020 1:48 pm

Will there be a Standard Edition coming out some time after the Collector's Edition or will this be our only chance to own a physical copy of the series?

Suzu

September 19, 2020 8:25 pm

What about Sound! Euphonium season 2? Are you ever gonna license that and release it?

Matthew

September 19, 2020 8:29 pm

Sounds as if the show bombed for Anime Limited though I could be wrong.

Craig

September 20, 2020 6:42 pm

Asking the right questions, I'm dying to own season 2.

Matthew

September 19, 2020 8:28 pm

4K Edition of Violet Evergarden please. Kyoto Animation produced the show in 4K so there's no reason not to do it.

Simon Mark de Wolfe

September 19, 2020 8:47 pm

sound Euphonium season 2 has been promised - i spoke to them at Minamicon this year and they said it would appear . I really enjoyed the first season so i do hope it does appear otherwise it has been released in the USA.

Anime lover

May 29, 2021 8:10 pm

As a veteran of war, this anime really hit me hard. It's my new favorite anime. I can really relate to Violet and her long road back from her violent past. The most powerful scene for me was when she asks her boss if she had a right to live after everything she had done in the war. Its something i ask myself daily since coming back