Voicing Violet Evergarden
July 23, 2022 · 2 comments
By Andrew Osmond.
American voice actress Erika Harlacher has had a multi-faceted career through the last decade, including a host of game roles: Ann Takami in Persona 5 and the bard Venti in Genshin Impact. In anime, her major parts include the vengeful boy Kurapika in Hunter x Hunter (the 2011 TV series); Shinobu in Demon Slayer; and the girl protagonist Sakura in I Want to Eat Your Pancreas, who's determined to live while dying.
However, Harlacher has also taken two especially memorable lead roles in anime series, and they're extremely different. On the one side, she was the voice of the emotionally-blocked Violet Evergarden through the original series by Kyoto Animation and the two films which conclude her story. But Harlacher was also the voice of one of the most unblocked characters imaginable – Yumeko, the joyous gambling maniac who commands a school in the two seasons of Kakegurui. You can hear Harlacher as Violet Evergarden here.
During a panel at London MCM Comic Con, I asked Harlacher about playing these contrasting characters. "Violet was an interesting one," Harlacher says. "That was one of my first shows that we did as a simuldub, so we were starting to work on it before it was fully out in Japan." As readers may remember, Violet Evergarden was streamed on Netflix weekly in the first quarter of 2018 in Britain and some other territories, though it wasn't released in America until that April.
"So we didn't know what the whole story was going to be," Harlacher says. "I remember that I did as much research as I could before I went in, but there had only been one episode out. Some people talking about the episode were theorising that Violet was a robot, but I didn't think that. But I went in and I was like, 'Do you think she's a robot?' to the director and she was like, 'Huh, we'll deal with that if that happens, but let's say no!' And thankfully, no she wasn't."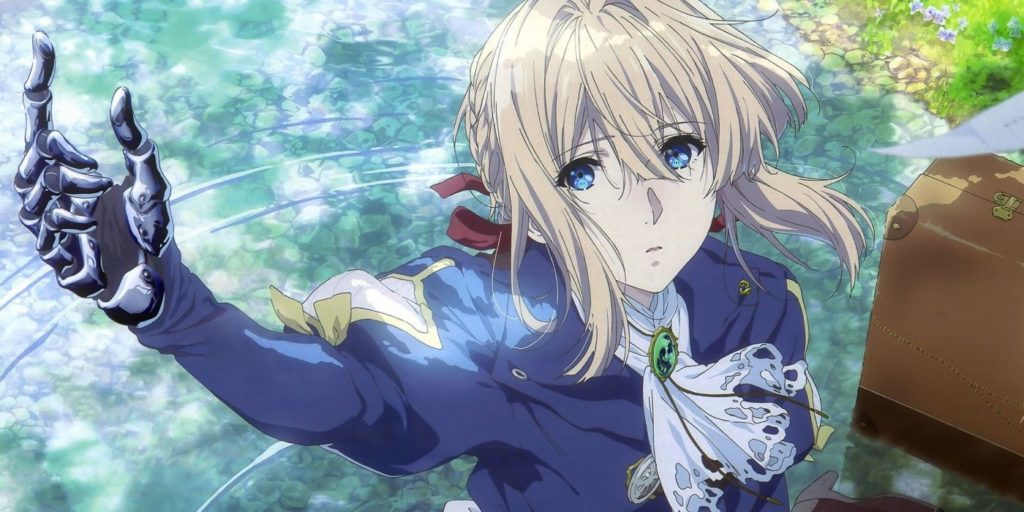 In the words of Violet Evergarden's director Taichi Ishidate: "(Violet) isn't a robot that doesn't have emotions; she simply hasn't been taught emotions by anyone yet, and is purely starting from emotions in that regard."
"Violet Evergarden is so beautiful, and so sad," Harlacher continues. "A lot of people asked me if I cried when I was recording it… I actually had a problem with my sinuses, so I couldn't cry because I would have sounded like I was crying for the rest of the (dub) session, and it was so bad! I got that fixed, and we did the Violet Evergarden movie and I did cry."
So how did Yumeko in Kakegurui measure up to that? "Yumeko's crazy, she's such a great character," Haralacher says. "When I first went in, I had never worked with the director before. I remember being nervous that his first impression of me was going to be this absolutely crazy lady who's obsessed with gambling to the point where she just loses her mind. It was really fun, such a different experience from Violet. They're both so special to me."
Andrew Osmond is the author of 100 Animated Feature Films. Violet Evergarden: The Movie is released in the UK by Anime Limited.
2 comments
JRPictures

August 5, 2022 10:11 am

Uuuh, your link to the Kakegurui dub clip is for the Sentai redub of the show, which completely replaces everyone in the cast including Erika.

Jonathan Clements

August 5, 2022 10:29 am

Thanks for letting us know. Have removed it for the moment.