FOR IMMEDIATE RELEASE – London, 9th January 2020
GKIDS & ANIME LTD. ANNOUNCES ENGLISH-LANGUAGE VOICE CAST FOR THE CRITICALLY-ACCLAIMED
 Weathering With You
FEATURING LEE PACE, ALISON BRIE AND RIZ AHMED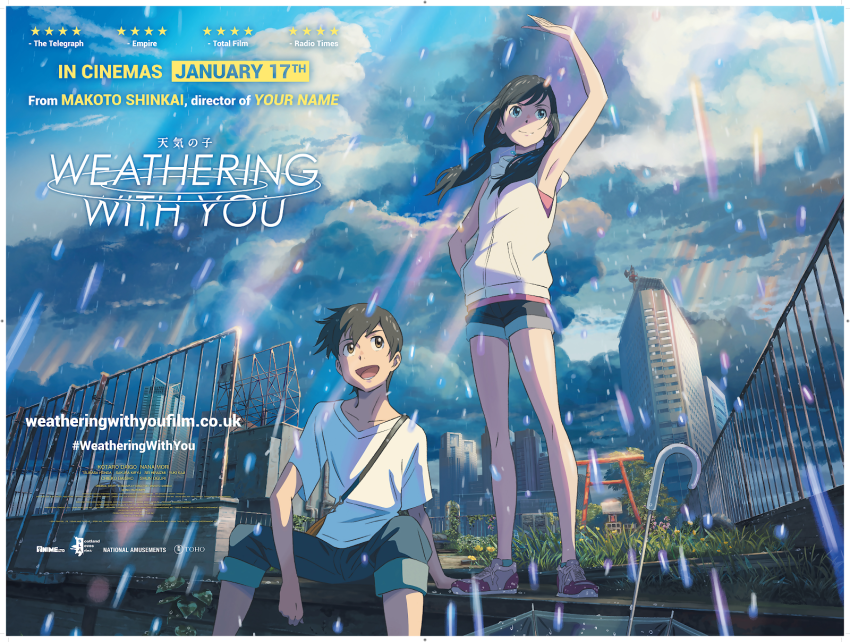 (January 6, 2020) – GKIDS & Anime Limited have announced the English voice cast for Weathering With You, a breathtaking drama from Makoto Shinkai, director of worldwide phenomenon Your Name. The film will feature the voices of Lee Pace (Guardians of the Galaxy, The Hobbit trilogy ), Alison Brie (GLOW, The LEGO Movie franchise), and Riz Ahmed (Rogue One: A Star Wars Story, Venom).
Weathering With You has stormed the Japanese box office becoming the top-grossing film of 2019. Ahead of its Western Theatrical release, Weathering With You stands at 100% on Rotten Tomatoes and has been confirmed as the 6th most tweeted about movie of 2019.
Weathering With You will open in cinemas across the UK & Ireland on 17th January with both Dubbed and Subbed screenings.
For more information and bookings please visit https://weatheringwithyoufilm.co.uk/   #WeatheringWithYou 
You can watch the official English Language Dubbed trailer HERE
For more information please contact lisa@fetch.fm
For all press info and assets please visit the Fetch site.
SYNOPSIS
High school freshman Hodaka Morishima leaves his home on an isolated island and moves to Tokyo, but he quickly finds himself in financial trouble. Living his days in isolation, he eventually lands a job as a writer for a shady occult magazine. Then one day in an alley, Hodaka meets a young girl named Hina Amano, bright and strong-­willed, who possesses a strange and wonderful ability: the power to stop the rain and clear the sky.
English Voice Cast:
Brandon Engman – Hodaka
Ashley Boettcher – Hina
Lee Pace – Suga
Alison Brie – Natsumi
Emeka Guindo – Nagi
Riz Ahmed – Takai
Vinnie Penna – Kimura
Mike Pollock – Yasui
Barbara Goodson – Tachibana
Produced w/ @nyav_post
"Dazzling" ★ ★ ★ ★  Matthew Leyland, Total Film
"Breathtaking Animation! Will Make You Cry Oceans!" Collider
"Stunningly Beautiful" Indiewire
"Skybound Poetry" The Hollywood Reporter
"Blissful" ★ ★ ★ ★ Kambole Campbell, Little White Lies
★ ★ ★ ★ Robbie Collin, The Telegraph 
NOTE:
"Weathering with You" has followed in its predecessor's footsteps in taking Japan by storm, becoming their seventh highest-grossing domestic film of all time after only 52 days, and beating Disney's Aladdin remake to become Japan's highest grossing film of 2019. "Weathering with You" also has the awards season in its sights, becoming the first anime submitted for the Academy Awards' Best International Feature Film since Hayao Miyazaki's "Princess Mononoke" in 1998!