It's (just over) SEVEN! weeks – see what we did there, Strictly fans 😉 – until our release of Welcome to the Ballroom: Part 2 struts it way onto Blu-ray! Admittedly this release has been in the works for a while, but it's nearly here and we've got all the details about what to expect from this release that's our on 20th April 2020!
Plus, we have a special offer on pre-ordering this (and saving on Part 1, if you don't already have that) at our AllTheAnime shop to tell you about as well.
A quick refresher on what the series is about for those unaware.
---
ABOUT WELCOME TO THE BALLROOM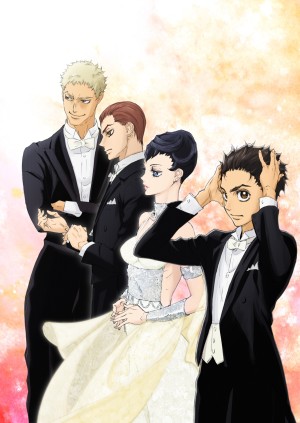 Synopsis: "Middle school student Tatara Fujita is a young man living a directionless existence – desperate to change and find a true calling to pursue though he is, there's simply nothing in his life to provide the spark that he needs to ignite his passions.
All of this changes one day when Tatara spots a fellow student entering the door of the Ogasawara Dance Studio. Saved from bullies by a cool, calm and collected stranger, the next thing Tatara knows he's dragged into the studio for an impromptu trial and is transfixed by a whole new world – a world of supreme confidence borne from an upright posture… of almost inhuman body movements and gyrations… of talented dancers shouting out to the world to look at them.
There's no doubting Tatara's determination to look good on the dance floor, but does he have what it takes to make a name for himself in the cut-throat realm of professional ballroom dancing? With professional and personal rivalries to deal with, and a cornucopia of new demands both mental and physical providing plenty of new challenges, it's going to take more than sheer will to reach the heights of the competitive ballroom scene. As he makes friends and mentors along the way, Tatara soon learns that it takes far more than two to tango."
Director: Yoshimi Itazu (Pigtails)
Studio: Production I.G (Ghost in the Shell, Haikyu!!, Kuroko's Basketball)
You can watch a trailer for the series, originally published ahead of its Japanese broadcast, along with a clips taken from our release of Part 1 below –
---
WHAT'S PLANNED FOR THIS RELEASE?
Product: Welcome to the Ballroom: Part 2
Format: Blu-ray Ltd Collector's Edition
Release date: 20th April 2020
Cat. No.: ANI0361
Suggested Retail Price: £59.99
Continuing with the look and presentation established in our release of Part 1, Part 2 will come in a rigid case showcasing some of gorgeous art created for the show. Inside that you'll find a digipack that will hold the two Blu-discs containing the remainder of the series (episodes 13-24) in Japanese with English subtitles. (A reminder that the series has never been dubbed into English, so it's a subtitle-only release.)
Additionally inside you'll find 5 art cards and there will also be a 24-page art booklet that is split into three sections: Characters, Gallery and Artworks. 
You can checkout a visual for this set below –
And for those of you curious, here's a look at both sides of the rigid case for this release –
---
WHERE / WHEN CAN I ORDER THIS?
You can expect retailer listings to start appearing in the coming weeks. But you can pre-order this right now at our AllTheAnime online shop!
=-=-=-=-=-=-=
~ AllTheAnime.com Special Offers ~
Until Thursday 5th March 2020 you can pre-order Welcome to the Ballroom: Part 2 for the special price of £34.99 (SRP: £59.99)
Additionally, if you've not got Welcome to the Ballroom: Part 1 in your collection, you save on order that until Thursday 5th March 2020 too! You can order that for £34.99 (SRP: £59.99)
---
And that's what you need to know about our upcoming release of Welcome to the Ballroom: Part 2! We hope you're forward to completing your collection of the series!
Signing out~!
Jeremy