By Roxy Simons.
Throw an imaginary rock at the anime industry and it won't take you long before you hit a sports anime. There's a series dedicated to almost every sport out there, and even in the current season there are at least three sports anime that come to mind. Are you only interested in swimming? Not a problem! Tennis? Maybe even Ping Pong? The fact is there's plenty of sports anime out there to choose from but, really, very few have had quite the same level of success as Yuri!!! on Ice, MAPPA's ice-skating anime sensation.
Released at the end of 2016, the 12-part series directed by Sayo drew in a huge female following from all sides of the otaku spectrum from day one. The charming cast, elegant animation and romantic relationship at the story's centre strengthened its appeal, and since it was aired the series has gone on to become a craze across Japan and abroad. Thanks to its popularity, pop-up events, cafes, and action figures – amongst many other things – have been created to promote the show, and fans eat it up. Even the release of the series' six Blu-ray volumes has defied expectations; the first home-video set sold a whopping 35,000 copies in its first week in Japan. So, what is it that makes this anime so special?
Yuri!!! On Ice opens with our hero, Japanese figure skater Yuri Katsuki, at his lowest moment – having just suffered a devastating defeat at the Grand Prix final, he's upset and out-of-sorts and decides to hide in the bathroom to escape it all. While there, he is confronted by fuming junior Russian skater Yuri Plisetsky (aka Yurio) who tells him he doesn't deserve to be in the sport, and should just retire so they don't have to face each other when he makes his debut in the adult tournament. Shaken by this conflict, Yuri wonders whether it is even worth continuing to compete, and when he fails to qualify for the rest of the season he decides to return home to Hasetsu to consider his options.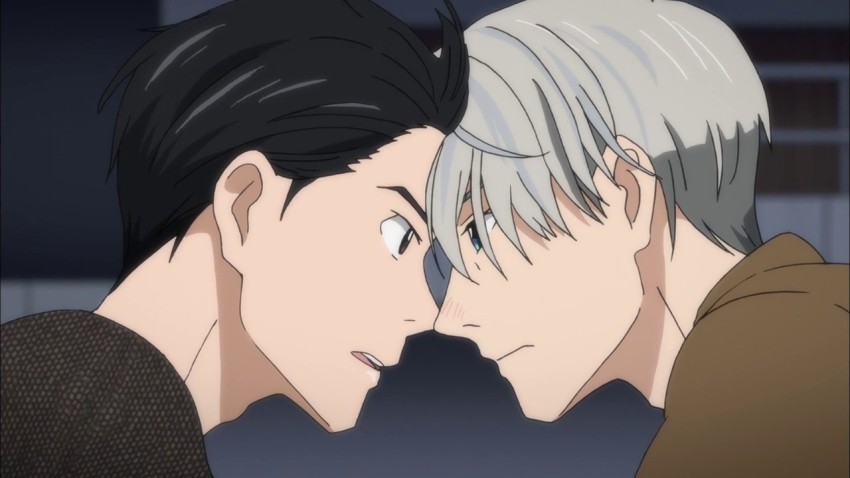 He spends most of his time moping or helping around the family hot spring resort, but when he's not doing that he spends time at the local rink to clear his mind. While there he decides to perform one of his idol Viktor Nikiforov's renowned routines, one with high difficulty that he's managed to perfect, but little does he know that he's being filmed. Once posted, the video goes viral and it leads, much to Yuri's surprise, to his hero turning up on his doorstep to declare his desire to become his coach. He can't believe it and neither can Yurio, who thought he would become Viktor's apprentice. Furious, Yurio decides to take matters into his own hands and travels to Japan to demand that Viktor choose between them, and what better way to test their abilities than with a showdown on the ice?
This rivalry, in true sports anime style, helps both skaters grow and even makes their friendship stronger as the show goes on. Their competitiveness is the source for most of the comedic relief in the show – especially in the form of Yurio's misdirected teenage strops. It's Yuri and Viktor's relationship that's the heart of the show though.
The former's admiration of the latter brings, at first, real-life Japanese figure skater Yuzuru Hanyu's respect for Russian champion Evgeni Plushenko to mind. Hanyu, the current world number one, first watched his idol perform on television during the 2002 Olympics. He was only eight years old at the time, but the Russian's influence can be seen even now with his use of Biellmann spins in his programmes. A move which is normally seen as being too difficult for male skaters, this spin sees the skater extend their leg and lift it up behind them by holding onto their skate, and is a signature move for both Plushenko and Hanyu. This is reflected in the central relationship of the show, as Yuri takes a lot of inspiration from his idol and often tries to replicate his skating.
Kenji Miyamoto is another real life connection between Yuzuru Hanyu and Yuri!!! On Ice. The retired professional figure skater has choreographed a number of Hanyu's exhibition performances since 2012, and is the choreographer for the show as well as the model for Yuri and Viktor (female skater Kawanishi Honoka is the base for Yurio). There is a level of detail that is present in Yuri!!! on Ice that can only be a result of Miyamoto and MAPPA's combined efforts to provide an accurate depiction of the sport.
In the series, as in reality, it's vital for a skater to show off their skills using a variety of jumps and techniques in a performance, whether that be from movements such as the Ina Bauer or Hydroblading. These are showcased in the anime, and other series haven't always approached their respective sport in that way.
Given the exhilarating routines Miyamoto has made for the young champion it's no wonder that the character's performances are so fun to watch, even for their real-life counterparts. Several figure-skaters have expressed their love of show since its release, and even been inspired by Miyamoto's choreography. Retired competitive skater Joel Minas is an avid fan of the anime, and has gone so far as to learn Yuri's "Eros" routine and perform it at events in full cosplay. The video, which can be seen on his YouTube page, even mirrors the anime shot-for-shot and he's not the only one to be inspired by the show. Chinese figure skater Patton Chen has also performed several routines from the anime in competitions, and he's even performed the choreography shown in the anime's opening credits. Evgenia Medvedeva, the Russian champion figure skater and self-proclaimed otaku, has followed and tweeted about her love of the series from day one. Her record-breaking wins in the women's long and short programmes in the International Skating Union World Team Trophy event in Tokyo even inspired Yuri!!! On Ice character designer Tadashi Hiramatsu to draw the skater with all the anime's protagonists.
Figure skating is more than just a sport, it's an art form, and during routines it's important for the characters to convey particular emotions on the ice – a key focus for the series' first half. This is especially true in the anime's third episode when Yuri and Yurio go head-to-head with love as their main theme. Tasked with the opposite of what they'd hoped for, Yuri must convey eros (sexual love) while Yurio is given agape (unconditional love), the pair hope to persuade Viktor to choose them if they win, and both skaters are determined to figure out what each emotion means for them. Of course, it's not as simple as it looks.
Yurio is too headstrong and selfish to understand agape, while Yuri can't act the role of the playboy like Viktor can. With a lot of willpower, and an amusing training montage, the pair find something they can use to represent each emotion: Yuri's love of pork cutlets, and Yurio's grandfather. The former's idea seems a little far-fetched, how exactly could food represent eros for Yuri? Even he's unsure, and it's only the night before the performance that he realises what his Eros is instead: being the subject of Viktor's seduction. Herein lies the main reason for Yuri!!! On Ice's popularity.
The relationship between Yuri and Viktor is the heart of the show, and the first seeds of it are planted by this performance. Yuri's presentation depicts his feelings remarkably well and, although Yurio is technically superior, Yuri doesn't lose sight of his goal of capturing Viktor's heart. It is interesting to see how quickly Yuri becomes comfortable with the notion in such a short space of time. Series director Sayo Yamamoto is particularly good at her candid approach to her characters and their sexuality, as seen in her directorial debut Mikako and Hatchin, and the fresh take she presents in Yuri!!! On Ice is one of the main reasons why the show is so appealing.
She is able to cater to adult anime fans without being patronising, it's impossible not to notice the gay subtext that she is throwing out there, and very early on in the series it seems less like subtext and more like… well, a text. The interactions between Yuri and Viktor are laced with tension, and the anime's overt "boys-love" approach is what makes the anime stand out from its other sports anime counterparts. As the story develops so, too, do their feelings for each other, and while it gets messy and complicated it follows such a natural progression that the show just keeps getting better and better. Given the "boys-love" storyline at its centre, the well-written narrative and beautiful animation, it's really no wonder that this show has such a strong fan base both in Japan and abroad.
Yuri!!! On Ice is screening on Crunchyroll subtitled and on FunimatioNow dubbed.