Anime Ltd to release 'Gundam The Origin I-IV' Collection
March 19, 2018 · 1 comment
We know Gundam fans in the UK have eagerly anticipating what we have planned for 2018 in the way of upcoming releases. We've been fairly quiet about this for a while as we wanted to make sure plans were firmly locked in before saying anything; we know it's been a bit of a painful wait for some on past releases. But today we can tell about one of the Gundam releases we'll be bringing you this year.
Today we very happy to confirm that we'll be bringing our own collection of the Mobile Suit Gundam The Origin I-IV films on Blu-ray! Have a read on below for more details.
---
ABOUT GUNDAM THE ORIGIN I-IV
The printed Gundam The Origin manga series is in many ways a retelling of the original Mobile Suit Gundam series but is also so much more as it also serves to provide a lot of information and back-story not covered in that original series. The Gundam Origin I-IV anime films that we will be releasing focus on a particular part of the story covered in the manga, The Chronicle of Char & Sayla, that provides the backstory of two very important, the siblings Char Aznable and Sayla Mass, but also many of the events leading up to the the year 0079, when the original series takes place.
So if you've never delved into the world of Gundam and want a contemporary place to start, arguably these are a great jumping on point as these films are a prequel to the original series. But if you're familiar with Gundam then these films will serve as a great way to get new details on how things came to be and likely answer some of the burning questions you've had, like "why does Char Aznable hate Zeon so much?" or "how did Casval get the name Char Aznable".
Synopsis of Gundam The Origin I: "Universal Century 0068, Side 3 – The Autonomous Republic of Munzo. Zeon Zum Deikun attempts to declare complete independence of Munzo from the Earth Federation Government, while he preaches the evolutionary potential of humans who have advanced into outer space. Deikun however suddenly falls to his death in the middle of his speech at parliament.
Upon Deikun's death, Jimba Ral spreads word of a House of Zabi conspiracy – but despite such efforts the power and sphere of influence of House of Zabi, led by Degwin Sodo Zabi, only seem to escalate.
While we witness for the first time the untold convulsions of Universal Century history, Casval and Artesia, just bereaved of their father, must face destinies which will be just as tumultuous as the very era itself."
---
IMPORTANT INFO YOU WANT TO KNOW!
This is the section where most (if not all) of your questions about this release will be answered. So please take a moment to read on below: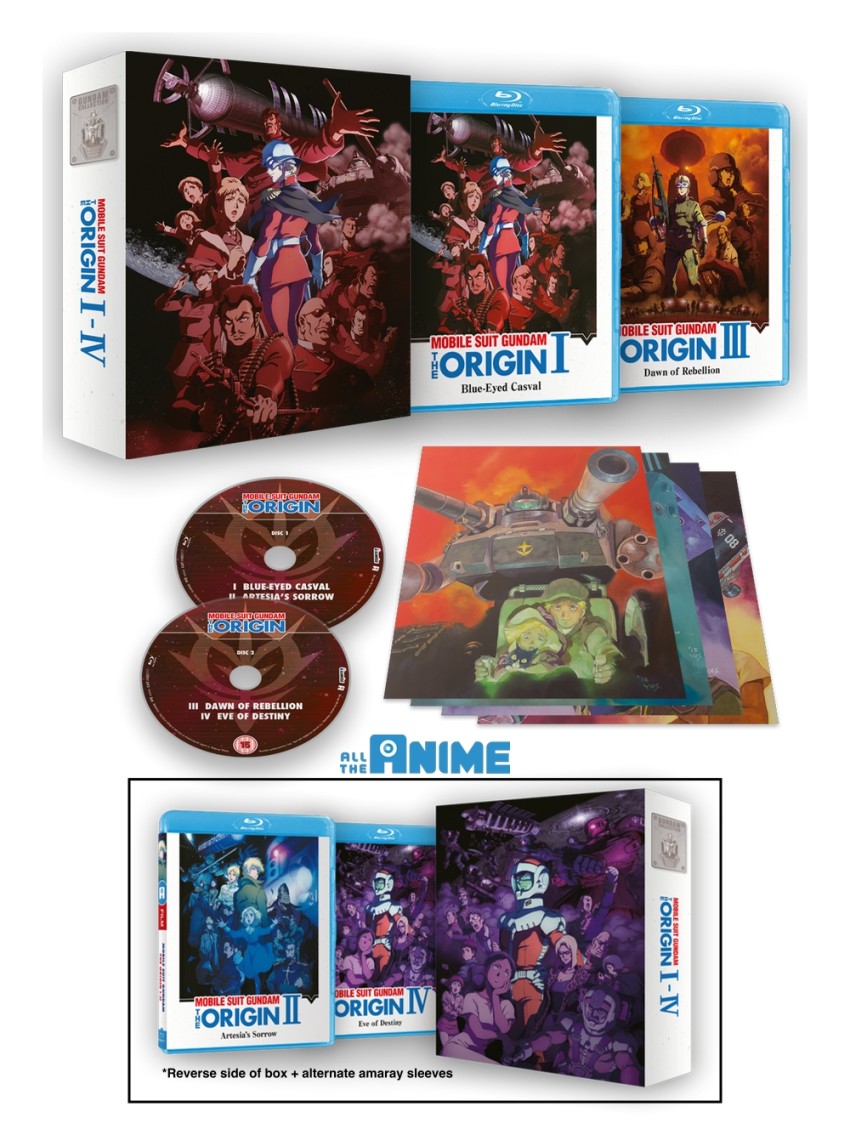 — What comes in this set?
Here is the contents
The Gundam Origin I-IV films across 2 Blu-ray discs.
4 art cards showcasing some of the art created for the respective films.
Limited edition art box to store both cases and officially add to your Gundam Collection along side past releases of ours.
— What's the release date?
28th May 2018
— What's the price?
The Suggested Retail Price (SRP) is £49.99. However it's worth noting there are always respective retailer discounts on products, so ultimately it will more than likely be cheaper than that.
— When will pre-orders at AllTheAnime.com launch
Pre-orders at our AllTheAnime.com web shop will launch in early May. You never know there might even be a special offer to coincide with this too 😉
— What language are the films in?
Each film has both English and Japanese with English subtitle language options.
— Is this release exclusive to any one retailer.
In short, no. But it's worth noting that this is a limited edition set limited to 1000 units across all retailers. So once it's sold out, that's it.
— What's the duration of each film?
Each one varies, but on average each film is roughly to 60-70 minutes in length.
— Does this mean you'll be doing a similar collection for the other 'Gundam The Origin' films?
In all honesty, we don't know. We only specifically have the license to release Origin I-IV as a set. We simply do not know whether in the future or not an opportunity may present itself to release V & VI.
— How does this collection differ from the previous "Import" sets you've taken orders for?
The "Import" sets of these four films that we've taken orders for in the past were set produced by Bandai in Japan. This was a case where were giving fans the opportunity to own these sets as the same time frame as the Japanese release – as we've detailed before, each contained English language options in the main feature itself. However we know the price point of these sets were something perhaps the ore hardcore of Gundam fans would be more interested in owning.
In this instance, this collection we (Anime Ltd / All The Anime) are releasing is tailored specifically for the UK market at price point we hope can make these films more accessible to Gundam fans in the UK.
---
Before we conclude this exciting news, we want to make it known that more Gundam releases are in the works. We know many of your have been very eager to know what's in the works but as mentioned above, we want and need to make sure things are 100% locked and set in stone in before we can formally announce details. We really appreciate your support and desire for more Gundam releases, so please know more are coming 🙂
Signing out~!
Jeremy
1 comments
Suzu

December 8, 2018 9:44 pm

Will you license Gundam Seed and Destiny too?