Jasper Sharp uncovers some animated treasures streaming for free.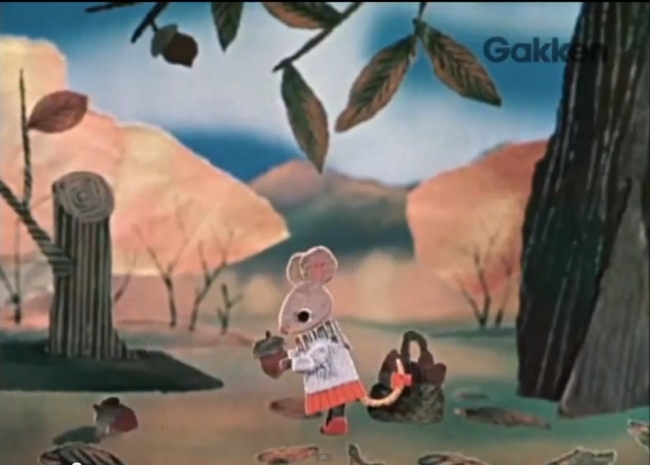 The word 'anime' only really entered the English lexicon at the beginning of the 1990s, whereas the history of Japanese animation taken as a whole stretches back at least 70 years earlier, its beginnings usually pinpointed to 1917. However, the immediate problem for curious viewers wishing to trace its lineage from such early pioneers as Oten Shimokawa and Sanae Yamamoto to Hayao Miyazaki and Mamoru Oshii remains one of access.
In terms of English-subbed releases, there is the Japanese Anime Classic Collection box-set released by Digital Meme in Japan in 2007, containing some 55 early works, while the US-based Zakka Films gave us the slightly more affordable 8-film collection The Roots of Japanese Anime: Until the End of WWII in 2008. There's really been nothing more since then, largely due to the number of films ripped from these disks and stuck on YouTube making it an unattractive proposition for small distributors to go through the trouble of sourcing and subtitling them for release.
Nevertheless, these DVD releases represent a mere fraction of the animation produced in Japan in the first half century of the medium. Crucially, with their focus on the pre-war product, there is a significant blind spot in terms of what local animators were up to in the decade or so before television opened up as a new major outlet for producers in the 1960s, which in turn imposed its own commercial demands that shaped the form and content of what subsequently became the anime we know and love today.
Fortunately a number of such forgotten works have recently been made freely available online that should help shed some light on this relatively obscure interim period, although they certainly don't fit the conventional mould associated with Japanese animation. The enterprise responsible is Gakken, a company founded in April 1946 by Hideto Furuoka (according to its website "with the conviction that education is the key to Japan's postwar reconstruction") to distribute books, magazines, toys and other educational materials across Japan and, more recently, a number of other countries in Asia.
Gakken's activities in the field of animation production appear to have remained all but invisible to Western eyes. Hopefully this will change, with its seven films produced between 1958 and 1960 now up online and showcased under the banner of 'Gakken Art Animation' to celebrate the company's 70th anniversary.
Two points should be made about the works presented here. Firstly, that these are only really 'educational films' in the sense that they were made, on 16mm film, to be shown in school classrooms and other educational organisations, much like many of the earliest animated works from the pre-war period, and not explicitly as teaching material. They are all based on children's tales and moral fables drawn from both Japanese and world literary sources. As such, though the works are unsubtitled, with most around just a reel in length (approximately 10 minutes) it is a fairly straightforward business working out what is going on.
Two of them, will be familiar from Aesop: The Dove and the Ant (1959) and The Country Mouse and the Town Mouse (1960), both directed by Kazuhiko Watanabe. Ryuhei Watanabe's Kasajizo (1960), meanwhile, is a local folktale about an impoverished old couple who yearn to share just a single mochi rice cake to see in the New Year. The old man heads into town to earn a few pennies selling straw hats. Returning unsuccessfully through a blizzard, he places his unsold wares on the heads of six protective stone Jizo statues marking his passage home. Awakening the next morning, the couple awaken to find his kindness rewarded.
The term 'Art Animation' is used generally in Japan to refer to animated works that use media other than the 'traditional' hand-drawn cel methods. It is still used today in connection with solitary figures such as Koji Yamamoto, Kunio Kato and Mirai Mizue, whose work outside the mainstream explores a variety of techniques, although such practitioners tend to be not too keen on the label, preferring the less grandiose description of 'independent animation' for their chosen field of activity. All of Gakken's selections are stop-motion: Kazuhiko Watanabe's two colourful Aesop stories mentioned above employ flat paper cut-out techniques to impressive effect, while the others use puppets.
Two in particular worth singling out for closer attention. The first is The Restaurant of Many Orders (1958), directed by Ko Ono. A hauntingly realized adaptation of the classic tale of the same name by the celebrated writer Kenji Miyazawa (Night on the Galactic Railroad, Gauche the Cellist), published in 1924, it tells the tale of two famished hunters who stumble upon a phantasmagorical, seemingly abandoned restaurant in the midst of a dark forest. The story was retold several decades later by two pioneers in the world of independent stop-motion animation, Tadanari Okamoto and Kihachiro Kawamoto, who completed the film when his colleague succumbed to cancer partway through the production. Ironically, given its makers' backgrounds, this second version was hand-drawn, but followed a number of their previous works to win the Mainichi Shinbun newspaper's prestigious Noburo Ofuji award for excellence in animation in its release year of 1991 (the award takes its name from another key innovator, known for his paper cut-out films made between the late-1920s and mid-1950s). For those that have seen the Okamoto/Kawamoto film, this earlier take on the tale makes for some interesting comparisons.
Poron Guitar (1959), the other Ko Ono-directed title (this time in colour) is the longest of the set, at 26-minutes in length. At the time of its release, it received a major award from Japan's Ministry of Education and played internationally at Oberhausen Short Film Festival and Montreal Film Festival – highlighting that Japanese animation had an overseas presence long before the days of Akira. The puppets were created by Akira Sasaki, who subsequently worked on Matsue Jinbo's 1963 stop-motion version of Gauche the Cellist for Gakken and a number of important features for Toei Animation throughout the 1960s, and Ryosaku Takayama who later went on to create the suits for such special effects extravaganzas as the Ultraman TV series.
And that just leaves the final two titles, The Baby Monkey's Swing (1959) and Inemuri Buuchan (1959). Both are more clearly pitched at younger viewers, and both are directed by Matsue Shinba, who stayed at Gakken throughout the next decade where she produced, among other things, a version of Hans Christian Andersen's The Little Match Girl (1971) in conjunction with Osamu Tezuka's Mushi Pro, which was distributed by Toho.
Online information about all of these figures and the titles they worked on is piecemeal, even in Japanese. That a woman such as Matsue Shinba could occupy such a key role at an animation studio during this period without her name drawing any real attention in contemporary sources is a point of interest in itself. At the very least, these short films go to show that there is still a whole wide and wonderful world of Japanese animation waiting be discovered, and here's hoping that Gakken will make more of its charming output available over the coming years.
The Gakken 70th anniversary collection can be seen here.