NEW RELEASES: 6th November 2017
November 6, 2017 · 1 comment
The month of November is now well and truly upon us, meaning that we've been graced with fireworks over the weekend, have some very different Fireworks to look forward to next week, and in-between all of that we have easily the year's most explosive anime release to look forward to. Yes, that's right, today is the day that Your Name arrives in the UK on DVD and Blu-ray!
NEW RELEASES FOR WEEK COMMENCING:
6th November 2017
---
YOUR NAME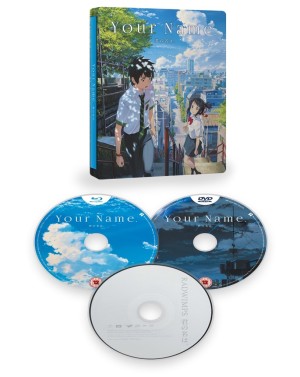 FORMAT: DVD, Blu-ray, Collector's Ed. Blu-ray+DVD+CD Steelbook
SRP: £17.99 (DVD), £19.99 (Blu-ray), £34.99 (Collector's Ed. Steelbook)
BBFC CERT.: 12
Language: English, Japanese with English subtitles
Synopsis: "Mitsuha and Taki are total strangers living completely different lives. But when Mitsuha makes a wish to leave her mountain town for the bustling city of Tokyo, they become connected in a bizarre way. She dreams she is a boy living in Tokyo while Taki dreams he is a girl from a rural town he's never visited.
What does their newfound connection mean? And how will it bring them together? Find out in the latest film from the acclaimed auteur Makoto Shinkai."

Order any of the editions of this title at:
Order at Amazon UK Order at Zavvi Order at Base.com Order at HMV Online Order at Anime-on-Line Order at AllTheAnime.com
NOTE: Don't forget that we're also bringing you a beautiful Deluxe Edition of the film – this will be released and ships on 27th November 2017, but you can find out more about it elsewhere on our blog and also order it from our web shop.
ADDITIONAL NOTES:
— See a full unboxing of out Collector's Edition Steelbook release HERE
— Read more about the English cast of the film HERE
— Read about RADWIMPS, the group behind Your Name's soundtrack, HERE
— Read more about the works of director Makoto Shinkai HERE
— Read about the success of Your Name HERE
---
Fireworks – TICKETS ON SALE NOW
We alluded to it at the top of this post, but consider this a formal reminder that tickets for SHAFT's wonderful new film based on a story by Shunji Iwai, Fireworks, is coming to UK cinemas on Wednesday, 15th November 2017. You can book tickets for the screenings taking place at selected cinemas across the country right now, so don't delay and book today!
You can read more about the film elsewhere on our blog, but here's a quick synopsis and trailer to whet your appetite:
"Production studio Shaft (Madoka Magica, Monogatari) adapts and modernises Fireworks, Should We See It from the Side or the Bottom? – originally a TV special written by Shunji Iwai (The Case of Hana and Alice) – adding sci-fi elements to its tale of teenage life.School children Norimichi, Yuusuke, and Junichi want to know if fireworks look round or flat from the side. They make a plan to find the answer at a fireworks display, while classmate Nazuna schemes to run away with whoever wins a swimming race at the pool."

Book your tickets for Fireworks at cinemas across the UK & Ireland right now at fireworksmovie.co.uk
That's it for new releases this week – we're only releasing one of the biggest anime films of all time today, as it turns out – but be sure to let us know how excited you are to add Your Name to your anime collection!
Until next time, take care of yourselves.
Andy H
1 comments
Euan Davidson

November 6, 2017 3:49 pm

Any word on whether Your Name will be available for download in the UK soon? I'd rather not have the clutter of another DVD, but if it's a choice between that and not seeing the film again, there's no choice!