By Anthony Thomas.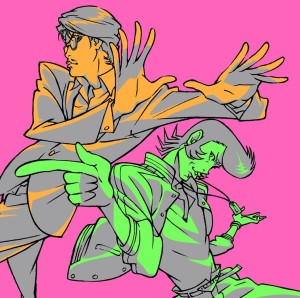 If you didn't already know, Space Dandy combs the galaxy, much like his pompadour, on the hunt for aliens. Planet after planet he searches, discovering bizarre new creatures while sampling as many intergalactic Hooters-type 'breastaurants' as possible. From his outrageous fashion sense, to go-with-the-flow attitude, Space Dandy is unmistakably a dandy guy – in space.
Just as spectacular as Space Dandy and his brave space crew (in space) is the man behind series one discorific opening theme Yasuyuki Okamura. He's been in the business since the 1980s and takes his influence direct from Purple Rain singer and fellow dandy dresser Prince. If that's not enough proof of just how funky he might be, check out the official music video for that Space Dandy opener Viva Namida, it features an anime-version of Okamura busting moves alongside Mr. Dandy and his breastaurant buddies.
Okamura had toes tapping in the west long before Space Dandy. His song Super Girl was used as the first ending to late-80s anime City Hunter 2, which was later picked up by The Anime Network and ADV in America at the turn of the millennium – it was also turned into a dodgy Hong Kong movie starring Jackie Chan in 1993, but that's an entirely different story.
Despite City Hunter 2 being made over 25 years ago, it features a lady-chasing, self-employed protagonist that's not a million light years away from Space Dandy's lead. Similarly, the video to Okamura's song from the anime is just as outrageous as his Space Dandy outing too. See how many 1980s memes you can spot in its official music video.
Cheesy dance moves are far from Yasuyuki Okamura's most interesting points. He's one of the extremely rare cases of Japanese celebrity that's had multiple prison sentences, and still continues to be a big name.
It began in 2003 when he was arrested for possessing stimulant drugs; although he managed to avoid a sentence after pleading that they were for medical use. Even so, Sony terminated his contract and he later signed with Universal instead. No more than two years after that, he was arrested again, this time with a drug a little harder to pass off as medicine: cocaine. He was caught with it in the toilets of a Shibuya record store.
Okamura served a two-year prison sentence before returning to music, this time returning to his visual stylings of the 1980s – for better or worse his Michael Jackson inspired dance moves did not see a return. It didn't take long until he was arrested again, this time with crystal meth – he served another two years behind bars.
Viva Namida is Okamura's first single in seven years, and his first single release since turning his life around and becoming sober. It's also available in the UK as a special Space Dandy digital version of the EP, courtesy of iTunes UK. Plus, to compensate while his homepage undergoes a redesign, he's offering fans a free download, check it out.
Space Dandy is out now from Anime Ltd. as standard season one Blu-ray, and as a collectors edition available on DVD and Blu-ray.