[Unboxing] Aldnoah.Zero Season 1
June 23, 2016 · 1 comment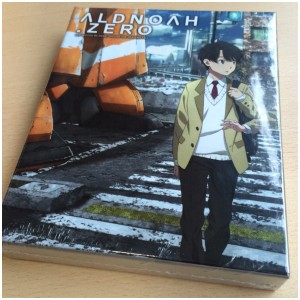 Just a few days aways from its release today we're delighted to bring an unboxing of our Aldnoah.Zero Season 1 Ltd Collector's Edition Blu-ray set. It's released this Monday (27th June).
But before we give you all the details about what to expect from our release a quick reminder that you order your copy from the likes of Amazon, Base, HMV Online, Anime-On-Line and our own web shop. HMV stores across the UK will also be stocking this too.
ABOUT ALDNOAH.ZERO
Synopsis: Fifteen years have passed since the hypergate collapsed on the moon's surface – a catastrophe known as the Heaven's Fall. The war between Earth and the VERS Empire of Mars is now in a cease-fire.
The VERS' Princess Asseylum Vers Allusia descends upon Earth as an ambassador hoping to encourage reconciliation while some citizens are not willing to compromise. Inaho Kaizuka, a Terran high school student… and Slaine Troyard (pictured right), who swears his allegiance to Princess Asseylum… Their fates cross as both societies watch in horror as a missile crashes on Asseylum's motorcade. This incident marks the beginning of a new war.
WHAT'S INSIDE? WHAT'S ON THE DISCS?
Our release comes packed in a rigid case. Inside that you'll find a digipack to store the 4 Blu-ray discs along with a 72 page booklet featuring a lots of art from the series including characters (that also features background information on lots of them) and the mechs themselves. The book is divided into three sections: Character Archives "Earth", Character Archives "Vers" and Aldnoah.Zero X I-IV "Mecha Archives".
On the discs themselves you get:
The complete first series, episodes 1-12, of Aldnoah.Zero in English and Japanese with English subtitles.
On disc extras include: Clean Opening and Closing title sequences, Promotional Videos and Commercials and a special 23 minute featurette "Countdown to A/Z"
WHAT DOES THE FINISHED PRODUCT LOOK LIKE?
And now for photos of the finished product! You can click on the images below to enlarge them if you want.
And that concludes this unboxing. Aldnoah.Zero Season 1 is available from this Monday (27th June.) Hope you're looking forward to it as much as we are!
Signing out~!
Jeremy
1 comments
vrs

July 10, 2016 8:08 pm

Nice set-I know cause' I own it.