[UNBOXING] Lu Over the Wall
July 18, 2018 · 0 comments
We're under two weeks away from our release of a film we know a lot of you have been excited about, Lu Over the Wall! Today we're delighted to bring you an unboxing of our Ltd Collector's Ed. set that will be available from 30th July!
Read on below for all the details.
---
ABOUT LU OVER THE WALL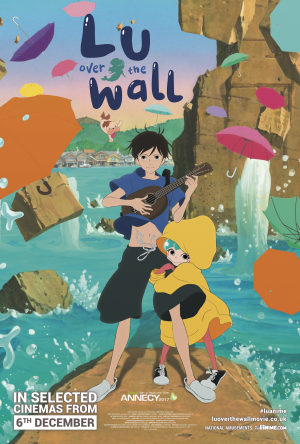 Studio: Science SARU
Director: Masaaki Yuasa
Director Masaaki Yuasa delivers a colourful and striking tale of the power of love, friendship and music in this fun-filled family film.
Synopsis: After the divorce of his parents sees him move to a sleepy rural village, middle school student Kai is left lonely and bored aside from his sole passion for creating and uploading music online. Even when two of his classmates invite him to join their fledgling band, Kai is reluctant to get involved, but when he's dragged to a practice session on a deserted island he finds himself coming face-to-face with Hinashi Town's most feared legend – a mermaid, shunned by the populace as a siren of despair responsible for the loss of many fisherman in years gone by.
However, the fun-loving and curious Lu couldn't be more different than the mermaids spoken of in legend, and her infectious love of music and dancing might just be the key to not only unlocking Kai's heart, but also saving Hinashi Town from danger.
You can watch a trailer for the film below
---
WHAT'S INSIDE? WHAT'S ON THE DISCS?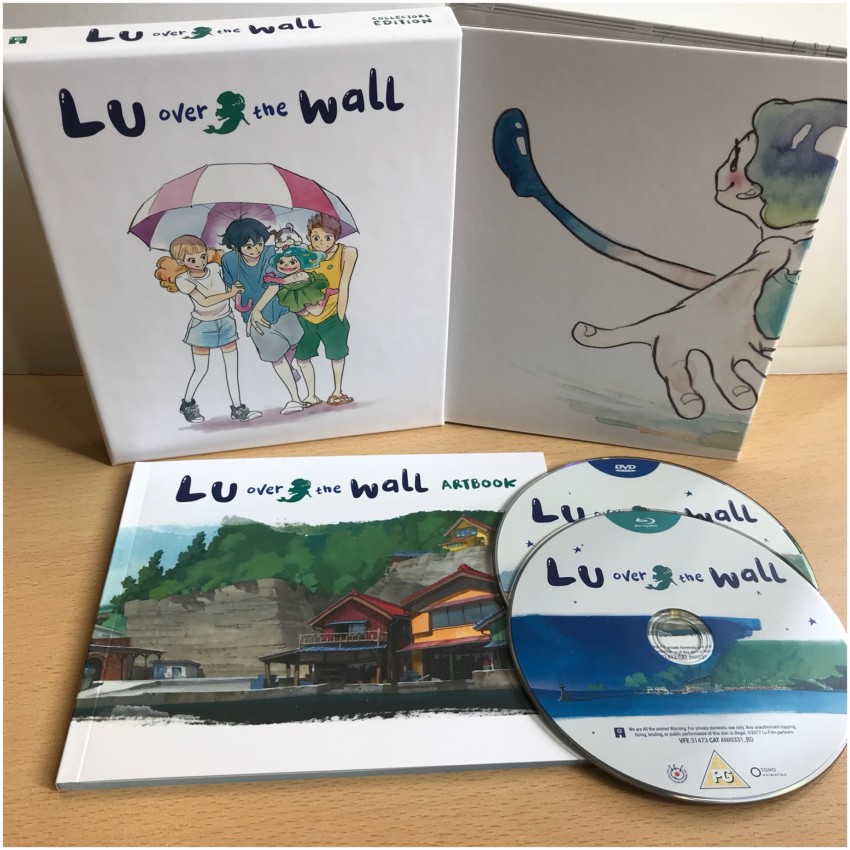 Our Ltd Collector's Ed. Blu-ray+DVD set comes packed in a rigid case that houses a digipack to store the two discs (1 x Blu-ray + 1 x DVD). Also included is a 52 page artbook.
On the discs themselves you get the main feature with options to watch it with the original Japanese audio (with English subtitles) as well as the English language audio. (Both of those options being in 5.1) Also on the discs are trailers for the film plus a 28 minute interview with the director of the film, Masaaki Yuasa.
Focusing on the 52-page art book for a moment, that is divided into multiple sections:
Cast & Characters: which showcases some wonderful art of the many characters you see in the film and even includes some background information on the some of the Japanese voice actors too.
Settings: showing off some of the locations you see in the film
Artworks: showing off some promotional artwork for the film
But that's not all! In addition to three sections of art there are also two more sections:
Interviews: we have two interviews to bring you! The first being with the director of the film, Masaaki Yuasa – a different interview from the one that's a bonus on the disc, and then we have an interview with two producers on the film, Eunyoung Choi and Yuka Okuyasu. Both make for great reading and we know you'll get a kick out of them!
SINK OR SWIM, An Essay By Jonathan Clements: and is if the above wasn't enough we even have an essay about the film written by Dr. Jonathan Clements (author of Anime: A History, co-author of the Anime Encyclopedia and the book that came with our recent release of Momotaro: Sacred Sailors "Sacred Sailors: The Life and Works of Seo Mitsuyo")
As you can tell, there's a lot packed into this release!
---
WHERE CAN I ORDER THIS?
You can pre-order your copy ahead of its release on 30th July from retailers including:
order at Amazon Order at Zavvi Order at Base Order at HMV Online Order at Anime-on-Line Order at All The Anime
---
WHAT DOES THE FINISHED PRODUCT LOOK LIKE?
And now it's time for photos of the finished product itself. As a note, you can click on them enlarge them too if you want.
Another unique aspect of the rigid case is the fact that a special spot-UV finish has been applied to certain elements to make them really pop out! Hopefully these below will help emphasise that 🙂
And now let's show you what's inside!
And that concludes this unboxing of our release of Lu Over the Wall! We hope you're excited to own this! Let us know what you think of this and if you're planning to add this to your collection.
Signing out~!
Jeremy