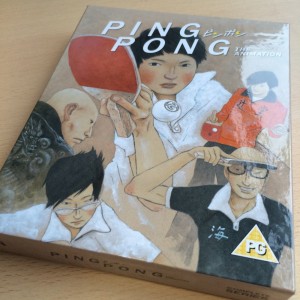 It has been a very long time since we revealed we would be bringing the series Ping Pong The Animation to the UK. But the wait is (finally) nearly over as this coming Monday (11th July) we release the series a Limited Collector's Edition Blu-ray/DVD set and today we bringing you a full unboxing of this.
But before we show you what you can expect a quick note that you can pre-order this right now from the likes of Amazon UK, Zavvi, Base, HMV Online, Anime-On-Line and our own web shop. HMV stores across the UK will be stocking this from day of release too!
ABOUT PING PONG THE ANIMATION
SYNOPSIS: From the acclaimed director Masaaki Yuasa (Adventure Time, Space Dandy) comes an innovative new series with stunning animation, memorable characters, and impressive footwork.
Smile and Peco. Peco and Smile. Besties from the beginning, both with a badass backhand. Peco is known for his arrogance on the table tennis court, and Smile for his silence. But with a new school year and a new high school table tennis team, both boys are in for a challenge, on–and off–the court.
Peco's slacker ways are hurting his game, and after getting crushed in a tournament, he decides to quit. Smile is finally learning to harness his natural talents, but can he squash his sympathy for his opponents enough to beat them.
Check out the trailer for the series below.

If you want to read more about Ping Pong The Animation, have a read of this post here at our blog by Andrew Osmond.
WHAT'S INSIDE? WHAT'S ON THE DISCS?
Our release comes all packed with a rigid case. Inside that case is a digipack to store all four discs, 2 x Blu-ray discs and 2 x DVD discs, and you also get 4 art cards included as well.
On the disc themselves, with the content being identical on each version, is:
The complete series, 11 episodes, in English and Japanese with English subtitles.
Extras on the discs include: audio commentaries for episodes 1 & 11, Clean Opening and Closing title sequences, web previews & teasers.
WHAT DOES THE FINISHED PRODUCT LOOK LIKE?
And now the moment you've been waiting for, what does the finished product look like. Check out the photos below. You can click on them to enlarge them too.
And that concludes this unboxing for our release of Ping Pong The Animation. Available from this Monday (11th July.) We hope you're looking forward to adding this to your collection. We're very excited to be release this!
Signing out~!
Jeremy