5 Reasons to join us at Cloud Matsuri this weekend
November 19, 2020 · 1 comment
This weekend (21st-22nd November) the second Cloud Matsuri online event streams completely for free at CloudMatsuri.com, via the power of YouTube!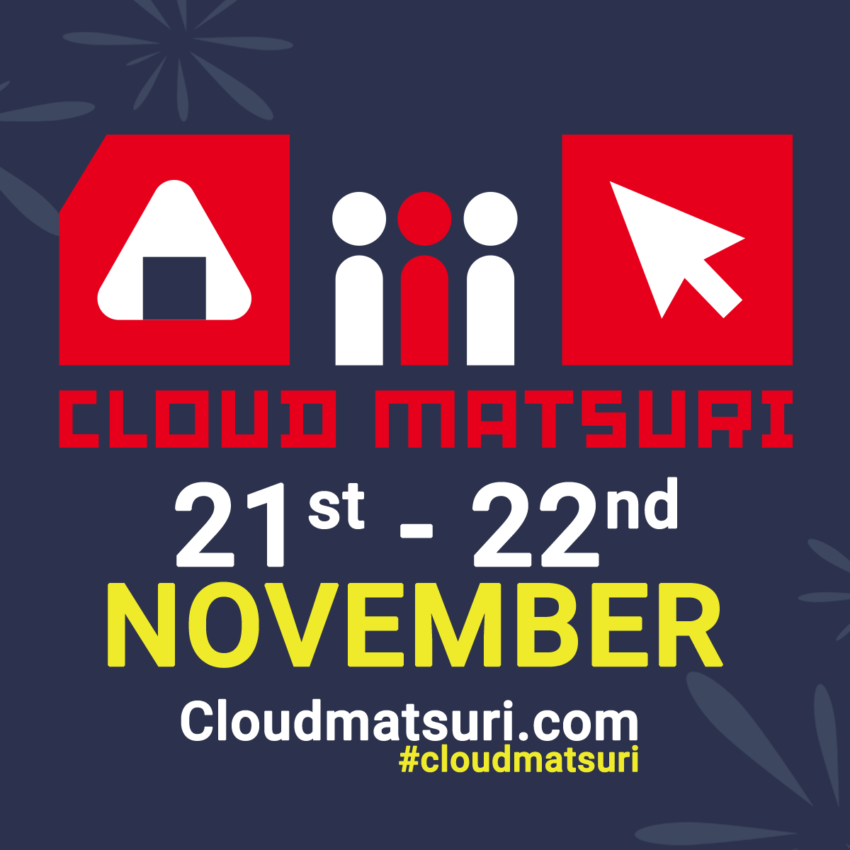 The event is completely free to tune into and is available to watch worldwide (excluding Asia).
There is a lot going on over the weekend, but it's not just about the panels being streamed. There other cool things to note as well!
So with that in mind here's 5 reasons we feel you'll want to join us this weekend! Let's start with…
1) Diverse range of panels!
If you haven't already checked out our stacked lineup of panels and guests, make sure you visit the SCHEDULE PAGE at CloudMatsuri.com to get the full scope on what is coming your way this weekend.
But the key thing we want to point out is how diverse our lineup is.
From Anime Guests including the director and producer of the upcoming Adult Swim adaptation of Junji Ito's, UZUMAKI previewing the series ahead of its premiere next year! To the director and assistant line producer of Mobile Suit Gundam SEED and even the creator and director of the classic Revolutionary Girl Utena will have their own panels!
Additionally our great friends at Crunchyroll will be previewing their Crunchyroll Originals series of programming, with particular focus on two of their upcoming titles! Onyx Equinox, which actually premieres this weekend too, and So I'm A Spider, So What?. Both of these will feature comments from members of each team involved in the production, from footage originally aired as part of Virtual Crunchyroll Expo and MCM's Metaverse.
Moving beyond anime, we be having special panels with the award winning statue maker, Figurama Collectors – who will be making some special announcements during their panel – and the company leading the way in bringing light novels to the west, J-Novel Club.
Oh and did we mention both of these panels will also have a Live Q&A? So you can put your questions to them, live!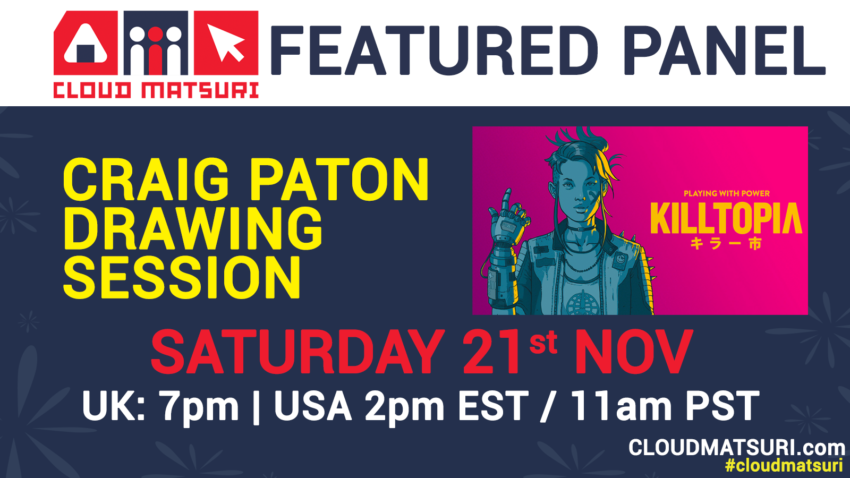 If that wasn't enough, we'll also be joined by professional artist, Killtopia's Craig Paton for a special drawing session!
Going further beyond that, we have fan orientated and led panels that are sure to take your fancy! From the U.K. Anime Showdown Trivia Challenge hosted by NNESAGA, to an Introduction to Cosplay Armour Making hosted by Scottish cosplayer Anaelic, and even a panel looking back on the impact that Toonami has had on UK fandom 20 years after its debut.
If Industry Panels are more your thing, we have you covered on that too! There will be two All The Anime Industry Panels across weekend – one each day – and there will also be a Screen Anime panel previewing what theatrical anime will be coming in 2021!
But that's not all, as we also have what we'll refer to as Documentary Style Panels. We have one hosted by Mike Toole titled Dubs That Time Forgot: Cloud Matsuri Edition, taking you on a journey back in time showcasing special & rare dubs from the UK.
And we have our own documentary we'll be premiering on the story of the classic anime, Cyber City Oedo, featuring comments from those involved in the original UK production & release and much more!
If all of that across two days isn't enough to whet your appetite for tuning in, then perhaps our next points will add to your excitement.
---
---
2) Exclusive announcements!
Throughout the weekend across various panels you can expect exclusive first time announcements/reveals, updates on recently announced information and who knows what else (… well, we do, but that would be telling 😉 )
So if announcements are the jam to go with your toast we'd suggest making sure you keep an eye on the Figurama Panel and the All The Anime Industry panels as there will definitely be some exciting news being shared as part of those!
Also a special mention to the Screen Anime panel too. We won't tell you why exactly, but let's just say it may be worth keeping that in your radar too…
---
---
Elsewhere on Cloud Matsuri weekend, if you're wallet is craving spending some money then you might be interested in the next element we want to highlight…
3) Special Offers & Shopping Opportunities
Over Cloud Matsuri weekend there will be a variety special offers and the opportunity to purchase some items exclusively via our AllTheAnime online shop over the Cloud Matsuri weekend. Just in time for Christmas.
So let's just say if you want to pickup some official Crunchyroll related threads for your wardrobe, or maybe masquerade of a game to play with others this winter, or even make a saving on an elite pre-order, we're sure you going to want to keep an eye on the Merch section of CloudMatsuri.com when it launches on Saturday.
---
---
4) COMPETITIONS
Did you know we currently have two Cloud Matsuri competitions running via our All The Anime social media channels?
Figurama Seven Deadly Sins Competition
We've got one for a chance to win Figurama Collectors upcoming (insanely amazing) Seven Deadly Sins: Bam vs. King Elite Famdom Statue!
To enter you need to follow the instructions (see links below) that includes telling us what your dream fight scene statue would be!
If you haven't already you can enter via Facebook, Twitter & Instagram via the links below.
Enter the Figurama competition on – Facebook | Twitter | Instagram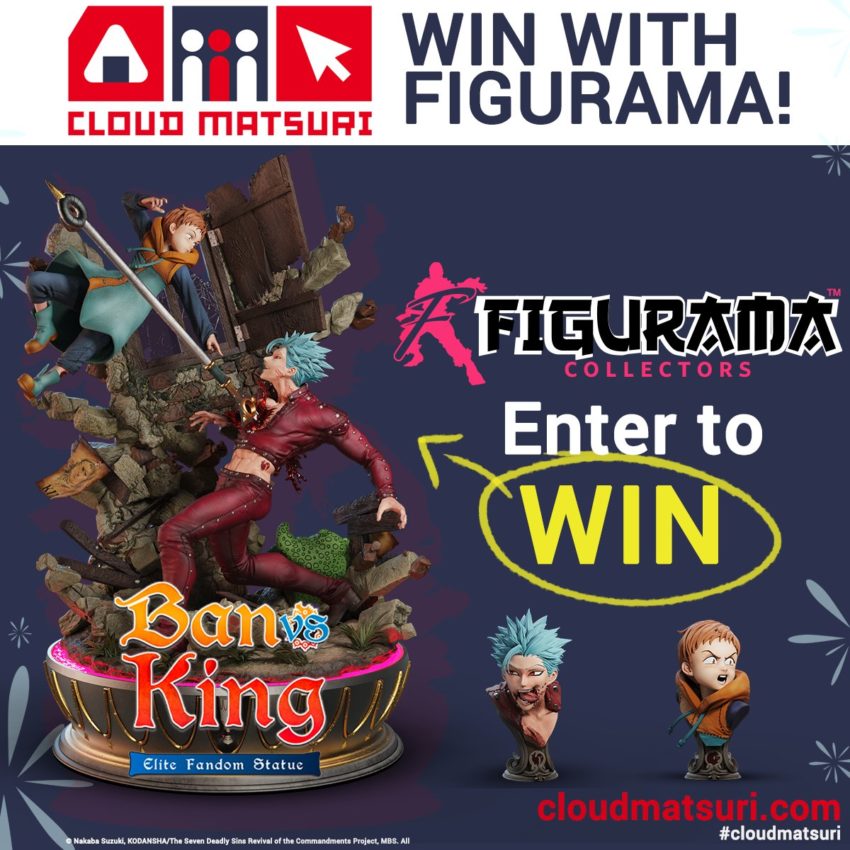 The winner of the Figurama competition will be announced during their panel on Sunday!
---
Crunchyroll Hime Competition!
We have a competition ongoing where you have the chance to win a Crunchyroll Hime Statue!
To enter you need to follow the instructions (see links below) that include needing to answer 3 questions about Hime.
If you haven't already you can enter this Crunchyroll competition via Facebook, Twitter & Instagram via the links below.
Enter the Crunchyroll competition on – Facebook | Twitter | Instagram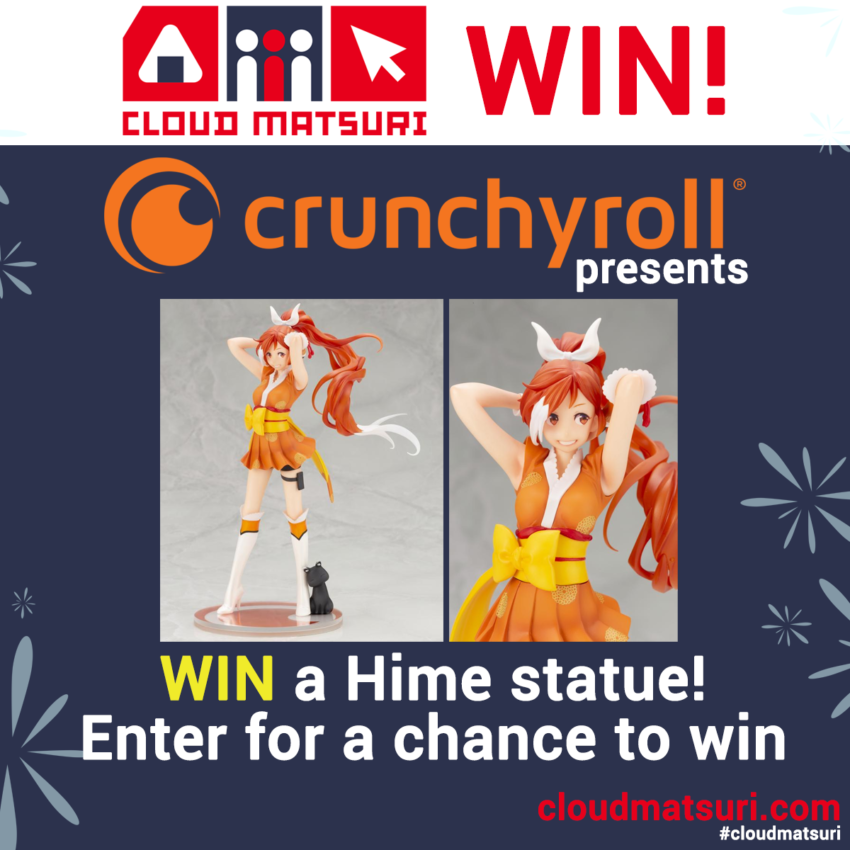 The winner of the Crunchyroll competition will be announced on social media during the Crunchyroll Originals Preview Featuring Onyx Eqinox panel on Saturday (21st.)
---
---
5) Interaction!
A big part of the first Cloud Matsuri earlier this was people being able to interact with others over the course of the weekend. There are a couple of options available for you this weekend –
YouTube Live Chat
If you're tuning into the live stream on each day via YouTube directly, as oppose to an external source – such as an embedded video – then you'll be able to chat with others also watching the stream too, including various members of our AllTheAnime team! So be sure to come along and say hi 🙂
#CloudMatsuri on social media
The official hashtag of the event is #CloudMatsuri, so be sure to keep an eye on the tag and if you're posting about the event make sure you include the tag so people can see what you think about it too!
---
---
BONUS REASON: Let us help distract you from everything else going on.
We know a lot of people – ourselves included (here in the UK) – are currently in the midst of government mandated lockdowns. So even if it's only for a bit over the weekend, we genuinely hope Cloud Matsuri helps bring a ray of sunshine to your lives.
And with that being said, a final reminder that Cloud Matsuri takes place this weekend (21st-22nd November from 2pm UK both days). You can tune in via our official website CloudMatsuri.com or directly through our YouTube.com/AllTheAnime channel.
Signing out~!
Jeremy
1 comments
Matthew

November 20, 2020 7:51 pm

Can you ask the Gundam Seed line director if he has anything he can say about the long awaited Gundam Seed movie? It has been teased since forever and TM Revolution says its "Making progress". But Sunrise aren't being forthcoming with the details.