Amanchu!
March 4, 2019 · 0 comments
By Andrew Osmond.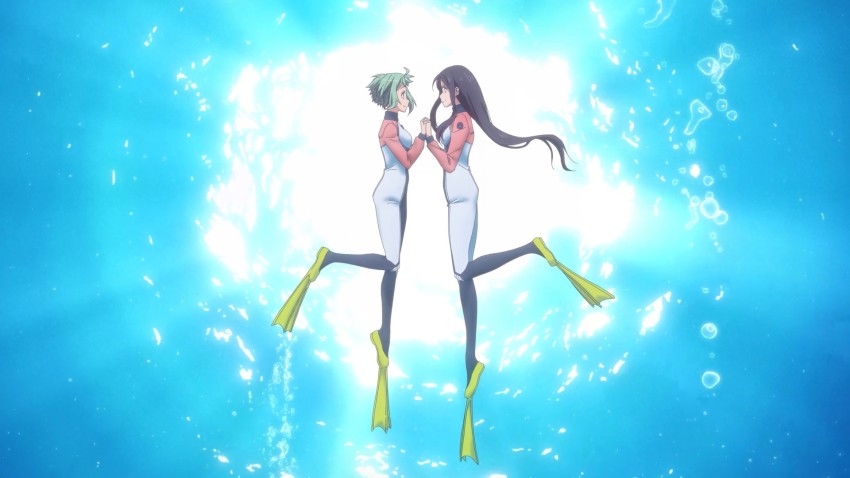 Amanchu! is a portrait of female friendship; or, if you prefer, it's one of the sub-genre of anime depicting "cute girls doing cute things." It should be said that the first category of anime doesn't collapse into the second, even if anime fans sometimes speak as if it does. You can like Amanchu! for its portrait of friendship, irrespective of how you feel about anime girls or cuteness. In recent years, we've had films like When Marnie was There and The Case of Hana and Alice, both fond portraits of girls bonding, which play down the cute – dare we say moe – factor.
Granted, Amanchu! is a pretty cute show – we'd say cute more than moe – about two girls becoming fast friends at their new high school while learning how to scuba dive. In a previous article, we quoted the Anime Encyclopedia on how twenty-first century anime increasingly delves into the real world, with "a deep sense of ready nostalgia for hazy school days" and "the exotic appeal of old-fashioned friendships and hobbies." Amanchu!'s an interesting variation on this, in that it suggests what school days might be like for a small number of Japanese students who are lucky enough to live by the sea and learn about diving alongside English and maths.
The show is set in the coastal city of Ito, on Japan's Izu peninsula – easily accessible from Tokyo, but with vastly different scenery. Amanchu!'s viewpoint character, Futaba, hails from Tokyo, and she arrives in Ito in the first episode. It's obvious she's a shy, nervous type, but she's fascinated by the sight of the vast blue ocean before her. An old woman observes that the sea can show a person – especially a Tokyo girl like Futaba – how vast the world is, how much there is to explore.
Next day Futaba begins at her new high school, where she encounters the other main character, a hysterically perky girl called Hikari. Much of the time, Hikari is drawn in cartoon "deformed" form with massive eyes and a crescent mouth. She could be a puppet like Pinocchio, or the sister of Luffy in One Piece. She is, in short, what critics call a Manic Pixie Dream Girl, a type that's often seen as a staple of Hollywood heterosexual romcoms.
In Amanchu!, though, Hikari's purpose is to cheer up a girl friend (like Marnie in Marnie). Hikari is already a keen amateur diver, and she quickly drags the timorous Futaba into the school scuba club. Anime seems partial to Dream Girls linked to the sea. Miyazaki's Ponyo and Yuasa's Lu could be counted as junior aquatic Dream Girls, while the fishing series Tsuritama serves up a Manic Pixie Dream Boy.
Amanchu!, though, is far less manic as an anime than any of those. It's very slow, gentle fare, designed for viewers to relax and unwind to, like a KyoAni show like K-ON! or Tamako Market. True, Amanchu!'s story is given a direction as Futaba learns about scuba diving, but don't expect her to get under the sea any time fast. The show is more interested in showing Futaba grow as a person, tirelessly encouraged by Hikari, and realising that her potentials are as vast as the sea.
Along the way, other characters drop in, though Amanchu's cast is far smaller than many anime. There's a cool female teacher who's not hidebound by curriculums; in part 2, she's already racing Hikari to school, and it turns out she oversees the diving club (what are the odds?). Later an eccentric brother and sister turn up with a worryingly abusive relationship – abusive, that is, from the sister's side. There's a cutely deadpan cat because… look, it's a cutely deadpan cat. As for the wise old woman at the beginning, she's Hikari's grandmother.
Futaba is voiced in Japanese by Ai Kayano, who also has links to works written by Mari "Maquia" Okada. Kayano voiced the ghost girl Meiko in anohana and played the sea-dwelling Chisaki in A Lull in the Sea, a character who faces Maquia-esque dilemmas related to ageing. Kayano was also in Maquia itself, in which she plays the pivotal character of Leilia, a long-lived woman who's kidnapped to bear human children.
However, Amanchu! reflects the vision of a different female Japanese creator. She's Kozue Amano, a Saitama-born manga artist who previously created a long-running strip called Aria (not to be confused with Aria the Scarlet Ammo). It's a drowsy fantasy about girls steering gondolas around a city on Mars which resembles Venice, and it inspired a long-running anime series. Reportedly, Aria's pacing and ethos are extremely close to Amanchu…
Andrew Osmond is the author of 100 Animated Feature Films.