Books: Weathering with You
July 18, 2020 · 0 comments
By Jonathan Clements.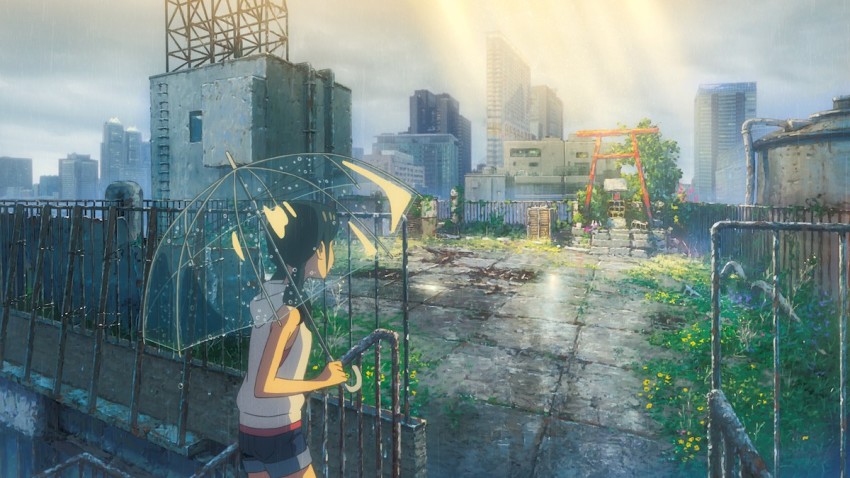 It's raining again. There are rumours about Hodaka at his remote island school. Something happened to him two years ago in the big city, although nobody knows the full story. Not even his probation officer, who finally releases him from his obligations and lets him set off to university as a free man. And now Hodaka is heading off on the ferry, ready to start a new life studying agriculture in a Tokyo college. And he'll get to see her.
Makoto Shinkai's novelisation of his anime Weathering with You begins at the movie's end, relatively secure that it is unlikely he will be spoiling it for anyone. Our hero is taking the ten-hour trip to the city from the Izu islands, an archipelago that is technically still part of Tokyo, despite stretching out into the Pacific. His prologue, however, is merely a framing device for a straightforward retelling of the movie's storyline, which only rarely deviates from the script.
Several years ago, charmed by Shinkai's 5cm per Second but baffled by its truncated running time, I bought the Japanese novelisation, hoping to find maybe a couple of extra chapters or unfilmed scenes. It turned out to be little more than a straight run-through of the movie, establishing what would turn out to be a Shinkai modus operandi. He insists on writing his own novelisations, and often does so in direct tandem with the productions themselves, so that movie and novel usually end up with duplicate material. When Shinkai was in Edinburgh shilling for Garden of Words, he spent much of his time locked in his hotel room, frantically at work on the novel of Your Name.
You might think that a director novelising their own film was a fantastic opportunity to create something that truly expands on the original, but here, as ever, Shinkai restricts himself to very slight nuances, presenting some scenes from the point of view of other characters, and thereby explaining some character motivations that might have otherwise been unclear. The switches in narrative voice are often hard to spot, so much so that I was half a page into someone's monologue before I realised it was actually someone else talking. But if you, like me after 5cm per Second, are hungry for the merest morsel of additional content, then there is something to be found in the book of Weathering with You, even if it is a glimpse of some of Mu magazine's more mental Forteana (including an unlikely rumour about Donald Trump – he might be artificial, but I would never call him an intelligence…).
In interviews, Shinkai has boldly defended his narrative choice to never reveal what it was that caused Hodaka to run for Tokyo in the first place. "I wanted to depict a boy and girl running forwards without a backward glance," he noted, "rather than a story of someone who is driven by past trauma, and that is the reason why I didn't reveal anything about Hodaka's past." Shinkai keeps to this decision in his novel, noting with a shrug that Hodaka's parents and school had welcomed him home "awkwardly," but noting that even his new bad-boy reputation was a matter merely of whispers and innuendo.
During a Q&A about the film, included in the Blu-ray release booklet, Shinkai gently chided his fans for not noticing one of the film's closing Easter eggs – the sight of Taki's grandmother wearing a braided cord on her wrist. He invited viewers to speculate what that might mean, but, perhaps frustrated with the lack of appropriately nerdy analysis on this one point, makes his intention far clearer in the novel, when he talks about a particular photograph in the grandmother's apartment – in doing so, he adds closure not to the events of Weathering with You, but to those in its predecessor, Your Name, at least in one universe.
Jonathan Clements is the author of Anime: A History.
Weathering with You, by Makoto Shinkai, translated by Taylor Engel, is published by Yen Press.
——-
The film itself is available to pre-order now from All the Anime.