Can Anime Keep Going?
April 8, 2020 · 0 comments
By Andrew Osmond.
The world can change so quickly. At the beginning of March, for example, it still seemed quite possible that the ExCel Centre would host the next MCM Comic Con London in London as scheduled. Now the news is full of sobering stories about NHS Nightingale, the 4000-bed field hospital set up in the ExCel Centre to accommodate victims of COVID-19. Any event like MCM Comic Con, with its milling crowds of thousands, feels unimaginable for the foreseeable future. Officially the London event has been postponed to July; current forecasts suggest it will have to be far later than that.
You don't need us to tell you that everything is uncertain. Going through what's known as of writing… London's Hyper Japan 2020, which was due to run in July, has been delayed indefinitely. MCM's Birmingham event is postponed. The new stage version of Makoto Shinkai's Garden of Words, which had been due to run in London this July and August, is also postponed, though its creators stress they're "beyond excited" to premiere the play whenever it becomes possible. Umpteen cinema films are delayed indefinitely, including Disney's new live-action version of the Chinese story Mulan.
Of course, there have been similar cancellations all around the world. In Japan itself, the situation was anomalous for a long while. For most of March, the official number of infections was low; remarkably low actually, given Japan's infamously crowded cities and transport. The optimistic explanations pointed to the emphasis on cleanliness and hygiene in Japanese society, the prevalence of facemasks, and the aversion to overly physical greetings. Bowing is far safer than hugging in the age of coronavirus. The pessimistic explanation was that the official infected figures in Japan were gross underestimates, resulting from perfunctory virus testing.
That, in turn, was linked by many pundits to an obvious vested interest; the Tokyo Olympic Games. There was global incredulity at Japan's reluctance to admit it was impossible for the Games to go ahead this summer. It was only after multiple countries, including Britain, declared they could not conceivably send athletes to the Games that Prime Minister Shinzo Abe announced the Games' postponement on 24th March. They're now planned for 2021.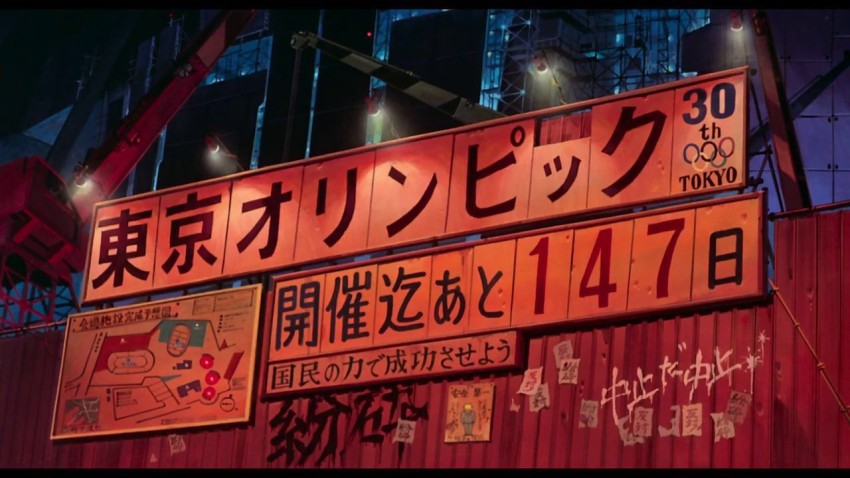 One amusing side-note to the Olympics fiasco relates to Katsuhiro Otomo's classic anime film Akira. Since it was first announced that Tokyo would host the 2020 Olympics, anime fans have hailed Akira for predicting it. The 2020 Games are being prepared in the background to the film – made in 1988, and set in 2019 – and several of the biggest scenes take place in the Olympic stadium itself.
In February, as the coronavirus threat became clear, the phrase "Just cancel it" topped Japan's Twitter feeds. The phrase is taken from one shot in Akira which shows a signboard advertising "147 Days Until The Games" (which would have been February 28 in our world, if everything had gone to plan). The "Just cancel it" comment is graffitied under the sign – the text is all in Japanese, so Anglophone viewers missed the detail entirely. If you think how Akira ended, it's unlikely Neo-Tokyo could have held the Olympics in 2020, so the film was right on that front, too.
On 7th April, the Prime Minister finally declared a state of emergency, not over the whole country, but in Tokyo and six other prefectures. According to Abe, the conditions will be in place for about a month, with about 44% of Japan's population affected. (On the day of the announcement, the hashtag "Escape from Tokyo" trended, although officials asked city-dwellers not to travel to other prefectures, some of which had no reported infections at all.) A stimulus package was also announced, amounting to 20% of Japan's economic output.
Department stores, cinemas, and other leisure facilities will be closed through this period, at least in the major population centres. Tokyo's Ghibli Museum had already shuttered much earlier, together with amusement parks such as Tokyo Disneyland and Universal Studios Japan in Osaka. Comiket, the massive fanzine festival in Tokyo scheduled for May, has been cancelled, along with many smaller events – for example, the run of a kabuki-style stage version of Naruto in the city of Nagoya.
The last film in the Fate/stay night: Heaven's Feel cinema trilogy was scheduled to open in Japanese cinemas at the end of March. Reportedly, some screenings were fully sold out; so much for social distancing. However, the film's release was postponed at the last minute. Other spring films were postponed too, including Kyoto Animation's second Violet Evergarden film (called Violet Evergarden: The Movie), along with Princess Principal: Crown Handler and the new Doraemon.
If Tokyo, where most anime studios are based, is shut down, can the mass production of anime, the hundreds of hours of content each month, continue? It seems much of it can. On the one hand, advances in computer power mean that much anime production can be carried out "remotely," by workers who are safely isolated – and not just in Tokyo, but also in the overseas countries on which anime studios rely, to create in-between animation and other subsidiary work.
And yet, there are plainly limits to this remote production. Some anime have been delayed; for instance, the new TV season of Re: Zero was supposed to start in April but is now scheduled for July. The third series of A Certain Scientific Railgun (designated "T") suffered delays during its broadcast in the winter season. Meanwhile, the pinch has been felt more in merchandise, particularly those releases that promised a lucky gonk, plushie, keyring or other attachment that was relying on Chinese factory labour for supply.
With the anime delays, the issue may not have been with making the animation, which may have been all finished already. Rather, it may have been problems with the voices. In America, Crunchyroll announced it was pausing its simuldubs of new anime, which can no longer be recorded safely. By sad coincidence, actor Jay Benedict, who had voice roles in Project A-ko and the vintage puppet series X-Bomber, died from Covid-19 complications on 4th April, aged 68.
Of course, if it becomes impossible for Japanese actors to record episodes, then eventually new anime broadcasts must stop, unless viewers can accept silent episodes, or artificially-generated voices a la Hatsune Miku. As of early April, two of the most mainstream TV family anime, Sazae-san and Anpanman, announced they had stopped voice-recording sessions. However, there may have been enough forewarning of the crisis for actors to pre-record episodes longer in advance, if that was logistically possible.
For the anime industry, the coronavirus means chaos and disruption at every level, just like the rest of the world. Still, there are lighter stories. A Japanese man calling himself "Inosuke Hashibira" – the name of a grumpy but selfless character in the manga hit Demon Slayer – made a surprise donation of a hundred masks to a nursing school in Iwate Prefecture. And if the international lockdown lasts as long as the downbeat forecasters are predicting, then at least we can hope studios may release more of their back catalogues online while we stay at home.
After all, Ghibli set a huge precedent with its surprise Netflix deal this January. So has Toei with its new "Toei Tokusatsu" Youtube channel which launched on 6th April, offering vintage robot anime and Rangers fisticuffs. If new anime starts grinding to a halt, thank heaven there's more than half a century of old material to delve into.
Andrew Osmond is the author of 100 Animated Feature Films.