Durarara!!
July 2, 2015 · 0 comments
By Andrew Osmond.

Ikebukuro, the Tokyo district that's the setting for Durarara!!, will strike bemused Brit tourists as a cross between London's West End and a funfair, a cornucopia of neon lights, bars, restaurants, department stores, amusement arcades, cinemas, karaoke chains, manga joints and stone owls. But it will not strike most tourists as an obvious home for headless bike riders, serial killers, teenage gangs and Hulk-sized brawls, as Durarara!! shows it to be. The most daunting thing for most visitors is the challenge of finding the way out of Ikebukuro station where Mikado, the boy from the boonies, arrives in Durarara!!'s first episode. It's a monster of a station, as this amateur video shows, one of the busiest in the world.
So why turn Ikebukuro into a place of dark thrills and adventure? It's not wholly baseless; Ikebukuro is the real-world home of a yakuza syndicate, called the Kyokuto-kai. Violence, while very rare, can happen. This writer has visited Ikebukuro umpteen times and always felt completely safe… but this newspaper writer wasn't so lucky. Tokyo citizens with long memories recall a terrible double murder in 1999, though it wasn't yakuza-related; it happened in broad daylight in front of Ikebukuro's Tokyu Hands department store and the oversized underground entrance to the Sunshine City mall. A landmark, the same location is used as a backdrop in Durarara!! – for example in the first series, when a pivotal showdown is resolved by the spectacular use of mobile phones.
Before Durarara!!, Ikebukuro's dangerous reputation was puffed up by a Japanese book series, Ikebukuro West Gate Park (aka IGWP) by Ira Ishida, in which a group of youths get involved in crime and murder. The books were adapted as a live-action TV serial in 2000, a year after the Tokyu Hands killing. The director was Yukihiko Tsutsumi, who later directed the live-action film versions of 20th Century Boys.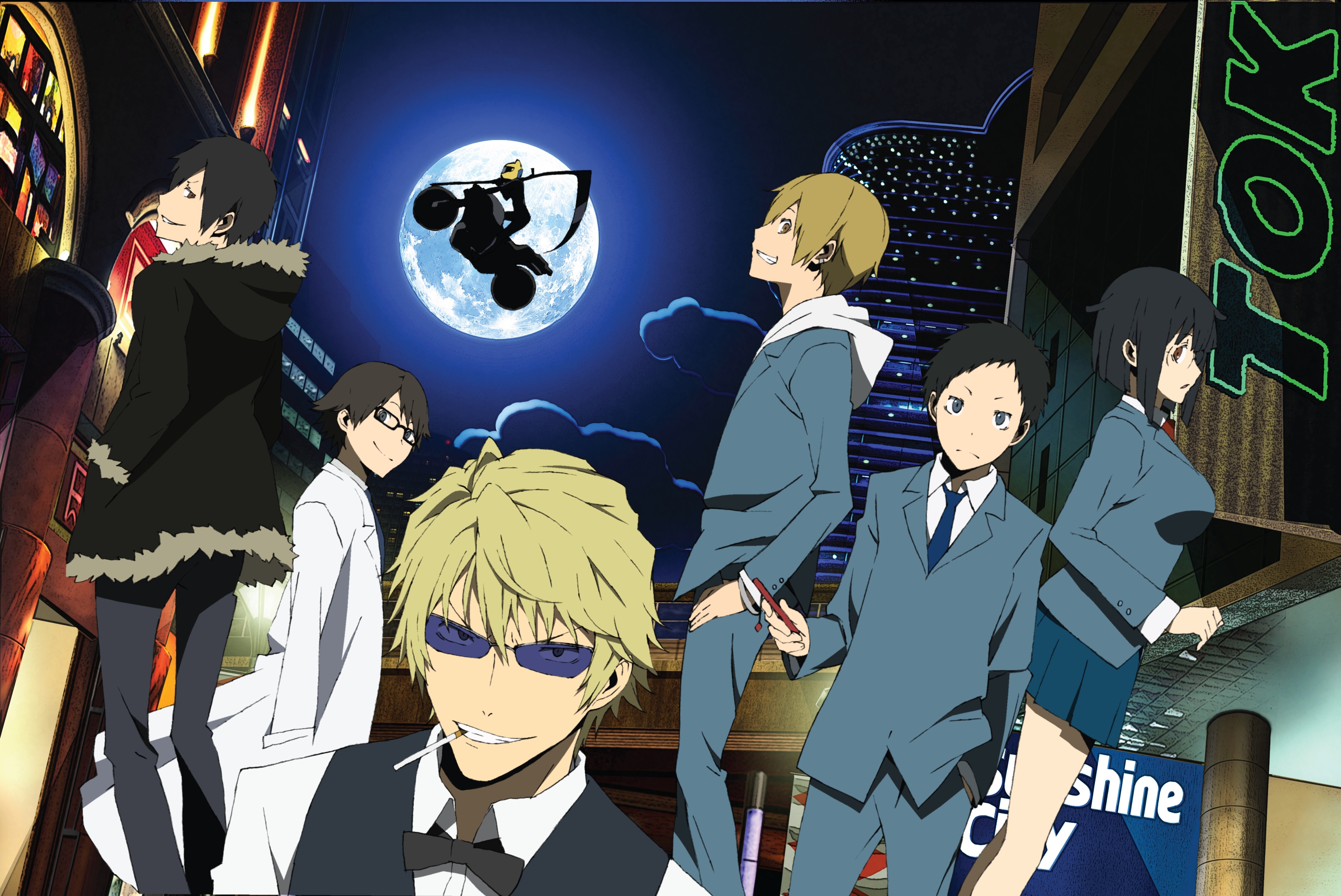 The Durarara!! books began four years later, written by Ryohgo Narita. As a saga, it's hard to pigeonhole. It blends adventure, farce, fantasy and absurdism, and boasts a huge cast of characters, threading in and out of the narrative in the manner of a Robert Altman film. Young Mikado, a schoolboy, often serves as our bewildered viewpoint, but many fans prefer other characters, such as Shizuo, a very angry man who acts like the Hulk in a bartender's suit, hurling people and vending machines to the sky. Give him a boulder, lose the suit and he could be a slimmed-down Obelix from the Asterix strips.
But the most iconic Durarara!! character must be Celty, a headless rider from the world of Irish faerie, who desperately seeks her missing noggin while crusading the streets on her neighing motorbike, courier and avenger. As I wrote in my Neo magazine review of Durarara!!, "Celty has the pathos and dignity of Al in Fullmetal Alchemist, another headless hero. Only Celty is an adult woman, black vapour pouring sexily – yes, sexily – from her neck whenever she removes her helmet. Let's say it; she's smoking, and she needs no motorbike to give her autonomy."
In some ways, the closest Western TV analogue to Durarara!! is Buffy the Vampire Slayer, setting crazy characters against familiar real-life backdrops (at least for natives of Tokyo and L.A). Certainly Durarara!! has a similar wit and cleverness to Buffy, with elegant writing and a zest for piling on craziness, or for insouciantly going really dark. Watch part two of the series, in which another of Durarara!!'s main cast, a satanically silver-tongued arch-manipulator called Izaya, smoothly tempts a vulnerable girl towards a steep drop and the bloodstained concrete far below. Don't fear the reaper, little girl… although Durarara!!'s reaper is the one person who can save her.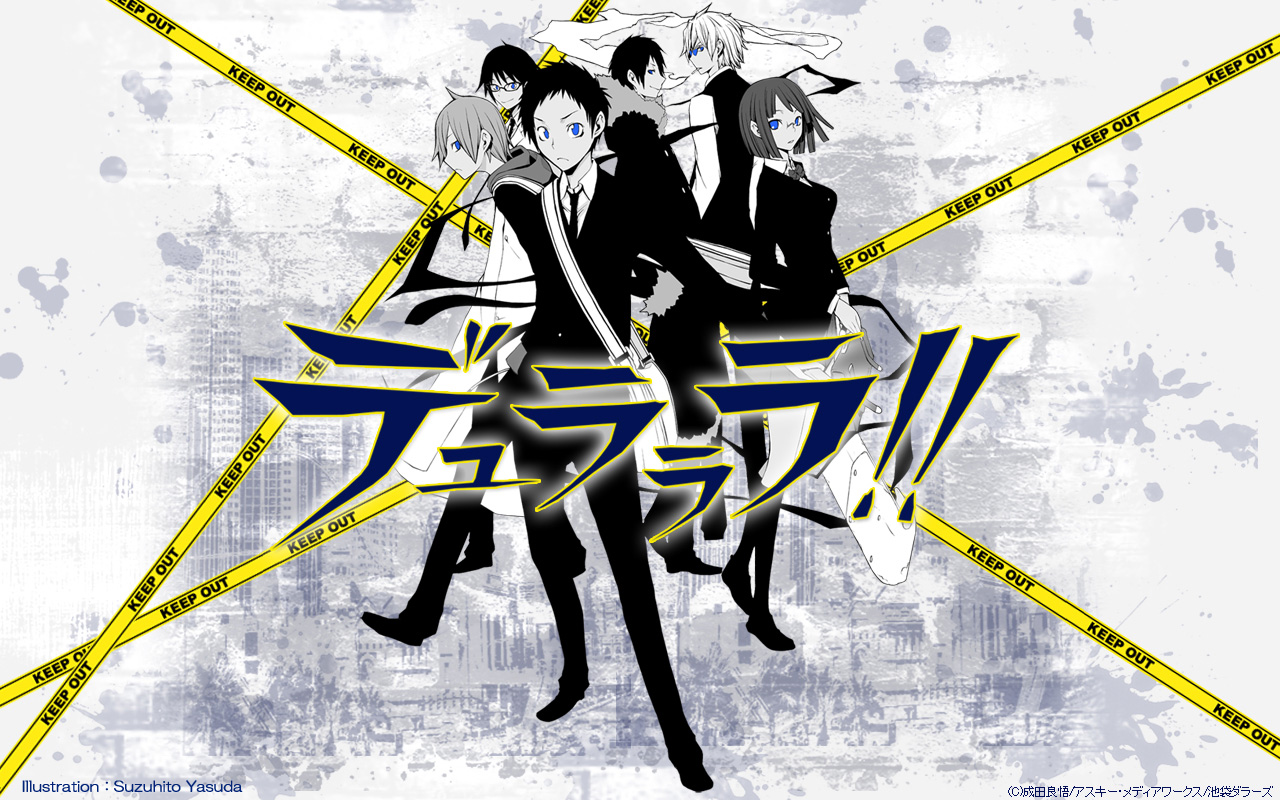 In Japan, the obvious comparison for Durarara!! is Baccano!, which is also due for Blu-ray release by Anime Limited. The two titles are linked intimately. The original Baccano! novels were also written by Ryogo Narita, and the anime versions share key credits (see below). Both sprawl with huge casts of outrageous characters, and both love time-shifts, skipping back and forth in their stories and getting the audience to piece the events together. Durarara!!, though, is relatively lightweight, usually just skipping a few hours, or replaying scenes from different perspectives. Baccano!, as anyone who's seen it knows, skips years and centuries, though its main action takes place in the gangster-era America of the 1930s.
You certainly don't need to have seen Baccano! to enjoy Durarara!!, although they're apparently set in the same world. Baccanno!'s two most popular characters, a bungling Bonnie and Clyde pair called Isaac and Miria, make passing cameos in Ikebukuro. Beyond Baccano!, you might compare Durarara!! to anime shows like Boogiepop Phantom or Paranoia Agent. Like Durarara!!, they use multiple viewpoints, Tokyo backgrounds, non-linear stories and supernatural creatures wrapped in mystery… except Durarara!!, for all its dark and shocking moments, feels far cheerier, more benign than them. (Here's a more obscure comparison. Has anyone noticed that the music associated with the "Dollars" gang, a collective brought together by the internet, sounds close to James Horner's theme for the vintage net activist film Sneakers?)
The benign comedy may be the reason why Durarara!! has lasted so long. The books have run thirteen volumes so far, with more promised by Narita. Meanwhile, as anime fans know, the TV series – first broadcast in 2010 – has returned to Japanese screens, with twelve episodes this spring, and more seasons coming this summer and next spring. The sequels are collectively known as Durarara!!x2, individually called "Sho," "Ten" and "Ketsu." Anime Limited has licenced them for future release.
There may be a four-year gap between Durarara!! and Durarara!!x2, not to mention a change in studio – the original series was made by Brain's Base, which also made the Baccano! anime, while the x2 series are made by a new outfit, Shuka. Nonetheless, there's an impressive effort to make the transition feel seamless; fans may nitpick, but the sequel looks and sounds much the same, albeit with a ramping up of the lunatic humour to even greater extremes.
Of course, much of the continuity is down to the main talent staying on, including director Takahiro Omori, series compositor Noboru Takagi, character designer Takahiro Kishida and musician Makoto Yoshimori. The quartet worked together on both the old and new Durarara!! shows, as well as Baccano! (From whatever quirk of fate, they also all worked together on the risky incest-themed anime drama Koi Kaze – scary considering the sibling relationships in Durarara!!)
There's a similar continuity in the voice-cast, with a host of famous names including a wonderful turn by Jun Fukuyama (Lelouch in Code Geass) as the scalpel-happy "doctor" Shinra who adores a woman without a head. Then there's Mamoru Miyano (Light in Death Note) as schoolboy Masaomi; Kana Hanazawa (Shiemi in Blue Exorcist) as the withdrawn schoolgirl Anri; and the great Akio Ohtsuka (Batou in Ghost in the Shell, Captain Nemo in Nadia) sending himself up as Shinra's gasmasked dad Shingen. And at Durarara!!'s centre, Celty is voiced by Miyuki Sawashiro, the current voice of Fujiko in the Lupin the Third franchise, including the acclaimed Woman Called Fujiko Mine series and this year's Italian-co-production. Celty and Fujiko – just imagine what a crossover that could be…
Andrew Osmond is the author of 100 Animated Feature Films. Durarara!! is out now from Anime Ltd.