Easter Sale | General update from Anime Ltd
April 2, 2020 · 1 comment
We know it can be (surprisingly) pretty tricky to keep track of what day it is right now, but believe it not we're not that far away at all from it being Easter! So with that in mind we've got some exciting news to share with you about the next week or so as we launch our Easter sale tomorrow (Friday 3rd April) – yeah, Easter isn't until end of next week, but work with us on this 😉
Away from that, we also wanted to take an opportunity to touch base and update you on day-to-day activities as things stand here at Anime Limited and give you a indication on some things we've got in the works.
This post is split into two sections
Easter Sale
A General Update on Our Forthcoming Plans
So read on below for the updates!
---
EASTER SALE
Seeing as Easter is just over a week away, we wanted to take the opportunity to tell you about an Easter Sale we'll be having at our AllTheAnime online shop that launches… TOMORROW (Friday 3rd April) and will conclude Monday 14th April. We know it's a unique time right now so we wanted to do something to give you guys the opportunity to add some things to your collection at special prices to help keep you going while stuck at home. It's part of our way of wanting to be able give back and help a little.
This sale will be happening in a very particular way; which may seem similar to some particular past sale offerings of ours, but with a few twists in.
Each day at 5pm there will be a special offer on a particular product that will be valid for a 24 hour period. This will be a mixture of pre-orders for upcoming titles, some particular picks from our team, some more recent releases – which is something we don't often do.
Today we're going to tell you what we've got lined for first two offers as part of this sale!
Day 1 (Friday 3rd April) will be the launch or our AllTheAnime.com Early Bird Pre-order offer on the upcoming Mobile Sui Gundam 0083 Blu-ray Ltd Collector's Edition set! To make sure everyone has a decent amount of time to take advantage of this offer, it will be available to order at the special price pre-order of £34.99 until Thursday 9th April – keeping in with our usual one week time frame for early bird offers.
Check out a visual for this set below, and you can read blog post we published going into details about everything included in this set HERE.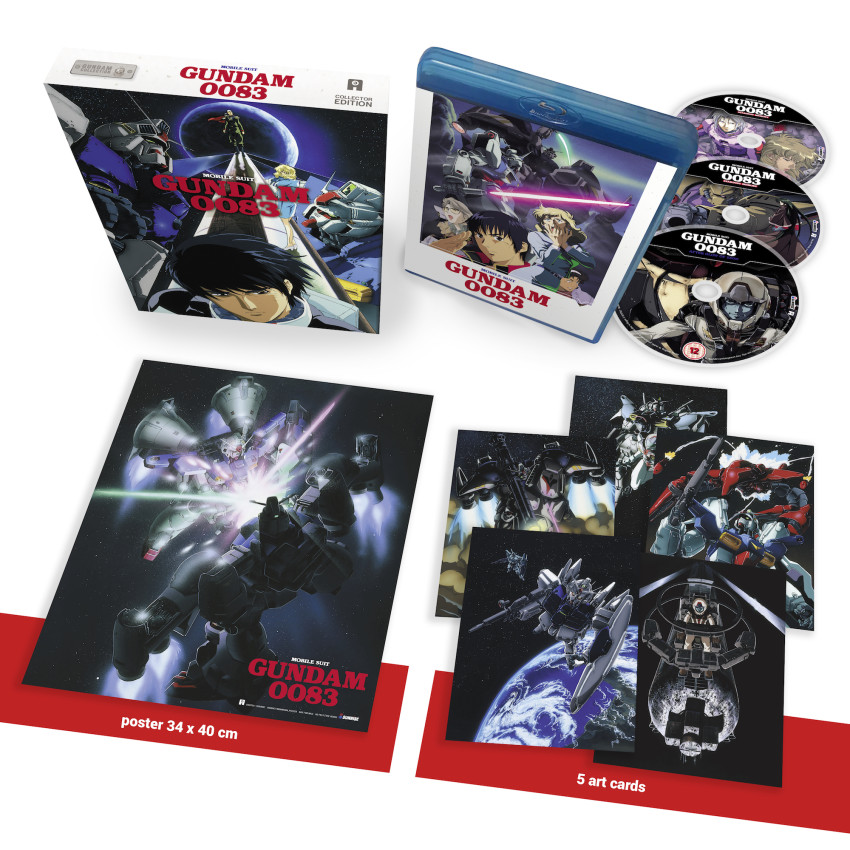 We know a lot of you are excited about this particular Gundam release of ours, which is why we want to make sure as many of you as possible have the opportunity to order it at the early bird pricing.
Day 2 (Saturday 4th April) will be focused on particular Ultimate Edition releases of our at special pricing! These being the Cowboy Bebop Ultimate Edition set and the Perfect Blue Ultimate Edition set! But, in a twist, these also won't be a 1-day only offer. They will be on offer throughout the duration of our Easter Sale (through Monday 13th April) with the Cowboy Bebop Ultimate Edition being at £179.99 – the lowest price it's ever been available to order from our online shop, and the Perfect Blue Ultimate Edition set at £59.99 – also the lowest price it's ever been available to order from our online shop.
Also, if you're just interested in the book portion of the Perfect Blue set, you can just order the storyboard book on its own. And that will be on special offer as part of the day 2 offer as well.
From the new offer launched on day 3 (Sunday 4th April) onwards, it'll be one new offer valid for 24 hours each day. So be sure to check back each day at 5pm to see what's on offer!
F.A.Q. (Frequently asked questions) about the Easter Sale
– When does the sale start? When do new offers launch?
The sale begins tomorrow (Friday 3rd April). Each new offer will launch at 5pm each day.
– How long is each offer valid for?
24 hours from the time it launches (or until the product is sold out.)
The only exceptions being the Day 1 offer on Gundam 0083 that will run from Friday 3rd April – Thursday 9th April, and the day 2 offers on Cowboy Bebop Ultimate Ed., Perfect Blue Ultimate Ed and the Perfect Blue Storyboard Book that will be from Saturday 4th April – Sunday 13th April.
– How are these being fulfilled? How long will it take for orders to be shipped?
Fulfilment is being handled by our regular fulfilment house; they are currently operating as normal, albeit with reduced staff until further notice to ensure their health and safety. With that in mind, though we hope for orders to be dispatched quicker than this, we ask to please allow 30 days for delivery.
We encourage you to check with your local postal services for any updates concerning shipments and deliveries in your location – as that is something we do not have any control over.
---
A GENERAL UPDATE ON OUR FORTHCOMING PLANS
With all of that pertinent information about the coming Easter period now laid out before you, we also wanted to take this opportunity to talk about what we as a company, and more importantly as part of the anime community, are doing in these unprecedented and strange times.
For starters, it's important to be clear that we aren't going anywhere – we're still working hard to bring anime to you in all of the usual ways, and although we're all working from our respective homes rather than our office here in Glasgow, it's otherwise business as usual for us. We're still maintaining our normal production and other processes, while ensuring that both ourselves and other businesses we work alongside do everything they need to remain safe and healthy – and do everything in their power to safeguard the health of others too. This may result in some brief delays to order shipments and products, but we're doing all we can to keep things running and keep you informed when any bumps in the road emerge.
But, of course, "business as usual" isn't enough in unusual times, and as you've probably noticed we're striving to do as much as we can to help keep you distracted, entertained, or whatever else you need while we make it through current events.
For starters, many of you will have noticed that the All The Anime podcast is back with a vengeance, offering you some light-hearted chatter three times a week – we're here to talk about what we've been watching, answer your questions, and invite you to join us and group watch a variety of series to consider and discuss. We might even have the occasional guest here and there! You can find the podcast on Spotify, SoundCloud, Apple Podcasts and other platforms, so be sure to give it a listen.
We've also heard from many of you looking for more ways to watch our content and interact with your fellow fans digitally and online. While we can't talk about any specifics at this time, it's certainly something that we've heard your desire for, and it's something we're exploring as we write this – stay tuned, as we'll bring you more news on our endeavours in this realm in the near future.
Speaking of interaction, if you follow our Instagram account in particular you will have seen our recent attempt to bring at least a little of the convention experience to your home – we've been flattered and delighted by the positive reception to our activities, and it's clearly underlined that this is something you want to see even more of. Again, as we mentioned above we don't have anything specific we can share at this time, but rest assured this is something we're working hard at in the background, to bring you more digital events – big and small – that will bring some of the most important parts of the convention experience to your home.
In summary then, we know that this is an unusual time, and we want to help all of you out there through this period in the ways that only Anime Limited know how. We wouldn't be here without each and every one of you, so even though we can't do much in the grand scheme of things, we feel that it's vitally important that we work as hard as we can to bring this community together and support, entertain and connect you.
Take care, stay safe, stay home if you can, and keep an eye on all of our usual channels over the coming weeks as we reveal more about our forthcoming plans and efforts.
~ Jeremy and Andy H
1 comments
Andrew

April 2, 2020 6:15 pm

Hey guys! I just have a quick question. I love the stuff you're releasing again and again but I'm wondering a bit about the shipping price. Isn't there a way to get those shipping prices down by quite a lot? I see other anime companies in the UK that's more than half the price for europe delivery(3-5£ delivery cost). Would be awesome since it stops me from buying a lot.