By Paul Browne.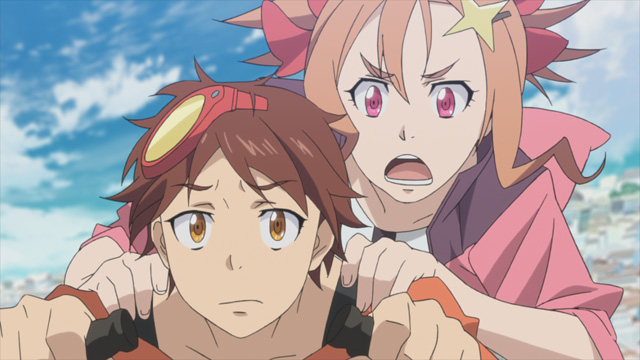 Sogo Amagi is a denizen of the world of Gift whose primary hobby is excavating rare crystals from abandoned mines. Sogo's quiet life of intellectual pursuit is, however, put into disarray when he encounters the mysterious blue-haired Felia deep within the ground itself…
If you like your anime to be everything from mecha action to screwball comedy, then Comet Lucifer is right up your street. The bright and breezy opening theme for the series comes courtesy of Fhána – a musical outfit that have established a definite knack for composing pop/rock tunes that engage the heart and get the feet tapping.
Fhána was originally conceived as a collaboration between three musicians with established indie credentials: Junichi Sato, Yuxuki Waga and Kevin Mitsunaga. Sato had grown up listening to FLIPPER'S GUITAR and Yellow Magic Orchestra, but also had time for such broad western influences as The Smashing Pumpkins and Björk. Waga leaned more towards Radiohead as well as developing an interest in Vocaloid music. Meanwhile, Mitsunaga drew strong influences from the likes of Cornelius.
Sato originally performed as part of the band FLEET in 2006, while Waga had occupied himself working on Vocaloid compositions (uploading them to Japanese video site Nico Nico Douga). With Waga being a fan of FLEET, it was natural that he and Sato would find common ground, eventually leading to the foundations for Fhána.
A debut album titled New World Line arrived in 2012 featuring a rotating cast of guest vocalists, including the voice of Vocaloid IA. But it was the confident vocals of Towana that captured the trio's ears. Having studied classical piano for over ten years, Towana drew influences from the likes of Sheena Ringo and YUKI in her formative years. On Fhána's songs, Towana's gentle, yet stirring vocals provided the perfect match for the group's engaging rock/pop approach.
Signing to the Lantis label in 2013, the now 4-piece outfit released their first debut single on a major label with the warm melodies of 'Que Sera Sera', which also served as the ending theme to the anime The Eccentric Family.
Continuing to be one of the go-to groups for anime themes, Fhána followed up with the strings and pop of 'divine intervention' (opening theme of Witch Craft Works) and the up-tempo rhythms of 'Wonder Stella' (which featured in the 2015 anime Fate/kaleid liner Prisma Illya 2wei Herz!). They also worked on the 2014 anime Celestial Method – including the release of an 'image song' album (essentially a tie-in that features songs by a voice actor or character from an anime) to accompany the series.
Along the way, the band began to build fans and win accolades. They were featured in the iTunes Japan 2014 New Artist To Watch list and also made an appearance at the Animelo Summer Live – Japan's biggest annual anime music festival. The outfit have also been fortunate enough to export their music aboard, making their US live debut at an anime convention in 2015.
The accumulation of all this work resulted in the album Outside of Melancholy, which collated much of Fhána's anime material. It also made an impression with the record-buying public as the album reached an impressive No. 8 on the Japanese Oricon charts.
Meanwhile, 'The Seed and the Sower', which serves as Comet Lucifer's opening theme is a perfect example of Fhána's output with its tight percussion and energetic melodies. The result is a solid opening theme for the gem-encrusted action of Comet Lucifer.
Paul Browne is the owner of Japanese music website J-Pop Go. Comet Lucifer is currently streaming on Viewster.