By Tom Smith.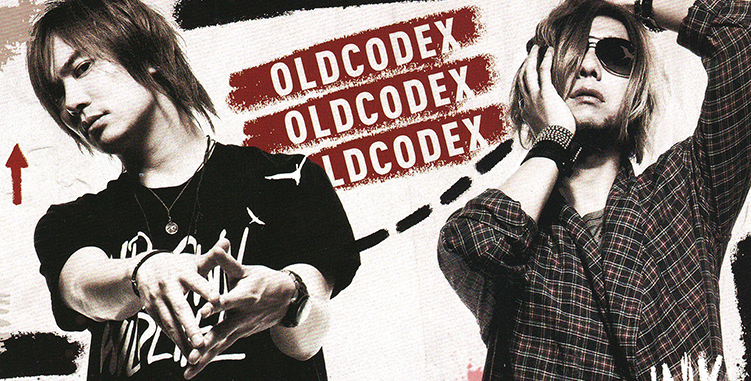 Who would've guessed that an anime about swimming would be causing such a splash as Free! Eternal Summer? Then again, judging by how swiftly its male cast manage to strip to their speedos and show off their glistening muscles, maybe it isn't such a wonder. Either way, the franchise has become so popular in Japan that the town the series is based on is even running Free!-based tourism campaigns in hope of enticing more people to visit.
The band that supplies Free!'s opening theme consists of an unusual combination, too. It's formed of two core members; one doesn't play any instruments, sing, nor compose, and the other, when he isn't singing, is usually found in a booth recording voices for anime. Between them they're called OLDCODEX, the unlikely Japanese rock duo who've managed to achieve four top-ten singles and continue to climb the charts in Japan year-on-year despite their unconventional formation.
The two of them are artists, each using a very different medium to create their art. Voice actor Tatsuhisa Suzuki, going by his rock 'n roll alias Ta_2, creates the lyrical layer while his buddy YORKE. (who stylises his name in capital letters, followed by a full stop, because there's nothing editors enjoy more than counter-intuitive typography) is given a blank canvas, a brush and as many tins of paint he can carry, and creates live pieces of artwork based on the vibes of the gig. Hardened J-rock fans may already know YORKE. from his work with visual kei artist MIYAVI as part of his most awesome KAVKI BOIZ entourage, consisting of DJs, tap-dancers, and, er, a painter, amongst other things.
Vocalist Tatsuhisa has had a massive career in anime, providing his voice for series such as BLOOD-C, Saint Saya and Uta no Prince-sama, as well as video games such as Disgaea 4 and the much anticipated Final Fantasy XV (he voices the shaggy haired main playable character, Noctis Lucis Caelum, so expect his popularity in Japan to explode even further upon the game's release this September). His connection with Free! goes much deeper than just the music. He also provides the voice of the series' gentle giant Makoto Tachibana, who wouldn't say boo to a goose ­– a contrast to Tatsuhisa when he's on stage busting rhymes and bouncing around.
OLDCODEX has been pretty active in the anime music world, independent of its vocalist's work in the industry. Without including the band's tracks in the Free! franchise (they have one in each series, as well as the movie), they've also had theme songs in GOD EATER, Arata the Legend and Q Transformers, the anime inspired by the NES / Virtual Console tough-as-nails Transformers title Mystery of Convoy, as well as a bunch of other series that have yet to see an international release.
Despite unleashing six singles since forming, it was their seventh that gained OLDCODEX their first top ten position in the charts, entering at number six. The track was Rage On, their first theme song in the Free! series, and also the track responsible for setting OLDCODEX into the charts again and again ever since! Good work, Free!
Free! Eternal Summer will be released in the UK by Anime Limited.