Gundam Iron-Blooded Orphans and Gundam 00 Movie coming to Blu-ray
April 24, 2020 · 4 comments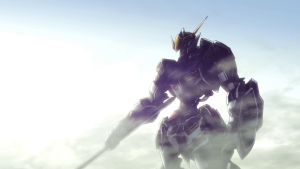 Ahead of our upcoming release of the Gundam 0083 Blu-ray Collection (read about that HERE) in May, we wanted to take a moment to give you a preview of a few other Gundam titles we have in the pipeline to be released during this calendar year.
Now, we do want to emphasise from the get go we can't share any exact product information or imagery as we'd normally like to; mainly because designs and whatnot are still being finalised so we don't want to jump the gun(dam) in case something were to change. (With the way things are currently in flux in general on a global scale, I'm sure you can all appreciate that.)
So this post is very much to make you aware that these particular Gundam titles are in the pipeline, and as soon as we can tell you more than what's noted below, you can bet we will!
Read on below as we're happy announce Mobile Suit Gundam: Iron-Blooded Orphans and the Mobile Suit Gundam 00: A Wakening of the Trailblazer film are both on the docket for release later this year!
---
MOBILE SUIT GUNDAM: IRON-BLOODED ORPHANS
A very popular series that garnered a lot of attention during it's broadcast, Iron-Blooded Orphans is a great place to start for people venturing into the world of Gundam for the first-time as it's takes place in its own continuity; the P.D. timeline – which stands for Post Disaster, but it's also great for returning Gundam fans too!
This series also saw the reuniting of a popular anime duo collaborating with each other; as it's directed by Tatsuyuki Nagai and written by Mari Okada, who previously worked together on the film Anonhana: The Flower We Saw That Day and the series Toradora!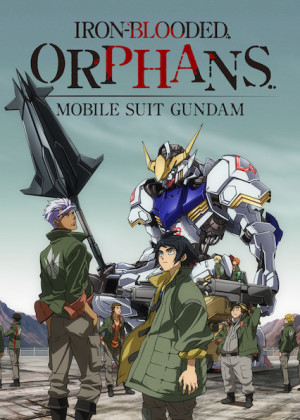 Synopsis: The year is P.D. 323.
Three centuries after theCalamity War, a new world order is maintained by the military organization Gjallarhorn, but the seeds of a new conflict are being sown on Mars.
A private security company accepts a mission to escort the revolutionary leader Kudelia Aina Bernstein to Earth,and the company's child soldiers rise up in revolt against the adults who betrayed them.
Among them is Mikazuki Augus, who becomes the pilot of the Gundam Barbatos, a dreadful relic left over from the Calamity War.
Duration: Two season total; 25 episodes each season.
Director: Tatsuyuki Nagai (A Certain Scientific Railgun, Waiting in the Summer, Anohana: The Flower We Saw That Day, Toradora)
Written by: Mari Okada (Maquia: When the Promised Flower Blooms, Kiznaiver, Anonhana: The Flower We Saw That Day, Toradora)
You can watch an English dub preview of this below –
WHAT CAN YOU TELL US CURRENTLY ABOUT THE RELEASE OF THIS?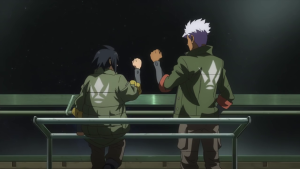 Well first of all, the we're intending to release the series on Blu-ray over two parts total; so Part 1 will be the first season and Part 2 being the second season.
Part 1 is schedule for release later this year with Part 2 aiming to follow soon after. Sorry we can't be any more specific on that, but as I said earlier as soon as we have more concrete info we can share, we will. (So no 'Season 1: Part 1″ or anything like that. Just straight up Part 1 and Part 2 like we've been able to do with other Gundam series we've released.)
In keeping with our Gundam Collection style of releases (pending approvals and such) Part 1 will come with a box that will hold both parts. Part 2 will come with some additional material (to be confirmed) that will fit nicely inside the box when all is said and done.
That's the plan we want to embark on, but as is the case with anything this is ultimately pending approvals and final sign off.
---
MOBILE SUIT GUNDAM 00:
A WAKENING OF THE TRAILBLAZER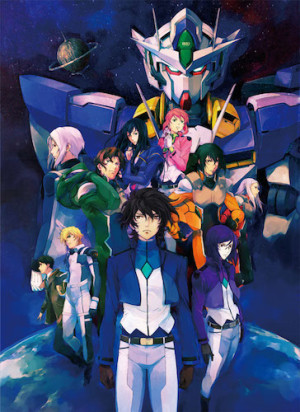 So next up, a quick note about the the Gundam 00 film. But first off, a little background info –
The final chapter in the Mobile Suit Gundam 00 story comes to the UK for the first-time!
Synopsis: 2314 A.D.
The new government of the Earth Sphere Federation is carrying out a program of peaceful reconciliation and preparing for the appearance of the Innovators who will lead the human race into a new era. But the return of a derelict Jupiter exploration ship marks the beginning of an unprecedented crisis. What are the alien entities known as Extraterrestrial Living-metal Shape-shifters? What do they want? And will Setsuna F. Seiei and his fellow Gundam Meisters be able to answer these questions before humanity is wiped out?
Director: Seji Mizushima (Gundam 00 TV series, Fullmetal Alchemist, Expelled From Paradise)
WHAT CAN YOU TELL US CURRENTLY ABOUT THE RELEASE OF THIS?
Now we have talked about this previously when we announced our release of the series on Gundam 00, but we now wanted to make it known that yes this is definitely on the cards for release but we do not have any specific information we can share at this time. (Again, things being the way they currently are, we're sure you can appreciate that.)
But what we can tell you is that our release is set include both the follow-up movie Gundam 00: A Wakening of the Trail Blazer as well as the 3-part "Special Edition" Season 1 & 2 compilation OVAs.
Details regarding exact contents and packaging are still being finalised, so information on that will follow as soon as we can bring it. The plan (pending approvals and such) if for this to be later this year as well.
And a quick reminder that if you haven't added them to your collection already, both parts of the Gundam 00 TV series are available now on Blu-ray! Order them from our AllTheAnime online shop HERE.
---
We appreciate compared to how we normally like to make things to known when it comes to upcoming titles that we're not able to share as much info as we'd like. But we hope you're still excited for both of these and as I mentioned multiple times, as soon as there's any concrete information we can share with you, we'll make it known accordingly.
Stay for more details as we can bring them.
Signing out~!
Jeremy
4 comments
Rob

April 24, 2020 10:39 pm

Thanks Jeremy<3

Eric

April 25, 2020 9:52 pm

What is this about? Both of these are already on Blu-Ray. Is this from two years ago? It says one day ago. I would understand if this were about Rightstuf specifically releasing these, but they already released A Wakening of the Trailblazer and 0083.

Eric

April 25, 2020 9:54 pm

Oh, I think I understand. This is specifically about them coming to the UK on Blu-ray, right? I was notified and got confused. My bad.

Kevin

May 12, 2020 5:55 pm

Any news on Gundam seed? And which version. HD one or waiting for this new dubbing version?