2019 has certainly been one of the most active years for Gundam home video releases the UK has ever seen, but we here at Anime Limited aren't done yet as the Gundam train will keep on rolling through 2020! You can expect more details in the coming months about what to expect next year on the Gundam front in general, but today we want to put the focus on what will be our first Gundam release next year, the films Gundam The Origin V & VI!
These will be getting released together as a Blu-ray Ltd. Collector's Edition set on 27th January 2020.  Have a read on below for the details.
---
ABOUT GUNDAM THE ORIGIN V & VI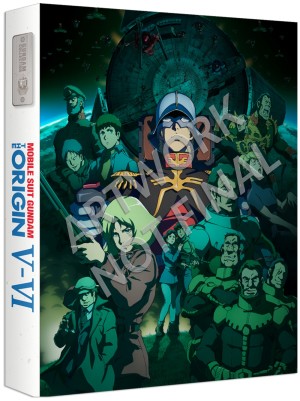 The final two films chronicling the events that led to the start of Mobile Suit Gundam!
Synopsis: Universal Century 0079
Humanity has turned even space itself into a battlefield, and the Principality of Zeon forces advance after wiping out half the world's population by carrying out Operation British (the colony drop). In response, the Earth Federation Forces mobilize their overwhelming fighting strength to regain the advantage.
The complex intrigues of the Zabi family… Sayla Mass, as she contends with the whims of fate… the veteran Zeon soldier Ramba Ral and his lover Hamon… Amuro and Fraw, leading peaceful lives at Side 7… a dark shadow falls across them all. And the Zeon ace Char Aznable, driven by revenge, goes into action as the "Battle of Loum" finally begins.
You can watch a trailer for this below
---
WHAT'S PLANNED FOR THIS RELEASE?
At the time of writing we're waiting for final sign off on the design for this set, but we can tell in keeping with the theme of other Gundam Collector's Edition releases of ours, this set will comes packed in a rigid case. Inside that will be an amaray case to hold the Blu-ray disc. (Worth noting that all the on-disc contents of this disc are on an individual Blu-ray. Also inside the rigid case will be a 68-page booklet featuring art from across the two films.)
The films themselves have both English and original Japanese (with English subtitles) viewing options. And also worth noting there's 2.0 and 5.1 audio for each language with both films. There are also some promotional videos for the two films included as extras as well.
Product: Mobile Suit Gundam The Origin V & VI
Format: Blu-ray Ltd Collector's Edition
Release date: 27th January 2020
Cat. No.: ANI8038
Suggested Retail Price: £39.99
You can a provisional (not final) visual of this release below –
And you can see a provisional (not final) image of both sides of the rigid case below –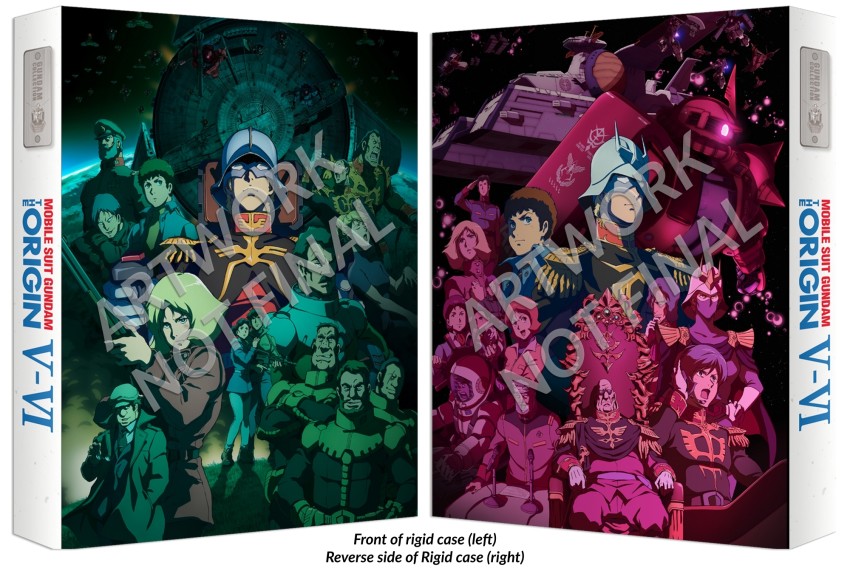 ---
WHERE CAN I ORDER THIS?
You'll be able to pre-order this from retailers in the coming weeks, but from today (22nd November) we're taking orders for this at our AllTheAnime online shop! And we've got a limited time special offer on pre-ordering this, and saving on the standard edition Blu-ray of Gundam The Origin I-IV as well.
~ AllTheAnime.com Special Offers ~
~ Until Thursday 28th November 2019 pre-order Gundam The Origin V & VI Blu-ray Ltd. Collector's Ed. set for £24.99
(SRP: £39.99)
~ Until Thursday 28th November 2019 order Gundam The Origin I-IV Blu-ray for £19.99
(Regular price: £24.49 | SRP: £34.99)
Worth noting that although the Gundam The Origin I-IV Blu-ray has already been released and is in stock, however all orders for the Gundam The Origin V & VI set won't be getting fulfilled until stock of the finished product is available; likely around mid-late January at the earliest, as things stand.
---
And that's what you need to know about our release of Gundam The Origin V & VI! We hope you're looking forward to owning this.
Signing out~!
Jeremy