Hellbound
November 18, 2021 · 0 comments
by Jeremy Clarke.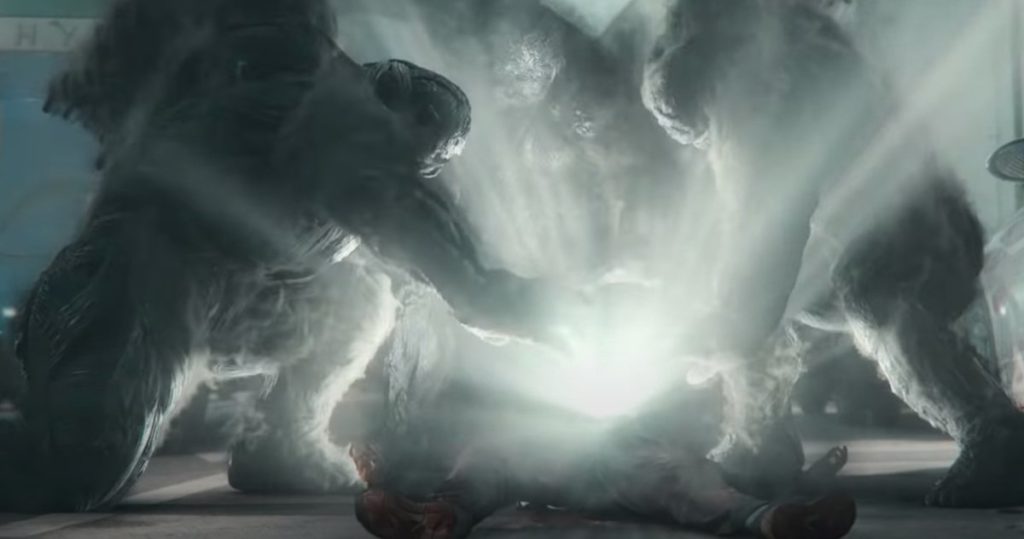 Angels tell people the date and time of their death, then demons come and cart people off to Hell, generating a circus of fundamentalist, religious activity. The new six-part Netflix series Hellbound (2021) from South Korea's Yeon Sang-ho, creator of zombie outings Seoul Station (2016) and Train to Busan (2016), began life as an 11-minute "webtoon" back in 2002.
Those first three 50-minute episodes – screened at the London Film Festival where I saw them – explore notions of sin, eternal punishment and damnation. In a riff that's similar to Belgian director Jaco Van Dormael's hilarious and highly inventive religious satire The Brand New Testament (2015), people are sent the date and time of their death then dazedly watch the appointed moment approaching on their mobile phones. Rather than dying from a whole gamut of possible causes, in Hellbound they first have their death date and time announced to them by an angel – a giant, translucent, disembodied head – and then, when the time comes, three demons resembling black-and-white versions of the Hulk turn up to pound the person into a pulp, suck out their life force and reduce the corpse to unrecognisable, charred remains.
Organised religion of sorts has sprung up around these incidents in an attempt to make sense of them. Jong Jinsu (Yoo Ah-in) and his outfit New Truth explains to his followers that the demons are coming to punish people for their sins. A DJ-talk show host representative of a cult named The Arrowhead appears on their dedicated web TV channel, wearing day-glow make-up in darkness, to provide a running commentary on the ongoing situation. And lurking in the background (you don't see much of it until episode three), is a dubious faction called Future Church. Events in episode three cast a degree of doubt on Jong Jinsu's fundamentalist explanation as to what's actually going on when people are being turned into toast.
When a man is pursued from a café in broad daylight by the three demons and fried to a crisp in between gridlocked cars, conveniently providing a showstopping opening to episode one and a gripping series trailer, Detective Jin Kyung-hoon (Yang Ik-joon, who did voice over work for Yeon's second animated feature The Fake/2013 as well as Seoul Station) is ordered to bring the murderers to justice – a hopeless task given that they're supernatural beings who appear just before the killings, do the killings, then vanish into thin air immediately afterwards. Just to make the detective's life more interesting, his teenage daughter Jin Hee-Jeong (Re Lee) has signed up to New Truth. Moreover, Jin's wife was murdered by a drug addict, who is now back out on the streets after a course of rehab. Hee-Jeong is seriously contemplating taking the law into her own hands to deal with him.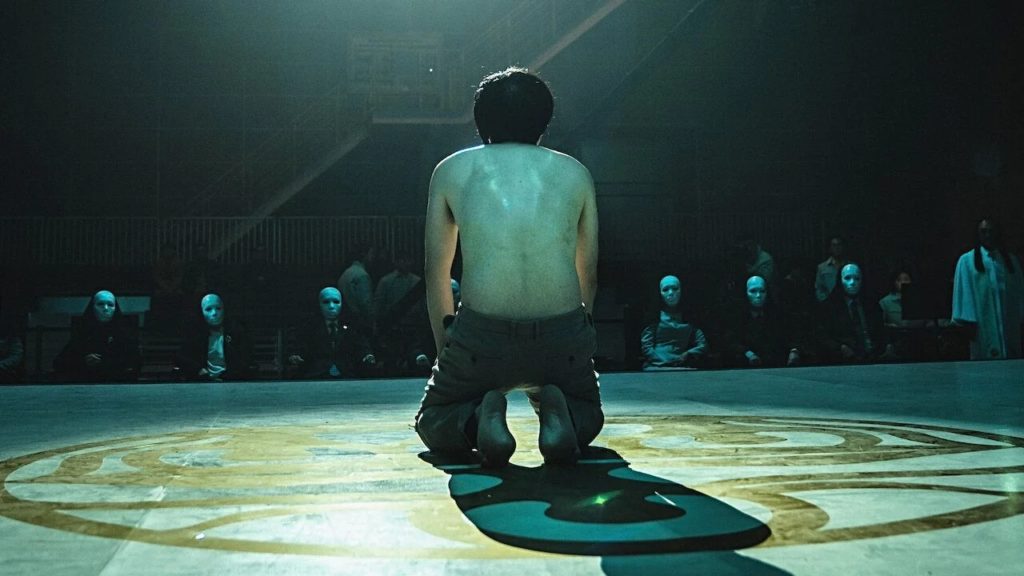 Meanwhile, the next person to be visited by an angel and informed of her date and time of death is single parent mother-of-two Park Jeong-ja (Kim Shin-rok). Her death will be in five days' time. When a TV channel offers Jeong-ja a large sum for the TV rights, she swiftly hires lawyer Min Hye-jin (Kim Hyun-joo) to oversee the contract she's signing to provide money for her kids after she's gone, making the lawyer promise to put them on a flight to Canada. New Truth broadcasts that the woman has sinned by having children by two different fathers. In preparation for the appointed time, Jeong-ja's flat is turned into an open-plan set for the TV cameras. A small audience of wealthy people who've paid out for a ticket are seated wearing featureless, white, plastic masks to conceal their identities on two rows of pre-placed seats offering a really good view while SWAT marksmen stand nearby in readiness to shoot any materialising attackers. 
In one of the most fascinating aspects of the series, after Jong Jinsu has been broadcasting the story of the three demons for months on the web and been largely ignored by the mainstream broadcast media, the television news outlets suddenly latch on to the story, catapulting him overnight from cult commentator to household name. His ascendancy is bolstered by the revelation that he's already a Good Samaritan with a string of humanitarian acts behind him, which have been reported on the news without anyone noticing they've all involved the same person. But as we get to know him, it becomes apparent that he's considerably more complex than the simplistic beliefs he peddles might initially suggest.
Here, Yeon Sang-ho proves himself just as adept at the TV series form as he is at those of stand-alone animated and live-action features. While Hellbound doesn't achieve the level of non-stop action of Train to Busan suggested by the trailer, it goes a long way towards making up for that by spending time developing its characters effectively, something to which a long-form TV series lends itself well. That said, there are more than enough plot twists and turns to keep you guessing, along with much astute social and religious commentary which is never allowed to get in the way of telling a rattling good yarn. The title is somewhat ironic given that although characters in the series are indeed bound for Hell, the audience in the first three episodes remains steadfastly earthbound and is thus not privy to what happens after they are dispatched from this life. Assuming the final three episodes to be as effective as the first three, this is a series bound to have you on the edge of your seat throughout.
Hellbound is on Netflix from 19th November. Jeremy Clarke's website is Jeremy C. Processing.