Hula Fulla Dance
September 27, 2022 · 0 comments
By Jonathan Clements.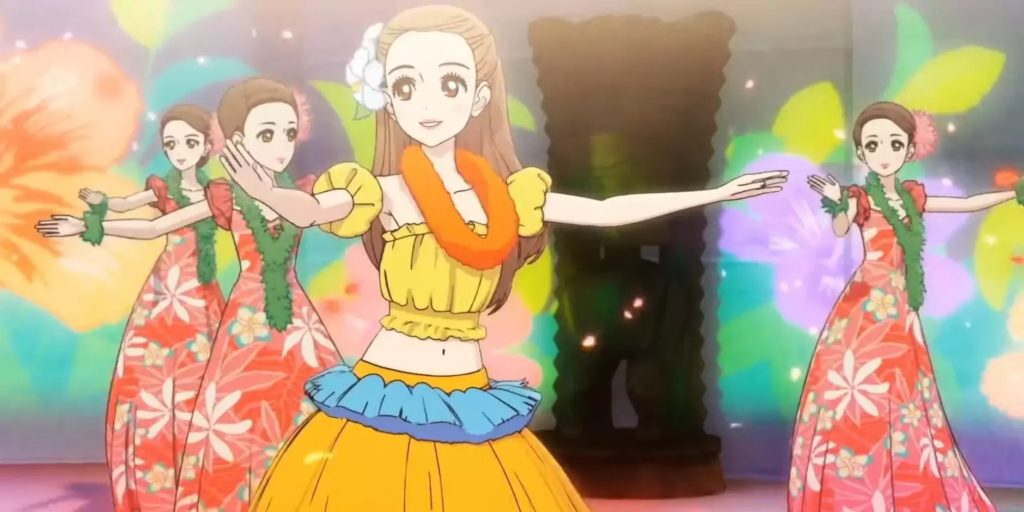 Unsure of what direction to take in life, high-school graduate Hiwa Natsunagi (Haruka Fukuhara) decides to become a professional hula dancer, like her late sister Mari. But she soon begins to wonder if hula dancing is the thing for her, when she proves to be the clumsiest, least hula-competent girl in her team. She does her best to learn how to synchronise with her team, and how to not run onstage with a coat hanger still stuck in her dress, and struggles with her feelings for coach Ryota, soon discovering she is not the only girl who fancies him.
No, don't you dare suggest this is K-On with grass skirts. All right, you can if you want, as Seiji Mizushima's Hula Fulla Dance ticks through all the boxes of the well-worn but much-loved genre of a bunch of comedically incapable pretty girls giving it their all until they are a honed unit of rock stars / volley ball players / idol singers / brass band / dustmen, etc. But Hula dancers…? What better way to show off 3DCG motion capture – after the spins and twirls of Love! Live, this anime movie from Bandai Namco Pictures uses that noticeably sinuous and nuanced of dance forms as a new showcase for its animation widgets.
This 2021 film is another spin-off from the Zutto O-en 2011+10 project, a funding initiative set up to push the Japanese prefectures that are still suffering the after-effects of the Tohoku tsunami and earthquake. In other words, in development terms, it sits alongside movies like The House of the Lost on the Cape and Fortune Favours Lady Nikuko, as a little sub-genre of films promoting travel to the Tohoku region. And you thought it was going to be all about Hawaii! The only reason you're waiting until now to see it at Scotland Loves Anime is that it barely scraped into the 2021 anniversary releases, not hitting Japanese cinemas until December of that year.
Believe it or not, Fukushima, home of that malfunctioning nuclear reactor we all try to forget about, really does have a holiday location called Spa Resort Hawaiians, where along with all the golf and swimming, visitors get to watch Hawaiian dance shows. The resort began life many years ago as part of another outreach initiative, as a job-creation scheme for local people in 1966 when the Joban Coal Mine began to shut down, a story famously retold in Sang Il-Lee's live-action film Hula Girls (2006). Ever since, the place once known as the Joban Hawaiian Center (the name was changed in 1990) has been associated in Japan with tiki tourism, a view of Polynesian culture that more of a theme park experience about the great Pacific expanse to the east.
On his location hunt at the start of production, chief director Seiji Mizushima went to see the Hawaiians resort for himself, and was impressed to see that it was totally integrated into its local community. "There is a hot spring facility," he told W Online," "so the local uncles and aunties use it every day. There is a free shuttle bus from Yumoto train station to Hawaiians… Many dancers and staff are also local, and they work at Spa Resort Hawaiians as a way to get a job at a local company."
Mizushima took this local job creation concept to heart, with the somewhat gimmicky insistence on casting voice actors with local connections wherever possible. So, it's boom-time, presumably, for anyone who has a Fukushima granny. "Miu Tomita [Ranko] is from Fukushima, so I wanted to get her in there. Dean Fujioka [Ryota] was born in Fukushima and willing to take the role. If it had been an ordinary anime work, it's would have been like choosing a person with a voice that suits the character by auditioning, but this time, in order to support Tohoku as a whole, people got involved if they had connections to the place."
Hiwa, of course, has the biggest connections, despite not existing, and today her character has been coopted as a "tourism support personality" at Iwaki in Fukushima, popping up in apps and on the side of buses to tell visitors about all the hula-related fun they can be having. She even got her own Twitter feed @_hiwa0723_ to enthuse about the film and its local connections, although at the time of writing, she doesn't seem to have Tweeted anything since March. Possibly the appearance of her and her hula girls in Scotland will cause her to spring back to life.
Mizushima instructed his scriptwriter, the ever-reliable Reiko Yoshida to visualise the film as something Masayuki Suo (Shall We Dance / Sumo Do, Sumo Don't) might have made – that familiar cinema trope of hapless individuals united by an unlikely hobby. But he was also under instructions to present Spa Resort Hawaiians as it really is, not to make up locations or scenes that couldn't take place in the real-world hotel, causing his staff to rely heavily on video footage he shot on a tense mid-corona visit. The realism of the work also shines through in occasional moments of background detail, in which the Tohoku region's troubled past sneaks unobtrusively into the backgrounds. "You can see, as well," Mizushima says, "the area around the home of the main character, Hiwa, is drawn using reference photographs of the area damaged by the earthquake. You can see that the damaged place has been reconstructed and the embankment has been rebuilt, and indoors you can also see where the house interior has had to be remodelled."
Nor is it all over when the final credits roll, as Mizushima finally gets the chance to play around with the bit of the film that happens where most audiences are usually filing out to the lobby. It's something that he has usually ignored, because of the high cost of essentially adding something to the film when it is already officially over. "If you add animation to the end credits, the calories are quite high for production," he admits, "so I had never been able to do it with my own work. This time, the producer Mr Ito came up with an idea for the end roll, like how about we try something like this? It was great to be able to talk it over with a producer and then get it done. Bonds are one of the themes of this movie, but it is also an episode that felt those bonds on the production side. This movie is like the culmination of my personal connections."
Jonathan Clements is the author of Anime: A History. Hula Fulla Dance is screening in competition at this year's Scotland Loves Anime.