Andy Hanley finds out if it really is bigger in Japan…
If you've ever been to one of the MCM Comic Cons dotted around the UK, then you know what it's like to share a busy event show floor with lots of like-minded individuals. You may even have travelled further afield, perhaps to Paris' vast Japan Expo or one of the major US conventions. However, all of these conventions and events share one thing in common – their focus is largely upon the present, and occasionally the very near future when it comes to what hot new series and films to expect to surface from Japan.
By contrast, AnimeJapan is largely a very different beast – a vast, bustling trade show all geared up to promote shows that are often still some months from airing. Occupying several halls in Tokyo's Big Sight, this focus on the future is clear to see as soon as you set foot in the nearby station on the artificial island of Odaiba – banners can be found everywhere for series that (from a UK perspective) you've either never heard of or have seen little more than fleeting glimpses of.
AnimeJapan's opening day is strictly for business only, where distributors conduct secretive deals. Come the weekend, however, the doors are opened to all, and the result is a teeming mass of people – well over 135,000 across the weekend this year – jostling around the halls to pick up some merchandise for their favourite show or grab a snap or twelve of some of the cosplayers.
All of this equates to the other major promotional angle for AnimeJapan – to win over those fickle fans and convince them that it's their production which will be the must-see, must-buy series of the year to come. Many stalls are a cacophony of sound and colour as they blare the latest trailers at you, and there's enough equally colourful marketing paraphernalia on show to make your arms ache. If you want an idea of just how much of this marketing material is being handed out to all and sundry at the show, our own trip around the event floor yielded over two kilograms of brochures and leaflets! Thankfully, we were also kindly provided with what seemed like dozens of complementary clear files to keep it all in, including one promoting the 2017 release of the Sword Art Online movie Ordinal Scale.
The marketing people know that the best way to imbue you with love for something you haven't even seen yet is to somehow convince you to part with some hard-earned money for merchandise surrounding it. Thus, AnimeJapan is the home to lots of exclusive merchandise for both recent and as-yet unreleased series – want a Macross Delta t-shirt before you've seen more than a preview of the first episode? Meanwhile, all of the major series you might be able to name have their own merchandising efforts at the show, whether it's Easter-themed Madoka Magica goods in conjunction with convenience store retailer Lawson (who are oddly officially launching the campaign after Easter…) or items based around hot mobile game Fate Grand Order. As you might expect, the big ticket items sell out at terrifying speed, only increasing their value and encouraging dedicated fans to be even more single-minded in their pursuit of them.
Even the event's food stall doesn't miss a trick when it comes to promoting anime, allowing you to dine on a Blood Blockade Battlefront­­ burger or a pizza inspired by the tantalising creation showcased in Silver Spoon. It isn't haute cuisine, but it's another way of associating yourself with the series that you love whilst filling your stomach into the bargain.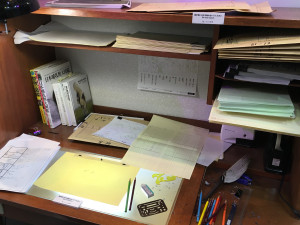 There's clearly an adoration of both anime series themselves and the craft of animation to be found on the show floor. Our favourite booth was perhaps that of Studio Chizu (the home of Wolf Children and Summer Wars director Mamoru Hosoda), which was absolutely filled to the brim with storyboards from the director's works while also providing replica directors' desks to give some insight into their work processes. With all of this information also provided in English – a rarity at the show – this relatively small stand was a real treasure trove for fans of Hosoda's films, or indeed anime as a medium. Other impressive stalls included massive walls packed with posters for every recently aired anime (a terrifying sight if you're trying to keep track of what airs every season) and a vast, rotating wall of every Nendoroid figure ever produced.
The show floor also plays home to a number of stages with differing goals, from the business aspect of the industry through to on-stage discussions and interviews geared towards fans.  Much like an MCM Comic Con might bring with it panels detailing license acquisition announcements, so AnimeJapan is a good place to either unveil an all-new production or ad more flesh to the bones of an existing announcement. Future plans for the Fate/stay Night franchise were perhaps the biggest announcement we saw at the show, but there was plenty more to get your teeth into across the weekend – language barriers excepted, of course.
We mentioned cosplay earlier, and this is perhaps the area of AnimeJapan that differs the most from what you might be used to from Comic Cons and the like. While cosplay photos tend to be a very ad-hoc affair at UK events, AnimeJapan has its own dedicated cosplay area and a set of almost entirely self-policed rules for interacting with cosplayers. Every individual or group of cosplayers find themselves a space around the periphery of the area, an orderly queue forms in front of them, and then each person in turn steps up to take their photos. While in the UK a quick photo or two and a "thank you" might be enough, you can expect to see what are all but full-on photo shoots taking place here – cosplayers will patiently take up dozens of poses as photographers sporting expensive equipment snap away at various angles for what seems like an eternity. It might sound like a nightmare on paper, but it's a surprisingly slick affair, and Japanese cordiality means that nobody outstays their welcome or shows anything but due deference to the cosplayers themselves. It probably goes without saying that the quality of the cosplay you'll find at the show is most impressive to boot – some stalls hire professionals to help promote their series, but even the enthusiasts in the cosplay area show the same kind of incredible craft and dedication in their work that you'll also see here in the UK.
Taken as a whole, AnimeJapan is an intriguing blend of the familiar and the unusual for a UK fan – you'll be used to the packed crowds and vendors vying for your money at every turn, but the very specific focus on the now and what's around the corner is very different from the UK convention and event scene. Either way, it's a paradise for anime fans that is well worth a visit if you can justify a trip to Japan within its vicinity next March – a cornucopia of merchandise and information the likes of which you won't find anywhere else.