By Jeremy Clarke.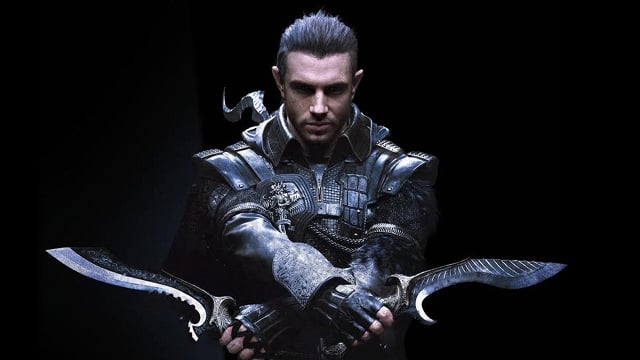 Lucis is a peaceful and prosperous kingdom based on magic. This being a Final Fantasy film it should come as no surprise that the magic derives from a crystal. Lucis possesses this crystal and has used it to construct a wall around its main city of Insomnia in which its monarch resides. This wall resembles a transparent globe surrounding the metropolis and in any other SF property would be described as a force field. Regis Lucis Caelum, the old king, wields this crystal-based magic himself and deploys it during fights and battles. So too does his trusted cohort of soldiers the Kingsglaive which includes Nyx Ulric the rebellious hero and Libertas Ostium the pal Nyx often needs to rescue.
And in the gunmetal grey corner… the Germanic-sounding nation of Niflheim is built on industry and waging war. Although Niflheim's unusual and original, foppish chancellor and his stereotyped superior the despotic emperor feature centre stage in what follows, the narrative never goes anywhere near Niflheim itself. The antagonistic country functions mainly an excuse for the production team to create spectacular flying machines, throw in several different types of soldiers and incredible, gargantuan creatures pressed into service as weapons of war. The latter are the most memorable of these elements. Giant demons shoot deadly globules out of their mouths. A gigantic octopus-like beast crushes hapless Lucians with tentacles which unexpectedly appear around corners. Yet these monsters feel designed by committee and lack the excitement a truly visionary designer/animator like Miyazaki or Harryhausen might have bought to them. That's not to say you won't enjoy their appearances on screen, but had a little more care been exercised in the right places these elements could have been realised far more effectively and their impact been much greater.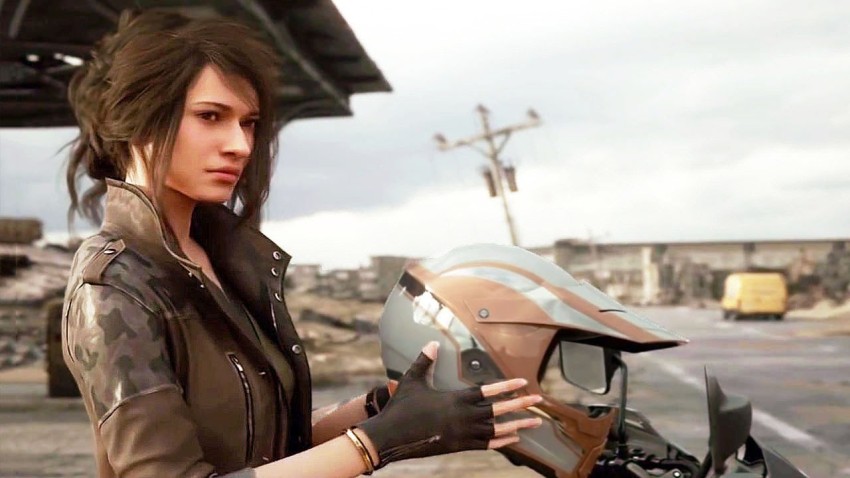 The film spends most of its running time in either the city of Insomnia or the skies above. A great deal of thought has gone into designing the urban geography and architecture. The city's road system looks much like that of a present day industrialised nation with recognisable cars, vans and trucks but no trains, trams or buses in sight. The roads and cars presage the plot of the forthcoming Final Fantasy XV game about a prince travelling with three friends on a road trip to wed his princess fiancée. Before he arrives, however, the terrible events in Insomnia shown in the current film take their toll upon the couple's plans. If you watch Kingsglaive until the end of the credits you can see a little scene with the four of them in their car on a road through arid terrain resembling parts of the Southern U.S. To find out more, read the spoiler-laden story of the game at its official site.
However, when they speak, Kingsglaive's characters prove less than satisfying. Watching Deckard (Harrison Ford) on the streets of a futuristic Los Angeles in Blade Runner (1982) you get a feel for not only what moves him but also how those around him such as food stall holders and his fellow cops breathe, think and feel. Consequently, you pick up something of a sense of place. That's true of many science fiction movies and series. You would think that in creating an entirely fictional city like Lucis the Kingsglaive script would rise to this challenge. Yet it's almost as if the writer can't be bothered to properly round out his characters and no-one else on the production team seems to think it matters. After all, the film is really only a trailer for a forthcoming game in a long running, well established franchise. It looks amazing, takes place in visually resplendent environments and packs lots of breathtaking action sequences which are what's required to sell the forthcoming game. The corporate suits will surely be happy, and perhaps diehard fans of the franchise will be equally so. However, if Kingsglaive is your first exposure to Final Fantasy its perfunctory characterisation is unlikely to make you want to come back for more.
The casting is adequate, as are the actual voice performances from Sean Bean as the king, Lena Headey as the princess, and Aaron Paul as Nyx Ulric. The animated characters' facial and mouth movements are not only technically competent but also highly advanced, yet they do not seem to match the voices. A comparison of the trailer for the Japanese language version with the English one suggests neither is better in this regard. It's as if no-one cared about making sure these two elements were synchronised properly because they didn't believe it would advance sales of the game. This flaw further undermines the believability of the characters.
When animation transports you to convincing, imagined worlds, that's a wonderful thing. However if you don't buy the characters within those worlds, your disbelief isn't properly suspended and the illusion fails on its own terms. That's a great pity in the case of Kingsglaive Final Fantasy XV because a lot of work has gone into the production and the final film ought to be a lot better than it is.
Kingsglaive Final Fantasy XV is out on DVD, Blu-ray, Steelbook and Digital, and is showing at Scotland Loves Anime.