By Andrew Osmond.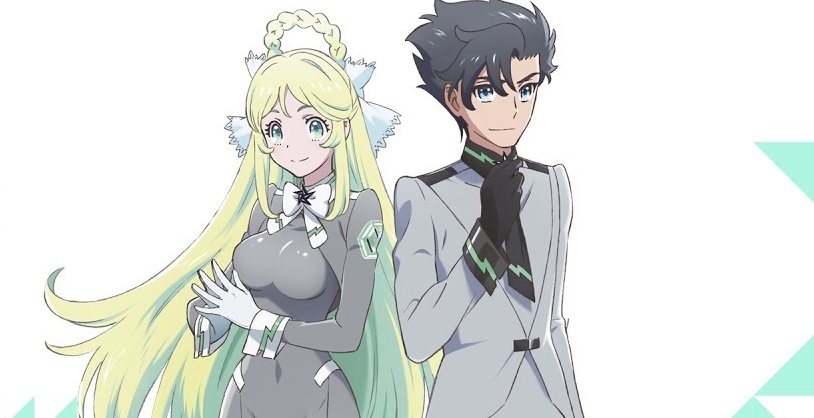 Luck & Logic is the kind of series that could sound fearfully complicated if you kept in all the names and quasi-technical terms… but when you strip those names out, it's a very simple affair. The setting is an alternative Japan, not so different from present-day reality, except for little things like the monsters and demons that materialize regularly to menace the public. Luckily Earth already has an established band of fighters to protect humanity, thought its members look rather cuter than the Avengers or X-Men.
Okay, here's where it gets more complicated. The defenders operate in pairs, and some of them are no more human than the marauding monsters. Indeed, the humans are paired up with other-dimensional goddesses, who have names like Athena, Venus and Artemis. These are fairly exotic foreign gods for Japanese viewers, though less for anime fans. Athena, for example, is prominent in the huge Saint Seiya anime franchise, now revived as a CG series on Netflix. Some of the adversaries' names also come from foreign mythologies: the serpentine Quetzalcoatl, for example, and Lucifer.
Powerful as they are, the friendly goddesses must be paired with gifted humans; specifically, humans who are sensitive to a cosmic principle called "Logic," which Western viewers can read as Star Wars' Force. Luck & Logic calls the Logic-sensitive prodigies Logicalists rather than Jedi, but you know it's the same thing.
Most of these human Logicalists are female as well, each paired up with a chosen goddess (the deities are characterised as friendly, "ordinary" team players, their divine powers aside). However, the viewpoint character, at least for much of the time, is a young man called Yoshichika. His story doesn't start the way you might expect, which would be for him to be ushered in as a wide-eyed newcomer to the battle. Instead, Yoshichika is already a retired Logicalist warrior, having resorted to a near-fatal move in his last world-saving battle that sapped his powers. His career seemingly over, he's returned very happily to ordinary life
However, Yoshichika is still a hero, and when a new monster materializes in a shopping mall, he risks his life saving civilians. The beast is still on the loose when the boy is greeted by a stranger – a blond girl in a white dress, whose design is close to the "angelic western fairy-tale princess" imagery used in Ghibli's When Marnie Was There. This girl introduces herself as the goddess Athena, as we mentioned above, and she gives Yoshichika his "Logic Card," a talisman which holds his lost power. Athena urges the boy to become a Logicalist again, and to pair up with her, and how can a hero say no to that?
As you might have guessed from the use of the card as a story point, plus the complex magic-fight system, Luck & Logic is based on a trading card game. However, the anime plainly wasn't just made as an afterthought, with a couple of hefty industry names linked with it. One is the series co-director Koichi Chigira, who directed the original Full Metal Panic, along with both Last Exile anime, the fantasy film Brave Story and the CLAMP adaptation Tokyo Babylon. Luck and Logic's lead writer is Yuya Takahashi, who's been doing an impressive job sustaining the Lupin crime franchise – he was lead writer on the excellent Italian-set show Lupin the Third Part 4, available from Anime Limited, and he wrote the film Jigen's Gravestone.
What Chigira and Takahashi create in Luck & Logic is a no-nonsense genre team-hero show that, like its goddess characters, draws on formulae but doesn't enslave itself to them. Stock anime elements include the hero's eccentric dad and his adoring (and adorable) little sister. The mostly-female Logicalist warriors transform when they bond with their goddess partners, ending up in bright and often skimpy costumes – magic girls for male audiences.
There's inevitably a touch of harem anime too, given that Yoshichika is surrounded by females. Refreshingly, though, the girl warriors are too busy fighting their other-dimensional enemies to bother fighting over Yoshichika. The show proceeds by sketching out each of the girls' stories in turn. Yoschiika helps the girls out, of course, but they don't feel simply subordinated to his hero's journey; this is a team show.
True, there's fan service both in the female costumes and the images of the fighters "bonding" and transforming for battle. Think of the nude magic girl transformation made famous by Sailor Moon, but here it involves pairs of people and the suggestion of intercourse between them that's not just spiritual. But at least there's no demand that the bondings must involve the hetero hero, as with many shows of this ilk. Moreover, the fanservice is far less lewd than many other titles – most obviously shows like High School DxD and Testament of Sister New Devil which take rather similar magic-battle set-ups and then proceed to throw in as much gratuitous sex as possible.
There's one particular reminder in the script that Luck & Logic is a Japanese series. When a new menace manifests, its threat level is designated as a number such as "7.5." This might seem like just a bit of technobabble, until you remember that Japanese people know to stay alert for earthquake warnings, and earthquake magnitude figures are truly matters of life or death.
Andrew Osmond is the author of 100 Animated Feature Films.
Luck and Logic is streaming on FunimationNow.