By Andrew Osmond.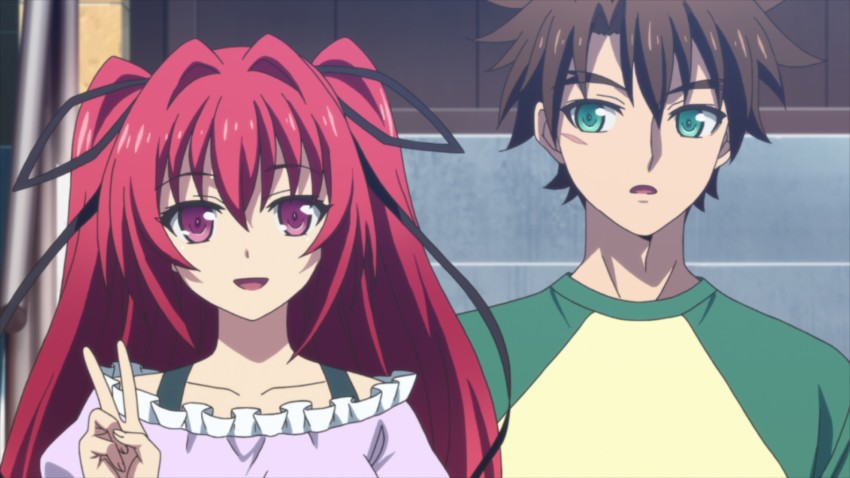 In a memorable podcast by the BBFC from a few years ago, examiner Emily Fussell complained that anime could be deceptive. "Sometimes you are thrown complete curveballs. So you will think that you are watching a series about a bunch of schoolchildren fighting aliens… and then one of them will stick their finger up another one's bum, or they'll show their boobs… Sometimes it's just not what you think it is."
At first it seems all too obvious what The Testament of Sister New Devil is. It's a series that starts with a father and son in a café in present-day Japan. The dad announces out of nowhere that his lucky boy Basara has acquired two little sisters, thanks to the dad remarrying. Moments later, the boy encounters one of the girls – an irascible redhead called Mio – in a toilet cubicle with a tragically unlocked door. It's the kind of meet-cute only anime can do. The younger-looking sibling, meanwhile, is called Maria, who demonstrates a minxish sense of humour that's both scary and borderline illegal.
In short order, the father announces he's going overseas, leaving the son at home to look after his two siblings… and by now we all think we know where this is going. However, at this point, the show throws in a major twist in which all four family members turn out to be not who they seem. We'll leave the details for you to discover, but the ingredients include secret magic tribes (in the modern-day world), warring demons, and the revelation that Basara made the kind of deadly childhood mistake that even Edward Elric might think was dumb.
It also involves one of those binding magic pacts that are so common in anime, and this one ramps up the show's sexiness all the way. It's a very physical pact between Basara and Mio, and puts Sister New Devil into an anime sub-genre that you might call Thanks for the Mammaries or Funbag Frolics. It's also the obvious reason why Sister New Devil received an "18" certificate from the BBFC. That's one level up from the show's likely inspiration, High School DxD, which is about to start its fourth season in Japan.
According to the BBFC page, Sister New Devil was X-rated for "strong sex" and sex references. Fans might add more to that rap sheet, starting with "lewd use in a threesome of a non-consenting cake". Indeed, if Sister New Devil was remade as an interactive game rather than an anime, it would have surely suffered the same fate as Omega Z Labyrinth, the Japanese game refused a certificate by Britain's VSC ratings board last month.
But Sister New Devil is a true hybrid, mixing teen sex comedy and action-adventure. If anything, the adventure's more "straight" and serious than High School DxD, though it lacks that franchise's wild Christian imagery. The comedy-adventure gap is bridged in the Japanese version by Yuichi Nakamura, who voices the upstanding (no sniggering) big brother. You may know him as the male lead in Clannad and Drifters, but he was also in the infamous Oreimo, aka My Little Sister Can't Be This Cute.
It's easy to imagine Sister New Devil's story being told without the sex. That should ring a bell with fans of Japanese games, where some of the biggest landmarks, including Kanon and the first Fate/stay night, were released in both "adult" and "general" versions. Sister New Devil itself was toned down for the Japanese TV broadcast and the Crunchyroll simulcast, but Anime Limited's version got past the BBFC uncut. And yes, Anime Limited's set does include the extra OAV episode, part 13, with the less than subtle title, "The Hard, Sweet Life of Toujou Basara".
Testament of Sister New Devil is released in the UK by Anime Limited.