Martian Successor Nadesico TV Series and Movie on Blu-ray
May 2, 2019 · 0 comments
For those of you in mood for some old school sci-fi anime, we've got the Blu-rays for you as the 3rd June 2019 sees the classic Martian Successor Nadesico television series released as a standalone Blu-ray released. On the same say its sequel movie, Martian Successor Nadesico The Movie: The Prince of Darkness will be getting an individual Blu-ray release. So if you missed the chance to pick up our (now out of print) Collector's Edition set, these will put that right nicely!
Both are available to order from our AllTheAnime.com online shop right now ahead of their respective releases.
---
~ AllTheAnime.com Special Offer ~
As if that wasn't enough we've got a little special offer for you too! Until Friday 17th May when you buy both the TV series Blu-ray and the Movie Blu-ray, you can save 25% off the Movie Blu-ray!
To take advantage of this offer simply:
— Add both products to your shopping cart.
— During the checkout process input the following discount code: BAKABAKKA
— Then apply that code, you'll the amount deducted from the total, and then complete the transaction as you normally would!
---
If you're not familiar with Martian Successor Nadesico, read on below for more information about it.
ABOUT MARTIAN SUCCESSOR NADESICO
Tatsuo Sato's Comedy Masterpiece Returns in High Definition!
Synopsis: "The Earth, its moon and its Martian colonies are under alien attack, but the war against the "Jovian lizards" has, so far, been nothing short of a series of disasters.
Disgusted by the incompetence of Earth's military, the independent arms manufacturer Nergal builds its own space battleship and plans to launch a desperate offensive to save humanity. But due to a shortage of trained soldiers, they've assembled the most unorthodox crew to ever launch into orbit! With a pacifist cook-turned-unwilling mecha pilot and a ditsy admiral's daughter in command, can this unprecedented gathering of geeks, misfits and anime fans prevail against the Jovian menace?"

ABOUT MARTIAN SUCCESSOR NADESICO THE MOVIE: THE PRINCE OF DARKNESS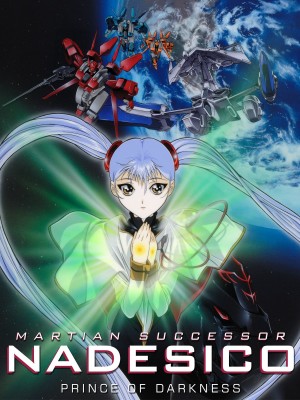 Synopsis: Two Years have passed since the Great War. 
Akito and Yurika have vanished. The Jovians and the Earthlings have joined forces and Ruri is now the Captain of the Nadesico B. As the popularity of Bosun Jumping grows, a vast transportation network has been developed. Dubbed The Hisago Plan, this network of Chulip portals holds the answers to the mysteries behind Bose particles and their power. If those secrets should fall into the wrong hands, it could mean big trouble. And big trouble there is. 
A Martian splinter group has launched an offensive, leaving the Unifi ed Forces befuddled and desperate. So much so that the former crew of the Nadesico is called back to active duty for a special unsanctioned mission – to save us all. Does this menagerie of misfi ts have what it takes? Who will win the race for Boson technology? And what the heck ever happened to Akito and Yurika? The answers lie within; deep within Nadesico The Movie – The Prince of Darkness!
---
And there you have it! If you haven't got Nadesico in your collection already and you're a fan of older anime, let alone sci-fi, giant robots and big explosions, then you should definitely have this on your radar!
Signing out~!
Jeremy