Music: Masayoshi Yamazaki
March 28, 2021 · 0 comments
By Jonathan Clements.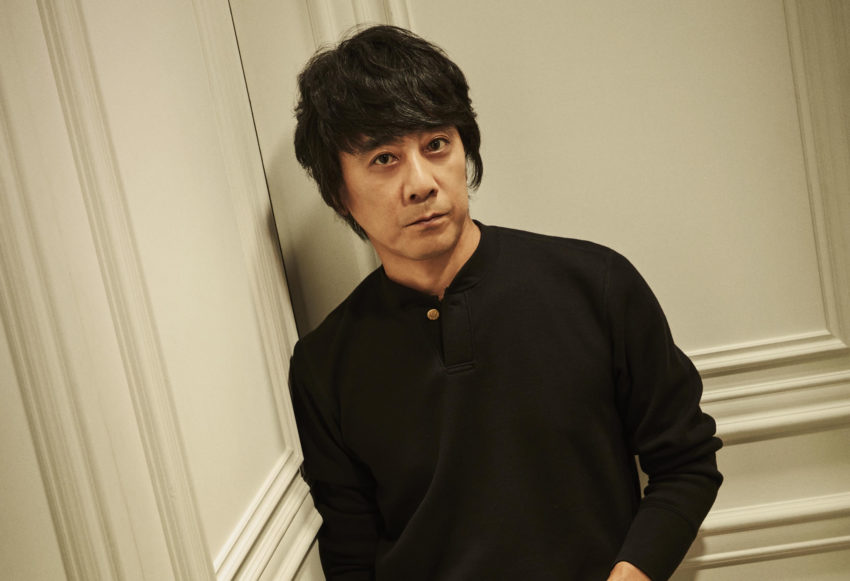 The accident-prone Masayoshi Yamazaki always seems to be able to fail upwards, starting with the moment in 1991 when the twenty-year-old musician showed up to the wrong audition. Not realising it was not the same company as Kitty Records, he took his guitar along to an open call for Kitty Films, marching out onto the stage and belting out two self-penned songs to a group of baffled casting directors. It was, he was told, a fantastic and winning audition for a singer, but they were looking for actors.
Fortunately for Yamazaki, the real Kitty Records really was in the market for "an actor who could sing", and two years later he was swept off to Tokyo under contract to the company. Early times were tough – he ended up in Sakuragicho, a district so far out of the city that it was actually in Yokohama, and had to make ends meet with a comedically inappropriate series of odd-jobs, including a stint as a live shop mannequin. When his sponsor left the company, Yamazaki effectively found himself "sold" to another record producer, although yet again, somehow managed to land on his feet with the Polydor company, which promoted him as "the man who is better than a genius."
He got his first break in the movies with the oddly titled The Moon and Cabbages (1996), in which he played Hanabi, a former vocalist wrong-footed by his band's break-up, and trying to work out what to do with his career… should he try to get back on that musical horse, or should he jack it all in, stay in his countryside retreat, and just grow cabbages? There to help him make his mind up is Hibana, a local girl who claims to be a big fan of fireworks (the literal meaning of hanabi in Japanese), and with whom Hibana commences a long, awkward summer flirtation. The film, however, would have been entirely forgotten by now, were it not for the theme song, penned by Yamazaki himself – "One More Time, One More Chance" – a heartfelt romantic song about words left unspoken, and the ghost of a lost love, and the possibility that she might be around the next corner, on the opposite station platform, walking the other way down the street…
The song, in fact, was written some years earlier, in 1993, when Yamazaki was still homesick in Yokohama – a reference in the song to Sakuragicho places it firmly in the environment of his first lodgings in the big city. It hence became something of a time capsule, of the raw emotions of the 22-year-old Yamazaki, but sung five years later by his older, and possibly wiser self. Striking a nerve with the Murakami-reading, lovelorn hipsters of the late 1990s, it shifted 300,000 copies, including one sold to the 24-year-old Makoto Shinkai, then fresh out of university and working as an animator for the games company Falcom.
"One More Time, One More Chance" also became the subject of an urban myth, with some members of the public coming to believe that it had been written in memory of a lover who had died in the 1995 Kobe Earthquake. This was not true, at least not for Yamazaki himself, although it is possible that at least part of the film's 1990s success was that other listeners associated it with their own sense of bereavement.
Ten years later, seemingly retreating into shorter works aimed a fan audience after the The Place Promised in Our Early Days, Makoto Shinkai would make the 65-minute Five Centimeters per Second, a frankly charming account of two childhood friends and one-time romantic possibilities, drifting inexorably apart in the course of a decade. As it approached its ambiguous and much-debated ending, Shinkai's soundtrack ditched his then habitual use of music by the composer Tenmon, and instead dropped "One More Time, One More Chance" right into the anime, turning the film into an impromptu pop video, with lyrics and images that seem to directly reflect the events onscreen.
But while "One More Time, One More Chance" might seem to foreign audiences to perfectly capture the yearning and melancholy of the protagonist of Five Centimeters per Second, Japanese listeners would instead be likely to hear something else – a golden oldie from ten years earlier, evoking first loves and lost chances, hitting the average twenty-something cinema-goer right in the feels with a song that would surely, for a large proportion of them, bring back personal memories echoing those of the characters onscreen. It was a master-stroke of musical scoring, and one that Shinkai would subsequently seek to recreate at a more original level in other movies, particularly in his use of the group Radwimps not only in the scoring of his films, but in the commissioning of all-new songs during the screenwriting process, in order to make music more fitting for new stories.
Shinkai would subsequently revisit the idea, not of the song itself, but of the zeitgeist it captured, with his global hit Your Name, about two would-be lovers separated by time, space and disaster.
As for Masayoshi Yamazaki, he is still touring and still recording, sometimes backed by a full orchestra, sometimes standing alone under a spotlight with nothing but a guitar. He had some further bad luck, including the loss of all the footage included for a 2000 concert movie, and a cringe-worthy moment (for him at least) on national television in 2002 when he serenaded an indulgent Paul McCartney backstage with the Beatles' "All My Loving", only to be informed that he had mixed up F-major and F-minor.
Quite possibly on the basis of his associations with the Shinkai success, Yamazaki was commissioned to write a theme song for the anime Doraemon: Nobita's New Birth of Japan (2015). Reunited with the director of The Moon and Cabbages after 22 years, he sung for and starred in the movie Kageto (2019). "One More Time, One More Chance" remains his most recognisable song, used most recently in the Japanese advertising for the game Romancing SaGa Re;universe.
Jonathan Clements is the author of Anime: A History.
Makoto Shinkai's Five Centimeters per Second, featuring Masayoshi Yamazaki's "One More Time, One More Chance", is released in the UK by Anime Limited.